Andy Dalton had a good week at mandatory minicamp.
Brandon LaFell, the biggest piece in quarterback Andy Dalton's ever evolving arsenal, ran it earlier this spring and really didn't appreciate the throw until he saw the tape and the pressure in Dalton's face.
"I found the ball late, and I just put my hands (up) and it dropped right there," LaFell recalled before Wednesday's practice. "I thought he was a pretty good quarterback. I didn't think he was this good. But I'm glad he is, and I'm glad to be here to play with him".  LaFell's observations, imported from the New England colonies of Belichickshire and Bradychusetts, cap a heady week for Dalton during the mandatory minicamp, the last belch of fantasy football until it starts for real in five weeks.
With the Age of (Hue) Jackson now transitioning into the (Ken) Zampese Cenezoic as his offensive coordinator , the relationship with the only NFL position coach he has ever known has been the foundation of a spring of stability despite the questions at wide receiver and tight end.
Head coach Marvin Lewis opened camp on Tuesday with the benediction of "Our quarterback continues to blossom with his own leadership and his personality. Kenny provides a new space for him to continue to do that." And the defense is responding to the same constant shifting and motions before the snap at Dalton's command. The same go-to plays to wide receiver A.J. Green. The usual staple of runs to Giovani Bernard and Jeremy Hill.
"We've been together a long time. It's been very, very easy," Zampese said this week. "There are no rough edges to the relationship. You can say what you say when you want to say it and it's received the right way. Relationships are where it all starts. The further you are along with that, the better you're going to be as you implement what you want to do."
Also this week NFL Network posted Dalton as the 35th best player in the league, the first time he has broken into the list of top 100 players despite the fact he's been to the playoffs all five of his seasons while winning 52 games.
But it's all the same for Dalton. If the 44th president is "No Drama Obama,", then the Bengals' fourth franchise quarterback is "The Red Stifle," when it comes to controversy.
"The thing that's different now is that I'm not learning a new person. Zamp's been my quarterback coach since I've been here," Dalton said before camp started. "We already have that great relationship. I understand how he thinks and does things. For him, it's the same thing for me. I'm not learning the new style of a guy. That makes things easier because we've been together for a while."  
Dalton when asked about Zampese's best qualities: "How hard he works and how smart he is."
Zampese on Dalton's best qualities:  "Perseverance and character. He fights through adversity very, very well and he knows who he is and where he's going in life. And that helps him be a leader. It helps him fight through the hard situations that come up."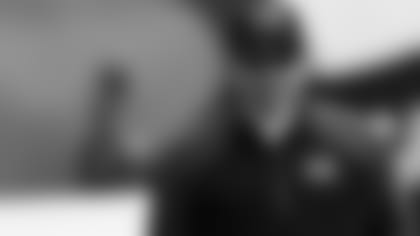 Ken Zampese and Dalton are heading into their sixth season together.
LaFell has been absorbed into their world the last two months as their first option in the wake of the free-agent departures of No. 2 and No. 3 receivers Marvin Jones and Mohamed Sanu. With Green tacking to the Hall of Fame and tight end Tyler Eifert coming off his first Pro Bowl, they were looking for a veteran, stable No. 2-3 receiver type and the 29-year-old LaFell's pedigree and professionalism immediately put him on their radar.
After having a heavy hand in the Patriots' Super Bowl title of two years ago with 74 catches, LaFell also likes what he sees from Zampese and Dalton.
"I love the offense. It's not any play that's set to go to certain people. Anybody can get the ball at any different place, so it's kind of wide open," LaFell said. "It keeps guys running routes full speed, and it keeps guys locked in."
And while we all know there is no one like Thomas Edward Patrick Brady, LaFell sees some similarities in the structure of his new team. The NFL Legend Makers have canonized Brady's no-nonsense autocracy of the offense, but Dalton is apparently anonymously succeeding with some of the same traits.
"I can see how Tom had us over there, I feel like if we continue to take the steps we're making, Andy could be a similar player like that," LaFell said. "Everybody respects him just like everybody respects Brady. How Brady demanded the best out of everybody, Andy's doing the same thing here.
"Both of those guys are smart guys. They always have the offense in the right play. They're always getting the ball to the right person at the right time. They're two different offenses, but both of those guys are winners."
LaFell broke his foot and spent the first six weeks of last season on the physically unable to perform list (PUP) and when he came back he struggled with timing. As he observed when he signed here, catching balls from trainers and then from Brady was a bit of a jump.
According to profootballfocus.com, he had 10 drops in 11 games and while he's dropped some this spring, he thinks things are smoothing out.
"I'm definitely back to where I was. I've been working with this guy going on two months now," LaFell said. "We've got the timing down, and it's been showing in practice every day."
LaFell's charge is simple. Beat one-on-one. Jones did it so well he earned a No. 1 receiver contract in Detroit. With Green getting doubled virtually every play, LaFell should, conceivably, have plenty of room.
"I'm hoping (Green) gets all the coverage. Some way, somehow in practice, it always seems like the coverage always rolls to me and he's wide open in the middle of the field I can't wait for Tyler to get back, and I can't wait for them to double-team A.J., and I can be on the other side uncovered," he said. (The offense) t can be really, really good. It can be better than last year, with Tyler coming back healthy, and him picking up where he left off last year, A.J. picking up where he left off last year, and Andy also. And all those guys come back and start the season the way they finished, and then the younger guys around him like (Tyler Boyd) and myself, the new guys around here, that we can come in and fill-in for the guys who left and make plays, and not being a burden to this offense.  Just being another piece to help this offense achieve."
But it all gets back to the quarterback, right?  In Cam Newton's first season in Carolina, LaFell played the role of No. 2 WR well enough to average 17 yards per his 36 catches. In his first season with Brady, he responded with a career year.
His first season with Dalton?
"Being around a good quarterback makes everybody else on the field job that much easier," LaFell said. "With them having so much knowledge of the game, knowledge of the offense and playing with a high level of confidence, it kind of slows the game down for everybody else. And for me coming in learning the playbook, he's helping me out in the huddle, helping me out off the field. It's making me go out there and know the offense now and just going out there and playing fast and not worrying about anything else because he's so good."
Go back to that deep post.
"Ball placement. Accuracy. How fast he gets the ball out. His command of the huddle," LaFell says of what he likes from his new quarterback. "The way he always has us in the right play, and the way he demands everybody plays at a certain level."
A pretty good week for Dalton.  The top 100 and one affirmation.
Cincinnati Bengals host minicamp at Paul Brown Stadium 6/15/2016