Andy Dalton's throwing thumb is just fine. He's been tossing ("nothing intense") for the past two weeks and he's just started shooting baskets. On Thursday he shows new strength coach Joey Boese the whip-fast three-point drill his mates play and when he misses after draining seven straight he shakes it off shaking his head.
"The record is ten straight," he says. "Everybody is going to be back here pretty soon. I've got to get ready."
With rehab and the birth of a third child, Dalton is spending his first offseason in Cincinnati and has cheerfully become the official greeter in the Bengals locker room during the first ten days of the Zac Taylor Era.
"What's up Rod?" he says across the room to second-year guard Rod Taylor, rehabbing the ACL he tore in last year's first padded practice. "Hey, Sam," he says to sophomore defensive end Sam Hubbard, stopping by for a lift. "Get those out of here," he jokes as bustling equipment man Sam Staley shoves some garish shaded cleats his way.
Dalton flexes the thumb that betrayed him for the second time in four years last November when a torn tendon iced him for the last 5.5 games of the season. All good.
"That's the thing you're worried about," Dalton says. "As soon as I got out of the surgery, I wanted to get that motion back. If you have a concern it's, 'Am I going to be able to grip the ball the same?' It's back to normal … It's fine."
When Dalton looks at the thumb, he's not thinking about 2018. He's thinking about 2015 and how the Bengals were flying at 10-2 when his season ended when he broke it and how they couldn't get the bye and then couldn't get by the Wild Card Game and how he had no shot to get that first play-off win.
Never mind '15. Try '12. Not too long ago he looked at that pass in the last minutes of the Wild Card in Houston and painfully recalled how close he and A.J. Green came to the go-ahead score. Maybe a yard too long. Maybe if he didn't have to throw it a half-second faster. Maybe … He knows there would be no maybes and the story of his career and team would be so much different.
"I didn't get to play in the one in '15. I felt like I was a better player in '15 than in previous years," Dalton says. "I feel like I'm a better player now than I ever have been. We just have to put it all together and play our way into the playoffs because the guys that we have with me, A.J., Carlos (Dunlap), Geno (Atkins), guys that have been around, I feel like we're better players than we were when we were in the playoffs. We've got to work our way back to go prove we can advance in the playoffs and win a championship."
Dalton's thumb is about the only thing that's back to normal at Paul Brown Stadium. Upstairs, Taylor is not only blowing up the Bengals' playbook, he's smashing through walls in an architectural Armageddon.  Milton would already be downstairs in Storage B in this Office Space revamping. If there is that New Car Smell, then Taylor's New Dey smell is something between sawdust and turpentine. Dalton can't wait to take it out for a spin because he thinks that's his ride back to '15.
Dalton, the incumbent Bengals quarterback who has a higher passer rating than Ken Anderson, more touchdown passes than Boomer Esiason, more wins than Carson Palmer had for the Bengals and Raiders combined and more critics than your local lawmaker, has a big fan in Taylor. In fact, all the head coaching candidates they interviewed were Dalton men and had no plans to move on from him. The feeling is mutual. In high school, college and the pros, he's always had a coach from the defensive side of the ball until now.
"And he's calling the plays, too," Dalton says. "It seems like they're all in with everything here. A lot of stuff is changing. Zac obviously has a plan on how he want it done and we're making it happen. Anytime there are changes it's like, I want to know more. I want to get going. I want to start up. That's what change does. It's going to be different. It's going to make you have to respond have to learn."
Dalton figures he couldn't have picked a better offseason to stick around. The collective bargaining agreement prevents Dalton from Xing and Oing with Taylor and offensive coordinator Brian Callahan. But amid the all the sawing and drilling he can stick his head into their offices and talk about kids, the city and direct them to restaurants and schools. He can do the same chewing the fat with Boese in the weight room.
"Whenever there's a new face in here, I just introduce myself," is Dalton's rule of thumb.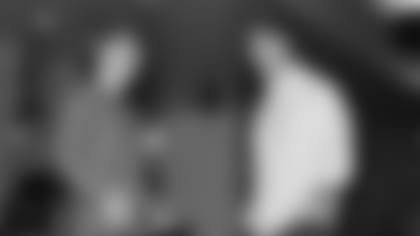 Dalton has also been introducing himself to the Rams offense that Taylor served as quarterbacks coach by watching tape and he likes what he sees. Some of it even reminds him of what he ran during his first three seasons when Washington head coach Jay Gruden was the Bengals offensive coordinator in a run of three postseasons and an AFC North flag. But he's been impressed enough by Taylor and Callahan that he expects the new playbook to be much more than a re-packaging of Sean McVay's Ramspeak. He thinks there's enough creativity upstairs to form a Bengals scheme that becomes imitated.
"With the staff he's put together, we've got guys that have been in a lot of different places and been around some different offenses," Dalton says. "I don't think we're going to be the Rams with Zac. I don't think we're going to be the Raiders with Brian, We're not going to be one thing. We're going to pull from a lot of different things and we'll try to do some stuff that will be the Bengals. It's some new stuff we'll do that hopefully other teams want to copy. I think we've got those types of creative minds. I'm excited. I'm looking forward to it."
West Coast offense is West Coast offense. The Bengals even ran some Rams' stuff last year even though former offensive coordinator Bill Lazor's scheme was a mixture of several schools.
"I feel like we had some cross-over. We would watch stuff they were doing this past year just because they were so explosive," Dalton says. "They had a lot of big games and were scoring a lot of points. I've been trying to watch as much as I can. I don't know if it's going to look exactly the same. I'm sure there is going to be something similar."
Dalton defends Lazor and says the offense would have been better if they had a second year with the playbook. But he also knows, "That's the league. That's the business." Now the business is watching the Rams.
"Everything matches up with each other," Dalton says. "Run and play action look the same. They're a big play-action team. They found a lot of completions. They did a good job getting behind (the defense) on play action. Hit big chunk plays. Deep crosses. They did a lot of good stuff. I don't know exactly how it's going to be.
"There'll be some of it, but I wouldn't say what Washington was doing and what the Rams were doing were identical. What Jay was doing here probably wasn't what Washington was doing this year. It evolves over time. I liked it," Dalton says of Gruden's Bengals' playbook. "Getting the ball out of your hand quickly, finding a lot of different guys, getting the ball to guys in space and letting them do their thing."
His thumb is pointing up.
"There's a lot of good things going on here," he says.