Andy and Jordan Dalton on a visit last year to Cincinnati's Shriners Hospital for Children.
Dick Winder gently kidded his old quarterback this week with a little Texas ribbing when Andy Dalton called. The red-headed kid from Houston he helped recruit to Texas Christian and who he coached his red-shirt year before it all blew up and he became, well, Andy Dalton.
"Now he's just not famous,' Winder says. "He's rich and famous."
The six-year extension the Bengals gave Dalton last month not only made him rich in a two-minute drill with $17 million in something like three days, but it sent the Andy and Jordan Dalton Foundation from the margins of What If into the black of Definitely.
Candice Sheppard, who has run across the Dalton Foundation twice out there on the margins with her daughter Alice, heard the contract news in Springfield Township, Ohio, where she lives with her husband and two other children. Alice is always with her because she's two years old with Noonan Syndrome and until recently has spent much of her life on a heart transplant list and will again when she gets stronger.
"I couldn't have been more excited because I know he and his wife have a love and respect for our city," says Candice Sheppard of when she heard the news. "He's someone with a big heart who really puts their money where their mouth is. (I was thinking) 'Hard work is rewarded. The good guy wins.'"
Dalton reads headlines, too. Even though he was drafted here and raised here, in three years he had seen plenty of stripes come and go. After all, when he was a rookie he replaced the richest guy on the roster.
"A lot of athletes who have foundations don't get to stay in one place," Dalton says. "We're fortunate that we're going to be able to stay in the same city and be able to help out Cincinnati for a long time. We'll be able to help out a lot of people in Cincinnati. Not that we haven't established ourselves already, but everybody in the city knows now we're going to be in Cincinnati for a long time."
The contract says he'll be the Bengals quarterback through the 2020 season. His heart says he may become the most involved Bengals quarterback in this town in years, a guy identified with the city in the tradition of two NFL Men of the Year in Ken Anderson and Boomer Esiason.
"We want to get the whole city involved,' says Jordan Dalton, his wife. "We really want to make an impact and not just say we're doing it to do it…It's an awesome feeling to think what we can do at this stage in our lives We're so blessed and now we want to bless other people."
There'll be a peek next Tuesday at Cincinnati's Children's Hospital, where the Daltons plan to unveil a hub similar to the one they donated to Cook Children's Medical Center in Fort Worth, Texas back in March. A big locker filled with iPads, notebook computers, DVD players, gaming systems and other items, it is designed to help chronically and critically ill children through treatment or recovery.
 Last Christmastime Candice Sheppard had similar visions for the cardiac intensive care unit at Children's. Siblings and parents are at the hospital as much as the ill child, so using social media, anchored by the I Heart Alice Facebook page, Sheppard began a "Toys for Alice," venture to raise awareness and funds for a patients' wish list to get anybody who had to be in the hospital through the holidays. At the last instant, the Dalton Foundation came in and pushed it over the top.
Everything from DVDs, to hand-held games, to soothing sound machines that blot out the heartbreaking hum of life support.
"It was basically all the things on our wish list that we couldn't get to…and they devoured the wish list," Sheppard says. "Anything that distracts them from being hospitalized or anything that reminds them of home."
Critically ill children and those with special needs are the focus of the couple's foundation. Both of Jordan Dalton's roommates at TCU are special education teachers and it made a lasting impression.
"You really see the affect it has on families. That's where my heart was going when we started the foundation," Jordan Dalton says. "They're so appreciative of anything that can be done. You see the impact."
The foundation already has strong roots. The Daltons take the Holiday Hearts program into area hospitals with visits and gifts during Christmas. Vanessa R. Mosley, director of development at Cincinnati's Shriners Hospital For Children, watched them work the room last year, impressed at their maturity for a couple that had just turned 26. Some children were too sick to come out of their rooms, but the Daltons insisted they wanted to visit everyone they could even though Jordan was pregnant with their first.
"It was important to them. They weren't there for the cameras," Mosley said.  "The impressive thing was how much of their time they gave. A lot of time, they just hung out with the staff."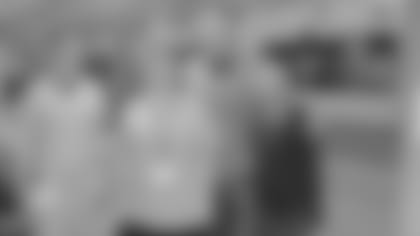 The Daltons spending time with the staff at Cincinnati's Shriners Hospital for Children last Christmas season.
They've also set down roots with King for a Day, which provides families of severely or chronically ill and special needs children with an all-expenses-paid dream day at Kings Island. That's the first time Candice Sheppard ran into the foundation. They were one of the 100 families last year and even though Alice was just one, but more like six months as she continued to be fed by a tube in her stomach, it was quite a day for everyone else. Especially four-year-old Sophie and 12-year-old Blake.
"The idea is to get royal treatment, so to speak, and that's what we try to do as a family every time we walk out the door," Sheppard says. "Sometimes you feel pretty alone and they bring families together that speak the same language and are going through similar struggles. We know at some point we're going to be back in the hospital, so you enjoy it. We were so honored to be asked."
This Sunday  (1 p.m.-Cincinnati's Local 12), Dalton is supposed to take the next step on the field and beat the Ravens for the first time in Baltimore and begin the road to that first playoff victory. The next step for the foundation is also in progress.
"We want to help out families any way we can. We want to see how much money we can raise and how much awareness we can raise," Jordan Dalton says. "If families can't afford a wheel chair, or a chemotherapy treatment, or anything that insurance won't cover, we can step in for families that need some extra help. Right now, that's the big picture we have for (the future)."
All of this doesn't surprise Winder, the TCU quarterbacks coach who retired after Dalton's red-shirt year. But he would come back to visit and on one of those journeys just before Dalton's junior year he told him his 11-year-old granddaughter had been diagnosed with leukemia. Dalton knew Presley Boydstun was a big football fan and lived in his hometown of Houston, so he would text her and call her occasionally.
"I got her number and randomly would talk to her, text her and I didn't realize how much of an impact I was having," Andy Dalton says. "I felt like it was just a couple of text messages. I wasn't really doing anything. From that experience, it might seem like so little, but for the kids and family it means a whole lot. That was a big part of why I want to work with these kids and their families."
Winder lived the impact. Dalton spoke to her class when he went back home. They had light blue bracelets made that said "Team Presley," and he remembers Dalton never taking it off. After Dalton scored a touchdown once, he raised his hands, pointed to it and got flagged 15 yards.
"They thought he was doing something else," Winder says.
"He wasn't playing any role. I can see why (he had an impact). He's very sincere about it. There's nothing phony about him."
Presley is 16 and Winder says she's fine. She's taking one chemotherapy pill a day and still following football. She and her family came to Cincinnati for a game and lunch with the couple. It's not clear who stayed back in Houston with the family dog named "Dalton."
"He's kind of a quiet guy," Winder says, "but he loves to get involved with kids."
It seems to be season of next steps on and off the field.
"There is a lot of cool stuff we can do," Andy Dalton says, "with the money we get."