Andy Dalton is preparing to learn a new offense for the first time since his rookie year.

Andy Dalton and his Bengals return to Paul Brown Stadium Monday for voluntary off-season workouts and their quarterback hasn't felt like this since he was a rookie.

Not only do NFL rules prevent Dalton from getting the new playbook from offensive coordinator Bill Lazor while they're off the premises, but they can't even exchange any meaningful ideas even though Lazor has spent the offseason planning a new offense in his own right. They've talked and texted briefly, but Xs and Os are Xed out.

"You probably know more than me. You're in the building" said Dalton, which is a depressing thought and makes you wonder about some of the rules.

All Dalton really knows is that he's seen enough coaching changes to realize the Bengals offense is underdoing its biggest overhaul since he and offensive coordinator Jay Gruden arrived together in 2011. Gruden replaced predecessor Bob Bratkowski's vertical passing Coryell style offense with a version of the West Coast offense that has been built around Dalton's accuracy on intermediate routes.

But now that the Bengals are coming off a dead-last season in offense and an offseason Lazor has hired their first offensive line coach in 23 years as well as  their first receivers coach in seven years and a veteran NFL quarterbacks coach that last worked with future Hall-of-Famer Aaron Rodgers, Dalton feels the winds of change.

"When we've changed coordinators in the past, the offense and the scheme and everything has stayed pretty similar," Dalton said this week from Dallas. "I think this is going to feel a whole lot different than what we've done and the way we've done things."

When Gruden left in 2014 to become head coach in Washington, Hue Jackson added his own West Coast wrinkles to Gruden's playbook for the two seasons before he went to Cleveland as the head man. Ken Zampese, Dalton's only quarterbacks coach, had been appointed for offensive continuity and Lazor inherited the playbook when Zampese was fired two games into his second season last year.

Now it appears what Gruden penned in 2011 is no longer the foundation. Part of Lazor's charge was to streamline an offense that had become bulky with different concepts from multiple coordinators.  It sounds like Lazor has carved the new playbook out of his experiences and those of his staff. That would mean the run-pass options of Chip Kelly from his year in Philadelphia, a little Coryell concept from his days with Joe Gibbs in Washington, and a little West Coast from his days here and maybe even some pure Bill Walshian West Coast from his stint with Mike Holmgren in Seattle.

Maybe. Who knows? Lazor has a close vest. But what really may be different is the running game, where the outside zone runs popularized by Joe Gibbs' Hogs (and the Bengals Super Bowl lines) in the '80s and perfected by Broncos offensive line coach Alex Gibbs in the '90s has been used by new offensive line coach Frank Pollack on his top-ranked rushing teams in Dallas.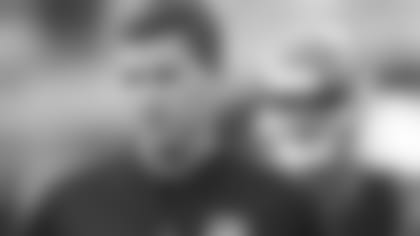 Bill Lazor has spent the offseason revamping Andy Dalton's playbook.

"The sense I'm getting is there is going to be a lot of change and a lot of learning, which is a good thing," Dalton said. "I think it's good to challenge yourself and kind of re-fresh yourself on what you're doing. When you're hearing the same thing for seven straight years, it can be mundane and you already know it. Now it's new and fresh and I'm looking forward to it.

"I think we're going to be multiple. I think we're going to do what we have to do to win and get the best possible matchups."

The one thing you keep hearing about this offense is "aggressive." That doesn't mean no huddle every snap, but it does mean getting to the line of scrimmage urgently. Aggressive. Lazor rehabilitated Dalton's season last year when he made sure he got the ball out of his hand quickly. Aggressive. Whether it's inside or outside zone runs or combo blocks or passes to him in space, the Bengals want to get running back Joe Mixon moving north and south as quickly as he can get his foot in the ground. Aggressive. Jump on the edge and get to the pass rushers before they get to you.

"I think you need to be aggressive. That's offensive football. You want to be on the offense and make the defense react," said Dalton, who also believes getting rid of the ball quickly is one of his strengths. "I feel like that. I would think that would be part of what we do. We've been so similar for so long, it's good to test yourself a little bit."

He hasn't done this in a while. As in just once. With Gruden in 2011. Despite back-to-back losing seasons, he's still the winningest quarterback in Bengals history at .587, but he doesn't mind feeling like a rookie again.

"If there's anybody that knew what we were doing, it would be me," Dalton said. "I'm sure it will be like my rookie year. Learning an offense, learning what is going on. It's been awhile since I've had to learn a new offense with formations and stuff."

And, oh yeah, the signings. Dalton is encouraged by the re-signing of tight end Tyler Eifert, his fellow 2015 game-breaker, and the trade for Bills left tackle Cordy Glenn. Plus, a new contender to back him up, Matt Barkley, is a friend from around the NFL QB circuit.

At age 30 and with 63 wins, Dalton sounds ready to get refreshed. Even if he doesn't know what Lazor is going to hand him. But that's what is refreshing.

"That's why Monday is going to be fun," Dalton said. "It's going to be good to see the guys and see how things are going and see where this offense is going to be. I'm sure there is going to be a lot of change in what we do and how we do certain things. The way we may call certain things. I'm anxious to get rolling with it."