Chris Smith is the first player received in a non-draft day trade by the Bengals since cornerback Kelly Jennings in August of 2011.
The Bengals are prepared to look anywhere and everywhere for pass rushers this offseason and they started their search Tuesday when they traded a conditional draft pick for Jaguars back-up defensive end Chris Smith.
But there is plenty more where that came from, like the April 27-29 draft, where as many as three more defensive linemen (say two ends and a tackle) could join the group. Here's a look at how the defensive line stacks up on the heels of the Smith trade:
DT Geno Atkins 6-1 300, eighth season; Age 29: The Bengals' starting three technique most lethal inside pass rusher in game today … Coming off fifth Pro Bowl with nine-sack season to lead all NFL interior players ... Also won tackle sack crown with career-high 12.5 in 2012 … In 2011 and 2015 shared lead … 52 sacks fifth on club all-time list …
NT Andrew Billings 6-1 325, second season; Age 22: Penciled in as successor to long-time starting NT Domata Peko, now in Denver … Knee injury vs. Vikings second week of camp ended rookie year … Thought to be potential first-rounder but when went in fourth round experts called it draft's best pick of last four rounds … Entered Texas lore as Waco High School senior when broke state weightlifting records with 805-pound squat and 2,010 combined squat, bench, dead lift … Youngest Bengal (3/6/95) heading into draft …
 DE Ryan Brown 6-6 276, first season; Age: 22: After playing through stress fracture of right foot in last half of college season, arrived last offseason undrafted out of Mississippi State … .Long arms, lean frame are 4-3 end traits … Two-time SEC Academic Honor Roll reflects another positive trait … After flashing some promise early, spent all 16 games on practice squad as rookie …
DE Will Clarke 6-6 280 fourth season; Age 25: 2014 third-rounder looking for break-out year … After just 201 snaps in first two seasons, got on field for 374 last year to record first full four NFL sacks …
DT David Dean 6-1 302, first season; Age 24: Arrived undrafted out of Virginia last offseason … Another young, bright guy to fit 4-3 prototype … ACC Academic Honor Roll … Flashed good strength last training camp, carryover from repping 225 pounds 33 times at pro  day … can play both tackle spots …
DE Carlos Dunlap 6-6 280, eighth year; Age 28; Ridiculously talented starting left end … Made second straight Pro Bowl with NFL-best 15 passes defensed among all linemen … Three led to interceptions … Had eight sacks … Fourth time in career had at least eight sacks … 57 career sacks fourth on club all-time list …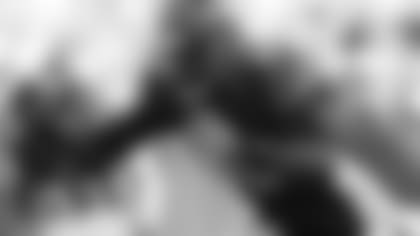 Carlos Dunlap: oozing with talent.
DL Wallace Gilberry 6-2 270, 10th year; Age 32: Can't keep good man down … Tough enough mentally and physically to be valued locker-room leader … After 16.5 sacks in four seasons with Bengals, returned last season following brief stint in Detroit … Injury limited it to five games … Still difficult to block on pass rush inside, but can also play end in base … At best spotted… in 2012-13 had 14 sacks on 836 snaps, 3.5 on 1,484 in '14-15 … 2.5 came on 140 plays last year …
DT Marcus Hardison 6-3 310, third year; Age 25: Fourth-rounder in 2015 … looking to back up Atkins at three technique but yet to play NFL snap … Could also play end eventually … After promising rookie camp, sat out with injured knee for six weeks before watching rest of way … Last year showed some activity before season-ending labrum tear … Extremely gifted athletically … Ran option as high school quarterback for three seasons … Played football and basketball in JUCO …
DE Michael Johnson 6-7 272; ninth year; Age 30; Starting right end is conscience of D-Line … Consummate locker-room leader and mentor … 111 games sixth most ever by Bengals D-Linemen … Absolute horse … Plays hurt … Three down lineman all way … Last six Bengals seasons averaged nearly 700 snaps … hasn't played less than 831 since 2011 … Have to be looking to give him some help in rotation with 8.5 sacks in last two seasons …
NT Pat Sims 6-2 330; 10th year; Age 31: Reliable rotation man at point of attack … All he does is make stops in run game … Tied for third on D-Line in '16 in tackles despite taking fifth fewest snaps … According to profootballfocus.com ranked 25th among D-Tackles in run stop percentage …
DE Chris Smith 6-1 266; fourth year; Age 25; 2014 fifth-round pick of Jags (No. 159) … Picked up in Tuesday's trade for conditional pick … Good speed (4.7 in combine 40), nice strength (28 reps of 225 pounds), long arms, interesting tape from 2016 preseason all intrigued Bengals as speed edge rusher …  Had sack vs. Bengals in preseason … Didn't get on field much with 312 snaps in 19 games … Three of 4.5 career sacks came as rookie … Can duck inside at tackle in nickel …  
DT Brandon Thompson 6-2 310, sixth year; Age 27: Missed all last season with torn ACL suffered in '15 regular-season finale … Productive role player when healthy at both tackle spots … three career sacks and 35 tackles good numbers for averaging just 20 snaps per game since filling in for Atkins in second half of '13 …
DT DeShawn Williams 6-1 295; second year; Age 24: "Pocket Geno," as nicknamed his rookie camp in 2015 when arrived undrafted out of Clemson … Compact, fiery, active, Bengals hope he plays like that first camp in bid to back up Atkins himself at three technique … Played first 57 NFL snaps last season … Known for overtime work ethic …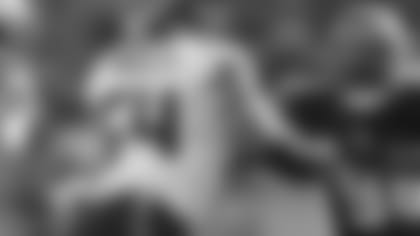 Brandon Thompson (98): he's back.
They could end up keeping 10 (five end, five tackles) or nine (five ends, four tackles) at the final cut so, as usual, the premium is flexibility behind Atkins, Johnson, Dunlap and, they hope, Billings.
Can a guy rush the passer and play the run? Can he man two spots, like both tackles or end in base and tackle in nickel? Maybe they've got a young Gilberry in Smith, but Gilberry has proven it while Smith hasn't had the total snaps or reps inside. Maybe Williams returns to rookie form, Hardison also excels on the edge and ….
Wait a minute. The draft picks aren't even here yet.
This gallery features some of the top Tight Ends in this year's draft class.