Michael Johnson has turned into a Bengals insider.
Déjà vu is running through the Bengals defense like the Double A Gap Blitz they brought to the NFL a few years back. Start with mirror image third-round picks eight years apart in taciturn right ends lean on words and long on talent and Michael Johnson and Jordan Willis are at the heart of the nostalgia craze up front.
Johnson, 30, coming off a two-sack game, is enjoying a revival now that Willis is here along with fourth-round pick Carl Lawson, a leading Rookie of the Year candidate. The man who had 3.5 sacks last season on the edge already has three this season working as a pass-rushing tackle for defensive coordinator Paul Guenther while the kids are now setting the edge on passing downs.
 "This reminds me of the 2012 team, defensively," Johnson said this week before the Bengals split for the bye. "But now, like Paulie was saying, we have even more weapons and we have even more depth. So that's good. Keep everybody fresh and just everybody just taking ownership, just doing their best regardless of its 10 plays or 50. Just keeping that mindset."
Funny Johnson should mention 2012. That's the last time he had two sacks in a game as a Bengal, which came in the season finale and gave him a career-best 11.5. He also had a sack in the game before that, which is that defense's signature game, a 13-10 win over Pittsburgh in which they sacked Big Ben four times and picked him twice to put the Bengals into the playoffs while eliminating the Steelers.
That's back when "The Fisher Price Package," came of age, the name for the kid D-linemen drafted in '09 and '10, Johnson, left end Carlos Dunlap, and tackle Geno Atkins. By '12, Atkins was the best three technique in the game and the 6-7 Johnson and the 6-6 Dunlap were helping him book-end the Bengals team record for sacks with 51.
With all these kids around, Johnson is now passing the torch instead of getting it.
"It's their time," said Johnson of the next generation.
Here's what Guenther is talking about. Back in '12 the Bengals had a decent rotation with six linemen with at least 309 snaps. But now the Bengals are on pace to have eight linemen with at least 346.  Their rookie trio of Lawson, Willis, and tackle Ryan Glasgow is on pace for 346 (Glasgow), 406 (Willis), and 512 (Lawson). Their rookies in '12, tackles Devon Still and Brandon Thompson, combined for 178.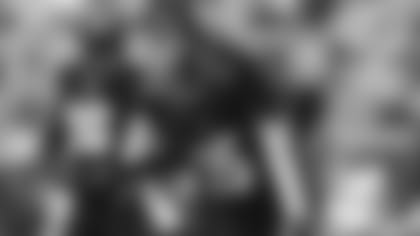 Former Bengals defensive lineman Wallace Gilberry is an end that had success at nickel tackle.
And now the Bengals are on pace for 58 and Lawson (3.5) and Willis (1) are helping make it happen. And here comes the 6-5 Willis, the fastest down lineman at the NFL scouting combine who acts like he's a 10-year pro after his venerable college coach Bill Snyder anointed him the ultimate Kansas State player.
"He's really more (quiet) than I was," Johnson said. "He works hard. He's focused. He's mature for a rookie. That's good to see."
Remind you of anybody? Don't let the soft-spoken Johnson fool you. His words on and off the field impact his teammates. And now the heat is off. Instead of people asking, 'Who talks less, you or Geno?" they are asking who talks less, Geno or Willis?"
"Ask them," Johnson said. "The first one who answers talks more."
That's easy. Willis in a landslide because Atkins doesn't speak to the media and when Willis does he's smart, funny, thoughtful even if he's quiet around his mates.
"It's the same way at Kansas State. I didn't get a whole lot of attention at Kansas State," Willis said. "It's not like I'm getting a whole lot of attention here either. I'm not a guy who is really looking for it. I just want to play, be consistent and when it's time to make a play, make a play."
Now look who is making plays. When the 6-7 Johnson arrived in the third round of the 2009 draft he began the assembly line on the defensive line of rushers built like an NBA power forward. The next year came 6-6 Carlos Dunlap. Now the 6-5 Willis, the 2017 third-rounder, is the latest in a line and it's allowing Johnson a second career inside and he's finding there is life after the edge for a 6-7 guy inside.
"I think it helps. Being taller, I have to make sure I play with good pad level and try to play with good bend," Johnson said. "But being on the edge I still have some quickness that I can use and try to take advantage of some guards that may not be able to move as well in space.
 "Everything happens a lot faster in there. But … The better everybody works together the more impressive everybody looks. If I'm not where I'm supposed to be, it won't matter if the next guy has a great rush because the quarterback can escape. Us working together and condensing the pocket and just being where we're supposed to be, that's going to make everybody so much more successful."
Johnson has a comparable on that 2012 team, a veteran defensive end who began to emerge as a factor inside. Wallace Gilberry ended up with 6.5 sacks on 309 snaps. If Johnson keeps on his current pace he'll have 9.5 on 541 plays.  
But he's not looking at a 6-2 guy like Gilberry making that move. He's checking out on tape anyone 6-5 and over, such as Calais Campbell and Julius Peppers.   There's an interesting Mutt and Jeff dynamic inside on passing downs with Johnson working with the 6-1 Atkins.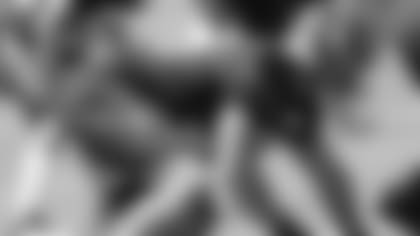 Jordan Willis, seen in the spring, got his first NFL sack last Sunday.
 "You've got two guys in there with different abilities. It's the same way on the edge. You've got guys on the edge with different abilities," Johnson said. "Offensive linemen, it's tough for them to get into a rhythm and set because it's like I've got to set this guy this way I've got set that guy that way. Within it all is everybody just working together. That's the biggest thing. Everybody being on the same page, working together, playing unselfishly and playing off each other."
Willis is also taking notes on Atkins. They talk, but Willis mainly watches him. Especially after Atkins went after Bills Pro Bowl guard Richie Incognito last Sunday.
"He's one of the guys that plays with good technique. He takes the right power steps. Puts his hands in the right position," Willis said. "And you see he's blowing up these guards. He blew up the highest paid guard last week. I just watch him and try to add that to my game. I don't have to say a whole lot. If I just play with good fundamentals and technique, I should be good."
One thing Johnson and Willis have in common is the impression the group of rookies the Bengals brought in during the draft and free agency made on them.  Johnson says it seems like he's been raving about Lawson since training camp. It's been longer than that. Try the rookie minicamp.
"As soon as I saw him on the mini-camp tape I was thinking, who is that guy? Explosive. Bend. Twist.  He's got the juice," Johnson said. "I'm glad we've got him. They do a good job of bringing talent here."
Willis politely deferred when asked if he was surprised Lawson got picked after him.
"I don't want to get into the politics because I don't really know a whole lot about it. I'm just a player. But I told him I thought he was a higher draft pick than he was," Willis said. "Obviously he's showing that. Then again, you've got all these different things that go into the draft with all these different questions, all these different speculations about people. I think our people here did a good job of recognizing talent that a lot of people didn't see."
Willis doesn't stop at Lawson and Glasgow. He's looking at late picks and free agents, too.
"I give credit to our coaches, our scouts. I think they did a good job in this past draft of finding guys that were overlooked. Which I'm not putting pressure on anybody," Willis said. "Like Carl obviously got overlooked in my opinion. I mean Ryan Glasgow, I didn't know who Ryan was, but when I got here and I started watching him, obviously he was an overlooked guy. There's other guys on the team as well. Jordan Evans. Hardy Nickerson. There's a bunch of guys on this team that were good players in college but they didn't have the same hype as everyone else. But obviously our coaches and scouts saw something in all of us. I think that's where the biggest credit goes to."
This line won't have to wait long to find out if they're like that defense from five years ago that stoned the Steelers at home. They're back in Pittsburgh in nine days.
Cincinnati Bengals honor Bengals legends at Buffalo Bills vs Cincinnati Bengals game