Kenny Anderson (left) and Isaac Curtis at this weekend's Marvin Lewis Golf Classic.
Isaac Curtis and Kenny Anderson are together again this weekend, the way it was and the way it will always be, and since it's a party they aren't taking themselves or anybody else all that seriously.
It is Bengals head coach Marvin Lewis' annual fundraiser for his foundation and with Lewis barking auction items as back-ground music, the two do what they do every year here and renew and reminisce.
They are the 19th most prolific scoring combo in the history of the NFL and after 50 years of Blakemania and Ocho and Carson Palmer's Heisman howitzer and A.J. Green's Randy Moss leap at the record books and Norman Julius Esiason and, still …
No one in Bengaldom has more TD passes than the combo of Anderson to Curtis with 51. Palmer to Chad Johnson clicked 44 times. So has Green from Andy Dalton. They may catch Curtis-Anderson this season. But first Dalton and Green have to get past Jeff Blake and Carl Pickens with 47.
Now, don't get them wrong. These are far from two bitter-old-get-off-my-record-book-guys. They exude class simply signing a ball or jersey, or thanking someone for a kind memory.
No one is a bigger fan of Andy Dalton than Anderson, the original No. 14. Remember when Dalton asks for No. 14 after the draft in 2011? Anderson says sure, "But he better be good."
"He's good," says Anderson, who ends up coaching NFL quarterbacks longer than his venerable 16-year career. "The thing I like about Andy is you can see him get better every year. The thing is, two years ago when he broke his thumb, he was at the point he could carry the team and we were going deep into the playoffs had he not gotten hurt … What you see is the improvement down through the years and I think the future is bright for him."
Curtis: "I like watching A.J. He's got so much ability and so much talent. Yeah, he really is just a fun guy to watch."
But Isaac Fisher Curtis and Kenneth Alan Anderson not only have a great deal of pride in what they accomplish, but in the other guy. They both believe devoutly the other should be in the Pro Football Hall of Fame.
When Anderson retires he is the all-time leader in completion percentage for a game, season, and post-season career. Curtis has more TDs and catches than Lynn Swann and nearly a yard more per catch than John Stallworth, two Steelers Hall-of-Famers from his era.
Curtis: "I have been saying it and I've talked to a lot of people. The numbers Kenny has put up. His arm. His accuracy. If we had won the Super Bowl that year there's no doubt he'd be in in my mind."
Anderson: "No question about it. Tell me somebody who had better physical skills than he did. The speed he had, the hands. And not many fast guys changed directions like he did."
It is 32 years since Curtis retired just before 1985 training camp. Anderson retires after the 1986 season. Dalton is born as the 1987 strike ends and Green arrives during Sam Wyche's ground-breaking training camp in 1988.
Yet the 51 TDs still stands as Green-Dalton take aim this season, just seven away.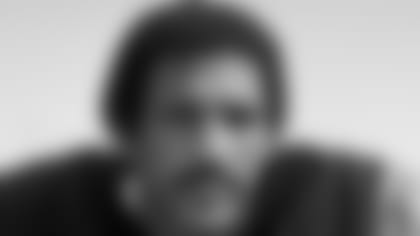 Isaac Curtis back in the day.
 "It was tougher for us back in the day. The rules were different," says Curtis with a twinkle in both eyes. "So they've got it easier than us. They should surpass us."
Anderson smiles, too. This is good-natured stuff, but just facts. From 1973, when Curtis joins Anderson in Cincinnati as a first-round pick, and until 1977 the Bengals play 14 games in the regular-season. They don't start playing today's 16 until 1978, when Curtis catches a career-high 47 balls, Green's total this year in the middle of the seventh game. While Anderson averages 23 passes per game, Palmer and Dalton have each averaged 33 attempts per as Bengals.
"What do they call that? The dead ball era when they could maul the receiver all over the field?" Anderson asks.
Curtis, who barely misses making the 1972 U.S. Olympic sprint team by shards of a second, wreaks havoc in the middle of the '70s down the middle of the field with Anderson when he breaks into the league with an astounding 18.7 yards per catch before breaking 20 yards per the next two seasons.
After that first season, Bengals head coach Paul Brown goes to work on the competition committee to protect his prized game-breaker. What emerges is the first rule prohibiting defenders from putting hands on receivers after five yards off the line of scrimmage. Because the Steelers are winning, it becomes known as "The Mel Blount Rule," for Pittsburgh's ferocious DB that terrorizes the middle.
But Anderson knows better. It is "The Isaac Curtis Rule."
"No question about it," Anderson says. "It was Paul Brown who got the rule because Mel Blount was mugging Isaac all over the field."
One of the catches Anderson remembers isn't a TD. It comes in 1981 in the second game of the year, which turns out to be the biggest game of Anderson's life in New York's Shea Stadium. A week after getting benched, Anderson leads a comeback from a 17-3 deficit for a 31-30 win over the Jets that ignites the Super Bowl run and his NFL MVP season.
The big play late is a 43-yarder to Curtis to set up a score.
"Ike comes to the sideline and says, 'Put me in a tight split and I'll run a go from there. I can get outside everybody,'" Anderson says. "That's what experience does. He knows how defenses are playing him and we could do things that we knew could attack them."
All but two of Curtis' TDs come via Anderson. Those come from rookie Jack Thompson in 1979. You just don't see that any more in the free agency era. And it's not just because guys move teams. That's why it so nice to see Green and Dalton running at Curtis and Anderson.
Anderson: "When you think about it, when we started training camp was nine weeks long and every day was a two-a-day, so we had a lot of reps to work on different things. It got to the point you would know in every situation what his reaction was going to be …Training camp is so short now. No two-a-days. A lot of walk- through.  We had lot of time on the field together."
Curtis: "He really prepared. He studied us. He anticipated what we were going to do. We were all in tune with what was going on with coverages, but he was there and always on time. The whole thing about us is we depended on him and we knew he's going to have it there and he can have confidence in us that we're going to be where we're supposed to be. And the ball he threw."
Since it is a party, there are jokes.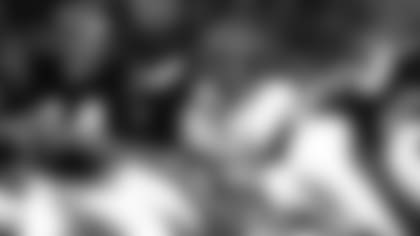 Kenny Anderson: the original No. 14.
"Kenny would warn me," Curtis says. "If I didn't run a good route, he'd throw those slants high so I'd have to reach over the middle."
Their best route? Naturally. "What they call the nine route today. The streak," Anderson says. That might have been the route on which Curtis made that one-handed-over-the-head catch against the Browns at Riverfront Stadium that Anderson says is one of the greatest catches of all time.
But Curtis might be partial to the "beat the man post."
"You track him down until (Curtis gets close enough to) steps on his toes, whatever the depth is, and then take it to the post," Anderson says. "With this guy, you get back five steps in a hurry, take a hitch, and throw it as far as you can. Otherwise he's out of range."
They take pride that those 51 still stand.
"Some things that last that long in this day and age, that's pretty good," Anderson says.
"Especially in the passing game," Curtis says. "Because it's such a wide-open game. You think my most catches in a season were 47 and now guys are catching 80, 90, 100 balls and there are third tight ends and running backs."
Both guys are energized by the drafting of Washington wide receiver John Ross, record-holder in the NFL scouting combine 40-yard dash. Another fast guy from California.
"I'm going to tell you. Back in the day, whatever he ran, that's great," Anderson says with a gleam in his eye that races back 44 years and now points to Curtis. "My money is on him. He can go as fast as he wants to."
Together again. Always. Fifty-one times.
Cincinnati Bengals host off season workouts at Paul Brown Stadium Practice Fields.