IRVING, Texas - After a devastating reversal of fortune in the fourth quarter, the Bengals scrambled back to cut the Cowboys lead to two here Sunday at Texas Stadium, but a fluke tipped touchdown reception by Dallas wide receiver Patrick Crayton with 1:52 remaining put the capper on a 31-22 win for the Cowboys.
"If anything spelled it out, it's that last touchdown they had," Bengals quarterback Carson Palmer said. "Things aren't going our way right now. When things aren't going your way you have to find a way to be perfect and we definitely weren't perfect tonight."
The Bengals had closed to within 24-22 with 7:39 left when Palmer hit wide receiver T.J. Houshmandzadeh for the second time on third-and-long for a touchdown. He was wide open from 10 yards out on third-and-seven, but the two-point conversion bid failed when Palmer's lob to tight end Ben Utecht in the corner of the end zone was knocked away by safety Keith Davis.
Houshmandzadeh said the touchdown play came as a result of improvisation on his part.
"If I ran the route I was supposed to run, it was going to be covered," he said. "I broke it off and ran something I wasn't supposed to run, and it's a good thing I made it because they would have been mad at me."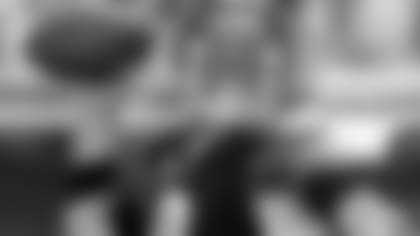 Carson Palmer started despite an injured elbow and passed for 217 yards. (AP photo)
The Cowboys then drove 73 yards while chewing up 5:47 off the clock for the clinching touchdown to Crayton. The pass was intended for Dallas receiver Miles Austin, who was at the two-yard line, but the ball bounced off his hands right to Crayton. Bengals cornerback Jamar Fletcher could only watch helplessly as the ball went over his head right to Crayton.
"That's the story of our season," Houshmandzadeh said. "Every coach on their team after the game came up to see me and said we have a great team, so how can you say that when we're 0-5?"
The 0-5 start marks the first time the Bengals have lost five straight games under Lewis.
The big play on the clinching Dallas drive was an 18-yard run by Cowboys running back Felix Jones on a second and three play with 4:38 remaining that was punctuated by a 15-yard facemask penalty against Bengals safety Marvin White.
Bengals comeback in fourth comes up short
A stunning two-minute span took the Bengals from finishing off an upset of the heavily-favored Cowboys into a 24-16 Dallas lead with 11:46 left.
Shayne Graham's 40-yard field goal with 14:02 left cut the Dallas lead to 17-16. On the ensuing kickoff head coach Marvin Lewis called for a gutsy onside kick, which was successful when linebacker Rashad Jeanty pounced on it at the Cincinnati 48.
"It's something we worked on," Bengals special teams coach Darrin Simmons said. "It's a numbers thing. We'd been talking about it since the first half. It wasn't my call, it was the head coach's call all the way."
Added Graham: "I didn't have the power of attorney on that one because that's a play that comes in from the sideline."
Three plays later Bengals running back Chris Perry suffered his fifth fumble in five games when defensive tackle Tank Johnson punched the ball out and the Cowboys recovered.
"It was a good feeling," Perry said of the momentum of the recovered onside kick. "But then I lost it for us. I've got to secure the ball. I didn't do it. That's why we lost."
Two plays after that Cowboys quarterback Tony Romo hooked up on a 57-yard touchdown pass to wide receiver Terrell Owens, who turned an intermediate crossing route into a touchdown.
On the next series after Glenn Holt had a 60-yard kick return, Cedric Benson was the running back. Holt got hit in the head and his return was questionable.
Holt had a nice day returning kicks, averaging 29 yards on six returns.
"It's no big secret we're a middle return team and today we went outside," Simmons said.
Graham's field goal early in the fourth was set up after rookie linebacker Keith Rivers made a leaping interception for his first NFL pick and returned it 39 yards and wide receiver Chad Ocho Cinco's third catch of the day netted 19 yards.
Ocho Cinco finished with just the three catches for 43 yards and wondered why the Bengals aren't going downfield in the passing game more often.
"I'm not sure why," he said. "All I know is it hasn't been a focus in the first five games and I'm going to keep working hard at it."
The Bengals had cut the Cowboys lead to 17-13 when Palmer revived a dormant passing game with an 18-yard touchdown pass to Houshmandzadeh slanting wide open to the middle of the field on a third-and-nine play with 7:58 left in the third quarter.
The 11-play, 72-yard drive that kept the elite Dallas offense off the field for more than five minutes (and marked the Bengals' first third-quarter points of the season) was fueled by a pop pass to wide receiver Antonio Chatman on third-and-one and Ocho Cinco's first catch of the day, a 15-yarder with nine minutes left in the third.
Cowboys jump out to early lead
The Bengals shoehorned all their Achilles heels into this winless 2008 season during the first 18 minutes when the Cowboys took a 17-0 lead.
Throw in a touchdown wiped out by penalty and what more do you need to know?
The Bengals had a shot to cut the Cowboys lead to 17-10 when defensive end Frostee Rucker made a hustling play to chase down scrambling Cowboys quarterback Tony Romo and punched the ball out for a fumble recovered by cornerback Jamer Fletcher. When Cowboys running back Marion Barber wrenched Fletcher's facemask the Bengals were at the Cowboys 29.
But Perry's 17-yard touchdown run with 56 seconds left in the half was wiped out by a holding call on Houshmandzadeh and the Bengals passing game just didn't have enough juice to respond.
"No way it was holding," Houshmandzadeh said. "Chris Perry was in the end zone, the guy threw the flag and turned to me. No way it was a hold."
Palmer had to step out of the pocket to avoid the rush on second down and his high pass to Perry in the flat got knocked away by cornerback Adam Jones. Palmer got flushed out again on third down and with wide receiver Chris Henry breaking open in the back of the end zone, Palmer shotputted it quickly to a wide-open Perry in the flat, but it was way overthrown.
With Palmer finishing the half 7-of-17 for 62 yards, the Bengals had to rely on Graham's 31-yard field goal with 34 seconds left in the half that made it 17-6.
The Bengals offense, continuing its search for touchdowns, had the ball for just four plays before falling behind by 10 points. One was an interception that set up the first score in the first two minutes.
The defense gave up another big run at the worst time as it has all season when Jones turned a simple toss sweep to the defense's left side on fourth-and-four for a 33-yard touchdown run. Cornerback Johnathan Joseph got blocked out of the play as he dove for Jones' feet and there was nobody behind him on a play that made it 10-0 with six minutes left in the first quarter.
"I wasn't real happy with the way we played some of the runs, but the fourth-and-four touchdown, that was my fault," Bengals defensive coordinator Mike Zimmer said. "It wasn't a good call for that situation."
Later in a first quarter the Cowboys had the ball for 10 minutes, the Bengals had their second 12 men-in-the-huddle penalty this season when it looked they were trying to get Henry into the game. Plus, when safety Kyries Hebert went out of bounds and came back in to illegally touch a Kyle Larson punt at the Cowboys 3, the penalty moved the ball out to the 20.
The Cowboys used those miscues to jack it to 17-0 with 12:12 left in the first half when a Bengals pass rush that has generated just one sack this season let Romo pat the ball infinitely on third-and-goal until he found tight end Jason Witten for a four-yard touchdown pass.
Earlier in the drive the Romo-Witten combo burned the Bengals on a 29-yard pass when safety Chinedum Ndukwe blitzed and Witten got behind linebacker Brandon Johnson.
On the play before the fourth-and-four, Owens caught a 10-yard pass underneath a zone to become the third fastest to 900 career catches.
Bengals turn it over early
The Bengals bid for an upset against the heavily-favored Cowboys got off the wrong foot when Palmer's first snap of the game got intercepted when his pass bounced off the hands of tight end Reggie Kelly on a short out and fell into the arms of Cowboys linebacker Greg Ellis at the Bengals 17.
But a stout defensive stand forced a three-and-out and Nick Folk's 30-yard field goal 1:54 into the game. Barber got five yards on the first two plays (middle linebacker Dhani Jones made a nice open field tackle on second down), and Fletcher had tight end Martellus Bennett covered in the end zone for the incompletion on third down.
The Bengals offense had another horrendous series after the pick, starting with Houshmandzadeh's false start that led to a three-and-out.
With the Bengals down, 17-0, in the second quarter, new running back Benson gave them a breath of fresh legs when his first six carries accounted for 25 yards and two first downs.
"All I was looking to do was help spark us," Benson said. "I felt like I did that."
Benson, who signed on Tuesday and donned pads for the first time since last season, converted a third-and-one on a pitch to the left side. He got two yards after a big block from Dan Coats, as well as runs of six and seven yards.
Benson finished with 30 yards on 10 carries and won the praise of his quarterback.
"Yeah, he did give us a lift," Palmer said. "The guy runs hard. You can see why he was a top four pick."
The effort ended in Graham's 41-yard field goal with 8:16 left in the first half that cut the Cowboys lead to 17-3.
Palmer's scrambling 18-yard pass to Utecht on third-and-seven from the Cowboys 23 got overturned when replays showed Utecht didn't get his right foot in bounds.
The Bengals passing game continued its season-long struggles. Palmer completed only three of his first eight passes for 28 yards. A laser over the middle that Utecht should have caught didn't help.
The field-goal drive got its boost from Holt's 46-yard kickoff return.
Late in the half the Bengals defense came up with a third-and-one stop and forced a punt when defensive tackle Jonathan Fanene and Jeanty came up with a stop of Barber.
But with more than five minutes left, the Bengals passing game just couldn't get anything going. On third-and-five, Palmer appeared to have Ocho Cinco open in the middle of the field, but when Houshmandzadeh got roughed up in coverage the pass went sailing out of bounds.
How bad was the pass? Ocho Cinco had no catches in the half, Houshmandzadeh had two catches for 17 yards and the longest completion was an 18-yarder to third receiver Chatman and he was the leading receiver with 41 yards on four catches.
"I enjoyed playing in Texas Stadium but it would have been better if we had won," Ocho Cinco said. "That's the way it's been going for us lately."
Perry had another tough game with only 31 yards on 13 carries while the Cowboys rolled up 198 yards on 38 carries. Romo hit 14 of 23 passes for 176 yards.
"When you're not a very good football team and you go into the house of a good football team, you've got to play perfect," Palmer said. "We're in a situation, we can't play good, we have to play great."
PREGAME NOTES: All pregame indications Sunday at Texas Stadium were that Carson Palmer returns to the starting quarterback job after missing last week's game with an ailing throwing elbow. Palmer came out and warmed up in sweats, something he didn't do last week when Ryan Fitzpatrick played against Cleveland.
The activation of Chris Henry meant that both rookie wide receivers, Jerome Simpson and Andre Caldwell, were inactive. Cornerback Johnathan Joseph (ankle) is expected to play after missing the last two weeks, but David Jones gets this third straight start.
The week was reversed for the quarterbacks from last week. After resting his arm Wednesday and Thursday, Palmer threw Friday and took all the snaps. Last week, Palmer threw Wednesday and Thursday but gave way to Fitzpatrick on Friday.
Palmer took snaps for the running plays Wednesday and Thursday and said on Friday it will be "an adjustment on game day, but nothing too big."
"There aren't really any new coverages I've gone against," Palmer said. "I went through the same week of preparation, game-planning, film-watching, studying. I just haven't made the throws."
The only announced change to the offensive starting lineup was Daniel Coats for fullback Reagan Maui'a, another indication Palmer is starting.
Also inactive for the Bengals on Sunday besides Simpson, a second-rounder, and Caldwell, a third-rounder, were two other draft picks still looking to get dressed for their first games in defensive tackle Pat Sims and Jason Shirley.
Also not dressed were Maui'a and the injured Dexter Jackson (thumb) and Corey Mays (ankle). Chinedum Ndukwe got his fourth straight start at safety for Jackson and linebacker Abdul Hodge, promoted from the practice squad Friday, dressed.
The Bengals caught a break when the Cowboys deactivated Pro Bowl cornerback Terence Newman (groin) and put Adam Jones in his place. Jones' old West Virginia teammate and fellow Roger Goodell visitor, Henry, makes his season debut after his own four-game suspension.
But don't look for him to be the third receiver in place of Antonio Chatman. But Henry will no doubt have a package of plays in which the desperate Bengals passing game tries to use his vertical skills against a depleted secondary.
Besides Newman, safeties Roy Williams and Patrick Watkins are also out.
The Bengals showed up in their all-black ensemble and their offense was introduced as a unit. Linebacker Rashad Jeanty joined the regular captains as the special teams captain. Dallas won the toss and deferred to the second half as the Bengals received the opening kickoff.