No matter what Cody Core accomplishes in his pro football career, he will not go down as the best 199th-overall draft pick in NFL history.
Thursday's birthday boy Tom Brady (2000 NFL Draft) has that distinction wrapped up.
But the wide receiver selected in the sixth round last year appears ready to play an expanded role in his second season with the Bengals.
"Last year, he couldn't finish a practice," said head coach Marvin Lewis. "For a guy who supposedly played at Ole Miss, I would tease him, 'You can't handle our humidity here, huh (laughs)?' I think he has matured a lot physically, and he obviously knows what to do – he's smart. He was a big contributor for us on special teams, and when A.J. (Green) went out, he got a chance to go out there and play."
"I'm a lot more comfortable," said Core. "Just getting the playing time last year, starting the last couple of games and seeing the pace. It helps a lot."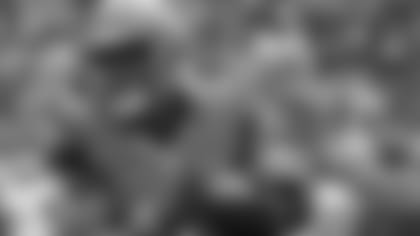 The Bengals drafted Core largely for his size and speed – he's 6'3", 214 pounds and ran the 40-yard dash in 4.47 seconds at the NFL Scouting Combine.
"He's a big guy and he's quicker than you think," said cornerback Dre Kirkpatrick. "He uses his body really well and I think that he can help us."
But being fast and playing fast are two different things and Core should benefit from having a year of experience in the Bengals' offense.
"If you look in the receiver position group at guys like Cody Core, Alex Erickson, and Tyler Boyd, those guys aren't thinking about what the play is," said quarterback Andy Dalton. "Now they know which way to run a route on different coverages and things like that. That's a big area where we have taken a jump."
"Things are getting better," said Core. "Just the trust and the communication and having everybody on point and on target."
"The playing experience Cody got last year has been very beneficial to him and everyone on the football team to be able to see his abilities," said Lewis.
Core has been on the receiving end of several long passes in training camp, and the 23-year-old is battling to earn playing time on a deep and talented wide receiver corps.
"He's one of my favorite guys to play against because he's got a little fire about himself," said Kirkpatrick. "He's going to get the best out of you. He challenges me and Adam (Jones). He doesn't really look at who you are – he's a competitor. That's what I like about him."
"Whether it's Andy or AJ (McCarron) or Jeff (Driskel), the guys have great confidence in him," said Lewis. "When he gets in a one-on-one situation, he can win that battle."
"We have a lot of talent," said Core. "Everybody has speed so the defense had better be ready."