Nick Vigil (right) eyes a play in practice.
The one thing Bengals rookie linebacker Nick Vigil hasn't done since he arrived in the third round is talk. He's flashed, dashed, and re-hashed while seducing the coaches, but he's been a little light on the conversation.
So when Vontaze Burfict, the brains of the outfit and the man Vigil backs up at WILL backer, asked Vigil if he could call him, "Luke," in honor of Panthers Pro Bowl middle linebacker Luke Kuechly, what was he supposed to say?
"Whatever," is basically what happened.
"It's just kind of a little joke he calls me. He never calls me by Nick. Just Luke," Vigil says. "One day he just said, 'Is it all right if I call you Luke?' I said, 'Ohhh, whatever,' and he just started calling me that and that's how it's been."
What it's been is not Nick-Vigil is-the-next-Luke Kuechly. It's been more like Nick-Vigil-plays-with-the-same-style-as-Luke-Kuechly. Burfict, a texting friend of Kuechly, sees similar smarts in Vigil.
"He's got the same kind of mannerisms," says Karlos Dansby, who's been looking like the Karlos Dansby that plays over the tight end these days. "His ability to move around and just show flashes, that's a good sign coming in as a rookie to be compared to a guy like that."
The Bengals finished their sixth of nine spring practices on Thursday and counting the rookie minicamp that's now nine times they've seen him practice and the coaches are still raving about Vigil, the third-round pick out of Utah State. There are a few things in town that come as advertised in the spring, but so far Vigil is right there with Taste of Cincinnati and the May Festival.  
"I think he's going to be a fantastic player in this league," says special teams coordinator Darrin Simmons. "He's got great movement skills. He can really run and on top of that he's smart. I can see it in the meetings."
Smart enough that linebackers coach Jim Haslett hasn't put many minuses next to his name.
"He makes very few mistakes. Very few," Haslett says. "If he does make one, he doesn't make it the second time. He's exactly what we saw on film. We liked him because he was smart and has good speed."
Like Burfict, Vigil has the same kind of M.O. coming out of college. Smart. Instinctive. But while Vigil played all over the place in Logan in a similar 4-3 defense, the Bengals are making sure he learns the WILL spot. He can play the middle and did in rookie minicamp and he's also playing in various packages.
But it looks like they want to get him acclimated to the outside.
Because there's smart and then there's Tez smart.
"He's an extremely smart player. He's always in the right spot," Vigil says of Burfict. "He knows what the offense is trying to do. He's one of the smartest players I've ever been around. People say I'm a smart player, but I'm not there yet. I'm still trying to learn the defense. I'm out there thinking a little bit."
Even though the scheme is similar to what he knew in college, Vigil has needed time to study the vocabulary since the terminology presents a brand new language.
"Everything is called differently," Vigil says. "It just doesn't register in your mind as quickly. So you're out there thinking about it a little bit. I feel like I'm picking it up OK. I'm learning it pretty fast."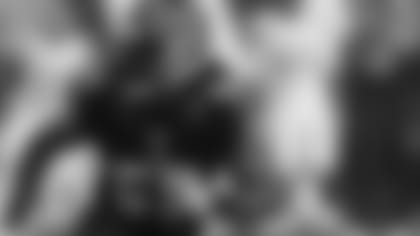 Vontaze Burfict nicknamed Nick Vigil "Luke," since his mannerisms mirror Luke Kuechly.
In preparing for a regular season the Bengals know they won't have Burfict in the first three games, they apparently are going to make sure they have the WILL covered with Vigil or Vincent Rey and guys like Marquis Flowers and Jayson DiManche making a run at the roster. P.J. Dawson is flexing his muscles behind Dansby.
Dansby, who is in his first spring in Cincinnati after playing virtually every position during his dozen seasons in the league, seems comfortable back over the tight end at SAM, where he played for so many years during his first stop in Arizona.
"I played on top of the tight end last year a lot," Dansby says of his 16 games in Cleveland. "I did it in college. Being over the tight end is very natural for me. It's like riding a bike. You never forget."
That's where the Bengals need to get Vigil, but it's apparently been a pleasure so far. Haslett says there are a couple of different kinds of speed he'll have to get used to. There'll be preseason and then the speed quickens in the first four regular-season games. Then it kicks up a notch in the last eight games.
"The playoffs are hyper speed. The game is over and you're like, 'What happened?' Haslett says. "That's what he's got to get accustomed to. Crowd noise. Communication. All the things you take for granted when you're practicing. Once he gets that under his belt he'll be fine."
So far, there have been no surprises. Not even the nickname "Luke," really. The coaches invoked Kuechly's name shortly after they drafted Vigil. And Haslett doesn't expect any surprises.
"He doesn't scare you to throw him in there," Haslett says. "I think the preseason will be big for him to see if he's ready to play right away. I don't think the game is too big for him.  I think once he gets in the game, will he make a mistake here or there? Yeah. But I don't think he'll make another one."
Cincinnati Bengals host OTAs at Paul Brown Stadium practice fields 6/1/2016