Bengals head coach Marvin Lewis appeared refreshed and ready as his 14th season began last week at the NFL scouting combine.
In honor of Peter King, the Maven of Monday Morning Quarterback.com, and Lance McAlister, the Cincinnati sports radio jock who packs more into three hours than Donald Trump's barber, we give you the NFL Scouting combine version of I Think I Believe.
I Think I Believe I'm always amazed by Bengals head coach Marvin Lewis' resiliency.
I mean, how much more can a guy take after getting his first play-off win in seven tries taken away like that? How fresh can you remain after 13 years of banging your head against the wall of the unyielding AFC North that weekly turns your stomach to mush? Look, this isn't the AFC East with a couple of gimmies a year.
But as Lewis met the Cincinnati media last week in a small hotel conference room in downtown Indianapolis during a break in the combine, the man somehow looked and sounded refreshed after emerging from a Ryan Shazier-induced hangover.
Lewis and Bengals president Mike Brown poked through the ashes together the morning after the Steelers ripped away an 18-16 Wild Card win in the last 1:23.
"I sat at my desk those six hours afterwards," said Lewis, who says he never thought about walking away. He also wasn't surprised that Brown was back at his desk at 8 in the morning that surreal Sunday.
"That just tells you the passion he has for it. And that's literally the first thing we talked about on Sunday morning," Lewis said. "No. There was no doubt (he would keep coaching.) That's the first thing (Brown) always asks me. So, but no."
And Lewis must really still want it badly for at least a couple of more years because he knew he was letting one of his best friends in the business, offensive coordinator Hue Jackson, leave for a head coaching job. It was widely assumed that Jackson was Lewis' heir apparent in Cincinnati. But in the end, Jackson needed his shot now. And so does Lewis.
"It's happened where people have passed (on a head job). Obviously it was a loss both professionally and personally for me," Lewis said. "I think there was a lot of emotion that goes into making a decision. I guess there was talk of that, that we could've done that. But, you know, obviously he wanted an opportunity to do this and be successful as a head coach so I think he felt really good about his time he spent with Mr. (Jimmy) Haslam and the Browns people and obviously he felt good about it."
In an intriguing way it seems like the coaching shakeup that began with Jackson's departure has energized Lewis. He's got lot of confidence in new offensive coordinator Ken Zampese, who has been with him all the way in Cincinnati, and he's got three new defensive position coaches with more than a combined six decades in the league.
The hiring process showed off some of Lewis' strengths. A long-time member of the NFL Competition Committee, Lewis has massive respect around the league and he's always well informed because he's on the phone reaching out, taking the temperature of issues, players, and coaches, and whatever else.
That allowed him to buckle up his staff in about 48 hours. When guys like defensive line coach Jacob Burney and linebackers coach Jim Haslett called for his help in the job search, Lewis was able to say, "Not so fast. How about here?" Burney and Haslett had been out of the league for a year and secondary coach Kevin Coyle and quarterbacks coach Bill Lazor had been let go as the Dolphins coordinators last season.
"Unfortunately, every year there's a lot of good coaches who end up out of work because of how the cycle works out sometimes," Lewis said. "They choose to wait until there's a better situation for them. We were fortunate to get Jacob and Jimmy that way. To get two guys that were coordinators a year ago in Miami, you couldn't write a better script for us than that. Guys who were play-callers, decision-makers they are an asset to the team. No different than when Hue came back here."
And, for a football nerd like Lewis, there's apparently nothing like interviewing a college prospect to get rid of a one-and-done.
"When you come here and these guys come to life in front of you, it's pretty cool,' Lewis said. "So the interviews at night, that's what gets you going."
Another sign that Lewis is ready to attack is that you can already see his coaches walking around with a copy of a new motivational book. Lewis tries to find one every offseason for his staff and this one was an easy find since "You Win in the Locker Room First," is co-authored by good friend Mike Smith, former Falcons head coach and current Tampa Bay defensive coordinator.
"We're going to start fresh again. There's no doubt about it. We're going to start fresh. And I feel good about that. And that's what we need to do," Lewis said. "Because of coaching and players . . . There needs to be no complacency of anything. We've got to start fresh. We weren't good enough. We didn't get to be the last team standing."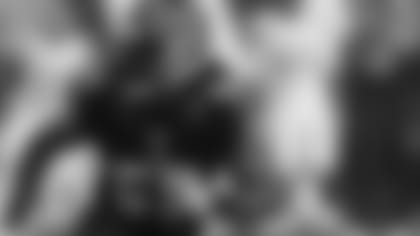 The Bengals rely on college game tape rather than combine workouts to give their ultimate grades. And Vontaze Burfict is a case in point.
I Think I Believe when it comes to the Bengals there is only one thing I want to know when it comes to what they did at the combine for the last week.
 If you can find out the list of 60 players they formally interviewed in the hallowed 15-minute slot, that's a good way of narrowing down who they're going to draft.
For the last few years, it's pretty close to a 100 percent rate of the number of guys they interviewed and who they took in the first four rounds or so. Duke Tobin, the Bengals director of player personnel, guards that list like Andy Dalton's blind side.
But it shows you how the Bengals approach the combine. They use it only as a physical and meet-and-greet and could care less about the 40-yard dash and three-cone drill and all the other stuff. Their Bible is game tape.
One Bengals assistant coach who was back in the office Monday was grinding on college tape and he could care less who or what he saw on the floor at Lucas Oil Stadium.
All you have to do is go back to Vontaze Burfict, one of the game's top linebackers who ran the slowest 40-yard dash of the backers at the 2012 combine and ran himself out of the draft. The Bengals, knowing he was too heavy, gave him a shot after the draft because they watched his junior year on tape when he was in shape.
And, go back to Andy Dalton in that 2011 draft when then Bengals offensive coordinator now Washington head coach Jay Gruden scouted him out of Texas Christian. "Any time you're after a quarterback that needs to compete for the starting job in Year 1, you've got to make sure he's the right guy for you. You've got to look at their senior film, their junior film, their sophomore film," Gruden said at the combine. "Fortunately we had a lot of tape on him. He was a four-year starter at TCU . . . He played a lot. They ran a very similar pro-style offense. They were under center. They read side to the field, Cover 2, Cover 3, Cover 4 – for all those things, he was making decisions based on the coverage, play-action, roll outs, drop backs, zone-read, all those things."
 So, yeah, they saw Dalton at the combine and they went to his pro day. But it came down to college tape. Not pro workouts.
I Think I Believe that Houston cornerback William Jackson III could be the Johnathan Joseph of this draft. Joseph, the South Carolina cornerback who came out of nowhere to run a blistering combine 40, moved up enough in the 2006 draft to get plucked by the Bengals at No. 24.
The Bengals are at No. 24 again  and you figure corners like Florida's Vernon Hargreaves and Florida State's Jalen Ramsey are going to be long gone. And you wonder if Ohio State's Eli Apple has now launched himself into the top 20 with Monday's 4.4 40 while catching everything in the drills as well as showing off long speed, according to NFL.com's Bucky Brooks.
Like Joseph, Jackson is a junior college transfer and he's got good size at 6-0, 189 pounds. Another one at No. 24?
Of course, who knows if the Bengals are looking at a corner again? Free agency still has to play out.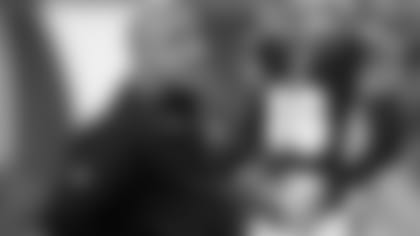 Marvin Lewis on Hue Jackson, one of his three assistants now a head coach: "The unfortunate thing about Hue is he's in our division. I wish he would've gone somewhere else, but he didn't."
I Think I Believe, in direct opposition to the fallout from the Wild Card Game, the Bengals' profile around the league is at an all-time high with so many coaches who were in Cincinnati during the last five play-off runs now dotting the NFL landscape, starting with Jackson in Cleveland, Gruden in Washington, and Mike Zimmer in Minnesota as head coaches.
Plus, former secondary coach Vance Joseph is the coordinator in Miami, where he took linebackers coach Matt Burke, and former defensive line coach Jay Hayes is in Tampa.
Zimmer and Gruden went out of their way at their combine media availabilities to credit their old club.
"It says a lot about Coach Lewis. He's a great football coach," Gruden said. "Obviously Mike Brown knows how to run the organization and it's a great situation out there. They did it the right way, really. A lot of players they have on their football team were through the draft. Their whole offensive football team were drafted guys and they built through the program. They were consistent at being able to be successful and consistent is what we're all striving for."
And Zimmer added, "Number one, Mike Brown does a great job in helping coaches grow. He's very loyal to them and he's solid in everything. His upbringing is unbelievable. And then Marvin's done a great job with all of us. He helped me grow tremendously. I can't speak for the other guys, but I know for me he helped me a lot and helped me in different ways. We've done a lot of things that Marvin's done, with some of the things that we do with the football team overall, but I think one of the things about that is it shows that you can be a good guy and be a good coach and still win, too, because Marvin does a lot of that."
It remains to be seen if this is all going to come back to haunt them in free agency because their players are so well known across the league.
I Think I Believe Tobin's first media appearance at the combine came off quite well. His concise, straight-forward answers show the style that has streamlined and focused the Bengals draft room. 
"Duke has always been very knowledgeable," Zimmer said at the combine. "Number one, he's a hard worker. He comes from a pretty good family football background. Duke has always loved talent, and I think that shows on the football team right now. They have a very, very talented team. I think that he does a great job of getting all the background information on all the coaches to make sure they can be coached the right way. Putting it all together, I think he's done a fantastic job."
I Think I Believe the Bengals and Browns are entering their most exciting and intriguing chapter of the rivalry since the '80s and Sam Wyche not living in Cleveland. Hey, it may not be Paul Brown and Art Modell of the '70s, but Lewis and Jackson can be counted on for championship football and some one-liners during the week.
Lewis can start it off with the story of Jackson running by him on the field before a game and knocking him down when Jackson was a graduate assistant coach in college.
The NFL, which usually has all the humor of a fender-bender, got a laugh when they put the Bengals' suite at the combine between Jackson's Browns and Gruden's staff.
Tobin joked they had to cover their notes, but apparently new Browns football boss Sashi Brown was taking notes on the size of the Bengals' scouting contingent. And since the Bengals had 12 wins to Cleveland's three with about a third of the Browns' personnel staff, he may have been thinking about streamlining.
This gallery features photos of current Bengals players at past NFL Combines