Updated: 1-26-08, 8:30 a.m.
Gil Brandt, czar of the NFL scouting combine, listened to David Pollack's time in the three-cone drill and crunched the number before spitting out the verdict.
"You have a time like 6.69 seconds for a defensive lineman and there is a high percentage that guy will make the Pro Bowl," Brandt says from Dallas.
That's not Pollack's time from 2005, when he authored one of the greatest combine workouts in history. It's lower. And it's from Friday's session of his daily regimen that now includes helping college prospects prepare for the combine as well as taking another step forward to his return to the NFL.
"He's probably in better shape from a cardiovascular standpoint than at any point in his life," says Clif Marshall, who oversees the workouts as director of the Ignition Athletics Performance Group. "And obviously he still has the agility that makes him a special player."
Pollack, shelved for the past two seasons with two broken vertebrae in his neck, plans to tell the Bengals his career path long before the April 26-27 NFL Draft that marks the third anniversary of his selection as the club's No. 1 pick and the decision to move him from All-American defensive end to rookie strong-side linebacker. The decision whether to play or retire, he says, is going to come shortly after his Feb. 8 appointment with a neck expert in Los Angeles.
"Then I'll pray about it," he says. "I'll seek God, make sure I'm not relying on me just to make the decision, and then see what He's got for me.
"The toughest thing is that no doctor we've met with has been able to give us a percentage. Trust me. I'm not going to do anything stupid. If someone said there was a 50 percent chance I'd break my neck again, I promise I wouldn't go anywhere near a field again. We'll see."
He says he's feeling no pressure. He talks to head coach Marvin Lewis via text message or phone virtually every day and Lewis simply asks how he's doing.
"I've got a lot of respect for Coach Lewis. He's a man with phenomenal character. He runs this team as best as anyone could," Pollack says. "I wouldn't want to play for anyone else other than Tony Dungy. He's not trying to pressure me one way or the other. He's not telling me I need to come back and play."
Pollack is still sleek, fit, and in perpetual motion at 255 pounds, and working out four to seven hours a day after serving that 14-month sentence in his home right after the injury.
But there are some changes.
His once close-cropped black hair now flows bushier, hiding the scars from the halo that was screwed into his head hours after that Sept. 17, 2006 collision with Browns running back Reuben Droughns. It can't hide the two on his forehead, but then Pollack admits he has changed inside, too, as he and his wife await their first child on Aug. 18.
"I'm a better person. I'm a better husband," Pollack says. "I used to think this was a hard job. We worked so much. When I came home I was always tired and I never did anything around the house. Now I do the laundry, I do the dishes."
There is a buzz of anticipation at Pollack's possible return. One coach calls him "our Bruschi," a reference to Tedy Bruschi, the Patriots' smart, versatile, veteran leader linebacker who came back from a stroke.
"No way. I haven't done anything in this league and Bruschi's done it all," Pollack says.
Indeed, Pollack has played in just 16 games and will be 26 when he takes his next snap. But those who look at the last month of his rookie season, which included a sack in each of the two games against Pittsburgh and a team-high 10 tackles in the Wild Card game, get the what-ifs rolling.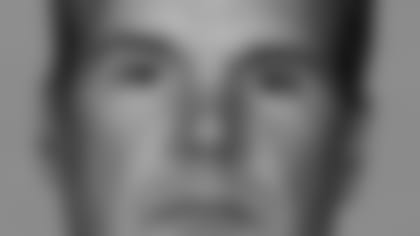 Jeff FitzGerald, the new Bengals linebackers coach, knows all about him. FitzGerald, who has been helping run the linebacker drills at the combine for the past decade, is like a librarian who can sift the masterpieces from the rest of the volumes.
Pollack's 3.90-second, 20-yard shuttle is still the fastest for a defensive lineman that Brandt can remember of a drill in which a player must shuffle laterally for five yards, touch a line, shuffle the other way for 10 yards, touch a line, and finish five yards the other way standing up.
"I remember his workout. I wanted him and I loved him at the school visit," says FitzGerald, who unsuccessfully lobbied the Ravens to draft Pollack after that combine workout. "From what he showed at the combine, he had the movement that convinced myself and other guys that he could stand up (and play linebacker). Plus, you knew that David was such a dedicated guy that he was going to work at it."
Pollack doesn't think he could match that 3.9 now. But Friday's 6.69 is faster than his combine's 6.86 in the three-cone drill (a 30-yard route timing change of direction), and he is smashing his 1.67-second 10-yard dash the past few days.
He's never had great speed (a 4.75 40 at the combine), but he ran a 4.8-second, 40-yard dash on Thursday in sneakers without warming up.
Pollack repped 225 pounds at the combine 25 times and Marshall believes he could have done 26 earlier this week during a session he did 22. Pollack doubts he can jump vertically the 37 inches he hit at the combine, or broad jump the 10 feet.
"You want explosion, I can show you explosion," he says. "I've played since I was six, except for the last two years. I don't think I'm going to forget."
But the locker room intangibles that have been lost are incalculable. Look at what he brings to the group of about 10 players getting ready for next month's combine at the Ignition facility adjacent to Wall-2-Wall in Mason, Ohio.
"The champ waits. You have to earn your spot on the card," jaws Pollack to Louisville linebacker Lamar Myles. "So you go first." Or, Pollack might bet Purdue backer Stanford Keglar a lunch if he can break 6.8 in the three-cone.
Myles, who walked in here with a bunch of U of L weight room records, shakes his head.
"I got him in the weight room yesterday," he says. "But he got me out here."
But Pollack coaches as well as competes. He's always reminding the prospects to keep their eyes on the person conducting the drill, don't use the off-hand on the ground, and always cut the angle.
"He's so competitive. Everything he does here, no matter the drill, he's always challenging these guys," Marshall says. "For something like this, where he was so good at this, it's like bringing Peyton Manning in to your passing camp."
Pollack is frustrated that his lower body and legs haven't kept up with his upper body in the strength department. He remembers his legs were "trunks," but he believes he'll get them back.
He is encouraged by the possibility the Bengals could go to a 3-4. He says he won't play linebacker again, only end, because the doctors fear those collisions that get started 10 yards away.
But, at 6-2, 255, he admits, "I had the perfect body for a 3-4. When I came out (of Georgia), that's all I heard. I was going to be a 4-3 end or a 3-4 (outside) linebacker. I've been trying to convince (the Bengals) forever to go to a 3-4."
Pollack says he'd have to sit down and discuss it with people if the Bengals do indeed switch to a three-man front and make him that outside backer. But he doesn't think it would be much of a problem even if his hand isn't on the ground because, "You would still line up on the line and your target would only be about six inches in front of you."
And a sack is better than a collision?
"Absolutely," he says with a laugh. "You're the one doing the engaging."
Pollack is engaging the group in more than football. He holds a weekly Bible study and every day text messages a Biblical trivia question to each. The one on Thursday was "Name the 13th disciple." Friday's was, "Who walked on water?"
"I didn't get the first one, but I got both on the last one," says Keglar of Jesus and Peter. "We pray after every meeting and it makes you try to make yourself a better person. He's a guy that walks the walk off the field."
Pollack's spirituality is what fuels him, but he says he'll always be around football as either an announcer or a college coach. He spent this past season as a pregame analyst for the SEC on CSTV as part of CBS' national programming.
"I don't want to do what you guys do. I don't want to interview anybody," Pollack says. "I like to study film and look at the matchups. I beat all the anchors with my pregame predictions.
"I know people won't like this, but I don't think Ohio State should be allowed to play any more in the BCS championship game the way their team has played. It's a travesty ... they do a lot of zone blitzes that kill Big Ten people. But when you have speed and athleticism, it's a little bit different. If you don't make the tackle in the zone blitz, they take it to the house."
Pollack doesn't exactly dance around the issue of the Bengals' change of defensive coaches, either.
"Whether you like it or not," he says, "we consistently haven't been very good on defense. If you're not in the top 25, something probably needs to change."
As Friday's workout draws to a close, Pollack is still running through cones and advice.
"Movement needs to be the first step," he says. "The clock is starting. You're wasting time."
When this latest test is over, he's making sure they won't be able to say that to him.