Cornerback Darqueze Dennard (21) fought through his NFL scouting combine.
The NFL shifts to Indianapolis and the scouting combine next week, so you'll forgive Bengals cornerback Darqueze Dennard if he winces just a bit.
Dennard, the 24th pick in the 2014 draft, checked off all the boxes that year, ranging from character to intelligence to college production. But that didn't make his stay in Indy anything to write home about.
"I understand (the combine) from an NFL perspective," Dennard says. "Take them through all the stuff and see how they react. See how they rebound. How they react to a different situation. I can see that. But my combine experience was bad."
It wasn't a total disaster and he urges next week's class to embrace the moment. There were the friendships he made with guys in his group, such as fellow first-rounders Ha Ha Clinton-Dix and Kyle Fuller. And his formal interviews with the head coaches he watched growing up were a treat.
But he figures he had seven hours of sleep in his four days at the combine, which means he had an MRI for every day he was there. He got so backed up with physicals and psychological exams (and a 6 a.m. drug test) that he was the only defensive back that didn't make his appointment in the media room.
Because his day usually ended with meetings with teams around 10:30 p.m. and he tweaked his hamstring ten days before the combine, he didn't crawl into bed until about 2 a.m. each night after rehabbing with his own trainer.
"We got in late at night and there was a wake-up call at 5:30 or 6 o'clock for a drug test,' Dennard says of the flight in. "But I wanted to get there early before everybody else and be the first so I could use the bathroom and  go back upstairs to get some rest. But there were 20 other guys thinking the same thing, so you had to wait."
That's a combine watchword. That will happen when all 32 medical staffs get a chance to put a hand on you. Dennard had a sports hernia in his closet and it took three MRIs to show what they needed. He also had another MRI for the left shoulder he separated as a sophomore at Michigan State.
"Do the math," Dennard says. "You've got other guys in there, so you're waiting for an MRI machine to get open and once you do get in it you're in there for 45 minutes to an hour."
And, yes, Dennard had been looking forward to meeting the press.
"You see the guys talking to the media and why they should be the first cornerback taken," Dennard says. "I had my reasons. I wanted to present my case to the public."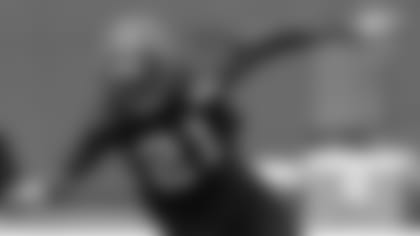 The Bengals were impressed with Dennard long before the scouting combine.
Dennard was the third cornerback taken after Justin Gilbert (eighth to Cleveland) and Fuller (14th to Chicago), but not because he missed his media session.  By the final week before the draft, those were the consensus top three corners and it just came down to taste.
Dennard didn't have to make his own case for his skill at doing the toughest thing asked of an NFL corner, which is playing man-to-man in press coverage. His tape at Michigan State and his ensuing on-site interviews, like his visit to Paul Brown Stadium the month after the combine, made sure of that.
But by the time Dennard got a chance to take the field with his fellow defensive backs at the combine he was, well, drained, because it was the last day of a prospect's stay. He did run a 4.4-second 40-yard dash, although now he wishes he didn't run because he thinks he would have been faster at his March pro day in East Lansing, Mich.
Still, it was fast enough he was advised not to run the 40 that day on campus, but he could only do a few position drills before he had to bow out of the combine with the tender hamstring. But he was able to do every other test at the campus workout.
Dennard has a suggestion to the NFL. Put the players on the field closer to when they arrive. He remembers hearing about former Bengals teammate Onterio McCalebb running the second best 40-yard dash at 4.34 seconds in Indy the year before his combine and wondering what might have been.
"They want to see guys at their best," Dennard says. "Maybe they can do the drills the first day. You see Onterio run like that and you wonder if he'd been out there right away he probably would have run something really crazy like Chris Johnson's (combine-record 4.24 seconds) . . . But I understand they like to see what guys do under pressure."
While Dennard says the event almost seems like"it's set up for the players to fail," he wouldn't have missed those formal 15-minute interviews with the teams that take place in a hotel conference room and begin and end with the horn that sends the prospects on a sort of weird fantasy musical chairs.
"You get to meet the coaches you saw on TV growing up. That was a highlight for me," Dennard says. "You sit down and actually get to talk football and do stuff that you have a passion for and they have a passion for. That's really cool."
And Dennard got a chance to go around the league as befitting a first-rounder. He had the busiest of dance cards when he arrived in Indy, where they handed him a schedule of the fullest slate a prospect can have of 22 teams needing 15 of his minutes in a formal interview setting.
He calls the Bengals 'the most intriguing,' of the sessions, but remembers not having a good feeling when the horn blew to end it.
"I was confident about every interview but that one," Dennard says. "I thought the one team that won't draft me is the Bengals. I think I showed a little attitude. I was a little frustrated about why I needed to know one of the answers."
The Bengals come at the prospect with a little bit of everything. Their 15-minute sessions are a microcosm of their team approach to the draft. Director of player personnel Duke Tobin and head coach Marvin Lewis are just as likely to ask questions, as is the team psychologist, or the area scout, or the position coach. There could be tape shown or not shown. Each Bengals' session is different because it is geared for that particular prospect.
"Just enjoy it," is Dennard's advice to next week's class. "Looking back on it, I really enjoyed the meetings and just getting to meet the other guys. I would just tell them to enjoy the whole process. The MRIs and meeting with the doctors, just have fun with it. If you have fun with it, it will go by fast and you'll enjoy it more."
So Dennard is proof that while the combine is important, it isn't make-or-break.
"I loved the kid,' said Bengals secondary coach Kevin Coyle, then the Dolphins defensive coordinator. "I talked to him for about 15 minutes and loved him."
But that was at the airport, on the way home after four grueling days.