INDIANAPOLIS - Bengals quarterback Ryan Fitzpatrick has avoided the big mistake against some eat-your-young defenses, but he gave up a big one in the last minute of the first half here Sunday at Lucas Oil Stadium and the Colts used it to run away to a 35-3 win.
And another one made it all very final when his bid to wide receiver Chris Henry got picked off and returned 85 yards up the sideline for a touchdown with 5:02 left in the game to account for the final margin.
After game, Bengals head coach Marvin Lewis said Fitzpatrick was not to blame for the two interceptions. In both instances Lewis layed the blame on the wide receivers.
"Two miscommunications on what they were doing and what I was thinking," Fitzpatrick said of the two interceptions. "They hurt and they hurt big. There's not much you can do to avoid them except make sure everyone is on the same page the next time."
When asked if had anything to be positive about, Lewis said, "I'm positive we're going to win the last three. Very positive."
With the first half winding down, Fitzpatrick's third-down slant to rookie wide receiver Jerome Simpson was also picked off by Hayden and set up at the Bengals 7 when Henry made a mindless post-whistle hit on cornerback Tim Jennings for a personal foul, and 32 seconds later Colts quarterback Peyton Manning converted it for a five-yard touchdown pass to wide receiver Marvin Harrison running to the pylon in front of cornerback Jamar Fletcher with 29 seconds left to give the Colts a 14-3 halftime lead.
"It's my fault, I guess," Simpson said of his route. "The dude jumped the route. He read it perfectly but it's my fault."
Lewis wasn't pleased with the penalty on Henry. "He got hit from behind but it was a selfish play," he said. "You can never be the second guy in the there."
That opened the door for the Colts to close it and they did by opening the second half with a 15-play, 81-yard drive that lasted so long (8:45) that Manning blew two timeouts when he didn't like what he saw at the line of scrimmage. But that was rare against a Bengals secondary foaming with third- and fourth-team players.
He went against two of them, safety Kyries Hebert in his first NFL start and rookie cornerback Simeon Castille, on a third-and-long that translated into wide receiver Anthony Gonzalez's 17-yard catch. Moments later on third-and-goal, Gonzalez settled into a zone between Fletcher and linebackers Dhani Jones and Brandon Johnson for a two-yard touchdown catch with 6:15 left in the third quarter that made it 21-3.
That closed the door and opened the gates. Pro Bowl pass rusher Dwight Freeney finally got off the mark against rookie left tackle Anthony Collins. He got his first sack of the day bullrushing Collins back into Fitzpatrick and a snap later Collins picked up a holding call to put Fitzpatrick into a third-and-29.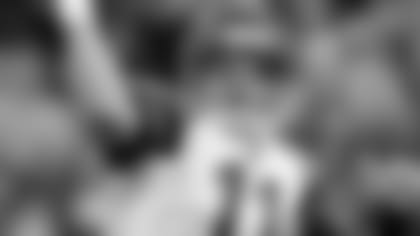 The Colts defense bottled up Bengals quarterback Ryan Fitzpatrick (18-of-26, 170 yards, 2 INT). (AP photo)
Manning wasted no time as the Bengals made Harrison look 26 years young instead of a much-criticized 36. He flipped Harrison a short pass over the middle of the field and no one was there. Hebert looked to take a bad angle and Harrison was off on a 67-yard bolt a week after the Bengals gave up a 70-yarder to the Ravens. Hebert hustled to haul down Harrison at the 2, where Manning shot-putted a touchdown pass to tight end Dallas Clark to make it 28-3 with less than three minutes left in the third quarter.
"They caught us in a two-deep with a dart play," Hebert said of the pass to Harrison. "We've got to get him on the ground as soon as possible. Me, personally, I have to take a better angle from the snap."
Asked about catching Harrison from behind, Hebert said, "I wouldn't have got here if I didn't hustle on every play. I wouldn't be here if I didn't finish. That's my M.O."
Manning finished with 277 yards passing (26-of-32), but a lot of it was short, quick stuff. Tight end Gijon Robinson, who came in with seven catches for 32 yards on the season, had six for 69 Sunday.
Coupled with last week's 34-3 thrashing by the Baltimore Ravens, Sunday's 35-3 loss to the Colts represented the first time the Bengals have lost back-to-back games by 30 points or more in franchise history, according to the Elias Sports Bureau.
Bengals able to move the ball early
This one had a little different twist for the beleaguered Bengals offense early on. A week after scrounging just 155 yards against the Ravens, they had 142 at the half. But still no touchdowns stretching back nine quarters to the first quarter in Pittsburgh Nov. 20.
The skein threatened to hit 11 quarters with the Freeney and tag-team partner Robert Mathis unleashed with the big lead in the fourth quarter. The Colts ended up with five sacks as the Bengals failed to avoid their first back-to-back games without a touchdown since the shutout losses to Jacksonville and Baltimore in September 2000. Before Hayden's touchdown return, Fitzpatrick had driven the Bengals down the field with the help of wide receiver Chad Ocho Cinco's 22-yard catch. Ocho Cinco finished with five receptions for 79 yards.
But the Hayden TD ended school and it began to look like the last minutes of the preseason finale here back on Aug. 28. Jordan Palmer came in at quarterback, rookie running back James Johnson saw his first NFL action, and rookie center Andrew Crummey made his Bengals debut.
In what amounted to a microwave drive in this trying offensive seasons, the Bengals wheeled 76 yards in just over four minutes midway through the second quarter. But symbolizing 2008 in one series, the Bengals couldn't punch it in with a first-and-goal from the 5 and had to settle for Shayne Graham's 19-yard field goal that cut the Indianapolis lead to 7-3 with 6:15 left in the first half.
Fitzpatrick hooked up with Ocho Cinco and Houshmandzadeh for consecutive passes of 26 and 21 yards, respectively. It was The Ocho's longest catch of the season and his first 20-plus reception since the opener on a play-action pass down the sideline. His sliding 13-yard catch then got the ball to the 5. Two Cedric Benson runs got it to the 2 and on third down Fitzpatrick bootlegged it and had fullback Dan Coats open on the goal line. It was a catchable ball, slightly behind him, and it bounced off his thigh pad for an incompletion.
In the game as an eligible receiver on the play? Defensive tackle Domata Peko, who lined up as a fullback.
"Ryan did everything he was supposed to do. Everything worked but the biggest thing. I dropped it. I let my team down," Coats said.
The Bengals did a good job keeping Freeney and Mathis off Fitzpatrick during the first half. The one sack they allowed in the half came when Mathis, working around the edge against right tackle Stacy Andrews, reached a hand in on a third-down pass and knocked it out of Fitzpatrick's hands and Fitzpatrick recovered.
Same old stats. The Bengals were 2-for-7 on third down in the half and Benson had just 3.3 yards per rush on 11 carries for 36 yards. Houshmandzadeh had five catches for 46 yards in the half, giving him 501 career catches.
Opting to let Manning work against a bob-and-weave zone, the Colts took a 7-0 lead with 36 seconds left in the first quarter on a nine-play touchdown drive in which he completed one ball to his top wideouts. Manning was firing darts down at the pub off three-step drops in the half.
After a 19-yarder to Pro Bowler Reggie Wayne, running back Dominic Rhodes scored on a 17-yard run when cornerback Leon Hall and safety Kyries Hebert whiffed tackles on the longest run the defense has allowed since the Eagles tie back on Nov. 16.
Big plays in the drive were the little ones, like a 15-yard flip to Robinson, where he was wide open in the defense's right flat.
But the defense stopped another long Colts drive early in the second quarter when tight end Dallas Clark looked ready to score a touchdown after catching a pass down the seam. But he fumbled at the 1-yard line when SAM linebacker Rashad Jeanty got a helmet on the ball and Hall covered it in the end zone with 10:24 left n the first half.
Ocho Cinco didn't start Sunday's game, the first time he hasn't made a start when he was dressed since his rookie year. Rookie Jerome Simpson got his first NFL start in a three-receiver set with rookie Andre Caldwell and Houshmandzadeh. He got into the game after the Bengals picked up two first downs.
Lewis said he wanted to "play "the other guys a little bit," as a reason Ocho Cinco did not start. When asked why he didn't start, Ocho Cinco said, "I did start.
Told Simpson started in his place, he said, "I was stretching."
Word from the bench was that it was a coach's decision and not a medical issue.
The Bengals drove to the Colts 31 on the game's first drive, where Fitzpatrick appeared to get the first down on a third-and-nine, but he had the ball stripped by safety Melvin Bullitt to force a fumble that was recovered by cornerback Tim Jennings.
Fitzpatrick pointed to that turnover as the biggest of the game.
"I had the first down and the ball squirted out," he said. "That's the play that might have changed the whole complexion of the game. If we do get that first down we keep the ball for that possession; at least get some points."
The Bengals had four turnovers on the day, the most they've had since committing five against Cleveland on September 28 and it's the first time they've had more than one in a game since Nov. 2, and the first time with more than two since October 26 at Houston.
The Bengals put together another drive into Colts territory on their next drive, riding Houshmandzadeh's gutty seven-yard catch over the middle on third-and-four, Fitzpatrick's six-yard scramble on first down and Benson's 11-yard run off the right side. But once the Bengals got a first down at the Colts 38, they couldn't take advantage of the Colts' No. 25 run defense. Benson got nothing on two carries and Henry couldn't hang on to a ball he leaped to catch at the first-down stick on the sideline.
A 17-yard punt by Kyle Larson didn't help a defense that had forced a three-and-out on the Colts' first series, fueled by rookie cornerback Simeon Castille's coverage on third-and-four.
After the game quarterback Carson Palmer did confirm he is back throwing with little pain. He's throwing about 20 to 25 yards but he has yet to cut it loose. "There is no catastrophic news," he said.
PREGAME NOTES:** The Bengals injury toll appeared on Marvin Lewis' Gameday roster Sunday with strong safety Kyries Hebert making his first NFL start and linebacker Darryl Blackstock moving to right defensive end.
Blackstock, who missed four games in the middle of the season because of an NFL suspension related to the steroids policy, started the second game of the season at SAM linebacker.
And, for the second straight game, third cornerback David Jones (knee) was out and Jamar Fletcher made his second Bengals start at left corner.
Also having a big impact on the game is the inactivation of running back Kenny Watson (hamstring), a key guy in helping rookie left tackle Anthony Collins deal with Colts defensive end Dwight Freeney.
Left tackle Levi Jones was out for the third game in a row with a back problem, as was safety Chinedum Ndukwe with a foot problem. Lewis hopes they're back next week, as he does tight end Ben Utecht, inactive Sunday with the same foot problem that Ndukwe has in plantar fasciitis.
Hebert, who leads the Bengals in special teams tackles, was a CFL starter for the four previous seasons with his last one coming in last year's Grey Cup that his Winnipeg club lost to Saskatchewan.
As the No. 3 man on the depth chart, he became the fifth different starting safety with Ndukwe down and Dexter Jackson and Marvin White on injured reserve.
The 6-3, 255-pound Blackstock became the third right end to start in three games and fourth in the last five. Frostee Rucker pulled his hamstring slipping on a slick field in Pittsburgh Nov. 20 and last week tackle John Thornton moved to left end with Jon Fanene playing right.
Thornton surfaced with a wrist injury in practice this week, but he's probably going to see a lot of time pass rushing from the inside against the Colts' three- and four-receiver sets. Blackstock has been used some on passing downs rushing the passer from the end spot. Fanene lined up at left end Sunday.
As expected, the Colts closed their retractable roof to shield the crowd from a day mired in the mid 20s-degree range in the Bengals' first regular-season visit to Lucas Oil Stadium. That makes it the 11th dfifferent indoor venue the Bengals have played.
Lewis introduced his offense as a unit dressed in all white, a combo that is 5-9 since they appeared in 2004. Safety John Busing came out as the special teams captain and offensive captain Bobbie Williams uttered the now famous "Tails never fails" in winning the toss and taking the ball. Wide receiver Andre Caldwell returned it 39 yards.