Orchid Wang, a Marvin Lewis scholar who volunteered for the Classic.
Orchid Wang is your typical Marvin Lewis scholar, which means she's atypical. Which means her resume is more well-rounded than one of the golf balls she has hit well enough to be all-state.
Sure, she can hit it long in the classroom (a National Merit Commended Scholar and Sycamore High School's Female Fall Scholar Athlete), but she can also drive it straight through extracurricular (president of the orchestra council and owner of a superior rating for a violin duet and trio from a Ohio Music Education Association event) as well as get it up and down in the community (a volunteer teaching assistant at the Cincinnati Chinese Cultural Learning Association and a coach for the  Lady Aves Spring Jr. Golf Camp.)
In the Chinese culture the orchid symbolizes scholarly pursuit and represents nobility, integrity and friendship. This Orchid just so happened to flower in America and Lewis is glad he can just help water it.
"I volunteered every year to help coach the fifth and sixth grade golfers when I got to high school," Wang says of the program she attended. "In middle school when girls start to lose confidence and self-esteem, that's something I personally went through, so it's really important they keep who they are by playing sports."
This is why Lewis does what he always does this time of year preparing for his annual celebrity golf tournament that is the primary fundraiser for the Marvin Lewis Community Fund. The kids keep coming. Year after year. Brains. Heart. Commitment. With odds longer than the best edge rushers and dreams bigger than The Lombardi, this is why he does what he does.
After sifting through the mountain of blood, sweat, and tears piled into the applications and then sitting down with a name that suddenly turns into a gripping drama during the interview, Lewis shakes his head.
 "It just goes to show the quality of the young people and what they have done and the fact they have achieved a high level of academic success," Lewis says.
There is coming full circle and then there is karma and Lewis is getting it all in this 15th spring as the Bengals head coach. While the rumors swirl about his future Lewis chuckles the Marv Chuckle amid the trappings of his legacy.
In the Bengals' 50th anniversary season celebrating, among other things, the nine division titles, Lewis owns four of them. In the rookie minicamp there is middle linebacker Hardy Nickerson, son of the Pro Bowler by the same name that Lewis coached when he was an NFL rookie overseeing the Pittsburgh linebackers.
And then there is Orchid Wang on Saturday night at the Montgomery Inn reception receiving one of the eight college scholarships worth $20,000. A volunteer for the Marvin Lewis Golf Classic for the past three years, she pulls off that rare double as a fore caddie that  foreshadowed the check.
                               2017 MARVIN LEWIS SCHOLARS  
                Briana Bolser Fairfield High School: Education at Olivet Nazarene
*        Nathan Gurley Kings High School: Computer Science and Engineering at Miami University         *
*        Orchid Wang Sycamore High School: Data Analystics at Ohio State*
*      Rosa Alvarado-Reyes Dixie Heights and Biological Sciences Academy: Mathematics at UCLA*
*       McKenna Killion Mason High School: Doctorate in O.T. at Duquesne*
*        Bailey Jackson Kings High School: Nursing at Florida State*
*        Evan Warner Kings High School: Nursing at the University of Cincinnati*
*        Fortune Uzo-Ngerem Mount Healthy High School: Biological Science at Akron*
That's when you know you've meant something to a community. You hang around long enough to not only see what goes around, but what comes around.
"I never thought this would happen," Orchid Wang says. "It was just an opportunity to be more experienced with golf … It was so fun the first year meeting the players, some of (whom) are celebrities, that I continued doing it every year."
Lewis won't need as many soldiers out on the course now that the venue has moved from venerable Shaker Run Golf Course in Lebanon, Ohio, to the slick, cavernous  Topgolf facility in West Chester, Ohio. Topgolf has three levels of climate-controlled hitting bays that overlook a 215-yard outfield in what is basically a virtual golf course on a huge driving range. Each ball contains a microchip that tracks the accuracy and distance of each shot with the outfield peppered with giant dartboards. The farther away the target and the closer to the center of a target a ball lands, the more points a player will earn.
Lewis is grateful for all the years of cooperation and sponsorship from Shaker. But Topgolf almost seems to be built just for Lewis and Sunday. A tournament that has been sold out forever and had to be cut back to 14 holes because the size of the field was slightly larger than the Iowa caucus is wide open again.
"It's a golf party facility, basically," Lewis says. "Imagine, as I tell people, the finest bowling alley you've ever been for golf …The reason why we do the tournament is to support education and uplift young people. Being at Topgolf affords us an opportunity to sell more spots, more groups in the event, which raises more money for scholarships and the support of our programs."
He started handing out the scholarships in that year of the first division flag, '05, and as he stalks the fifth there have been more than 80 awarded at about $1.7 million. Not counting the one or two every so often that don't make the cut but Lewis puts them on his own personal practice squad.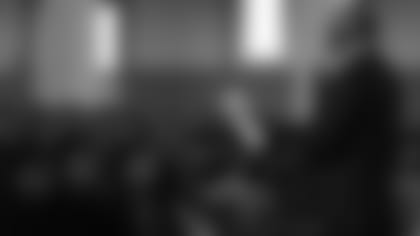 Marvin Lewis: it's always for the kids.
"It's come full circle," Lewis says. "Our graduates are out working. They have real families, they have real jobs. We have kids who come through the Learning is Cool program we've awarded scholarships. It's been a blessing to us."
We know Lewis is big on making his players aware of taking advantage of their very special opportunity. Just listen to his message to college free agents. It doesn't matter how you got here, he tells them. And, in a way, that's his message to the kids dreaming on a string. All they need is the chance.
"It means an opportunity," says Lewis, running down what $20,000 means. "(Maybe) they don't have to get a work study job or take out a loan. They can live on campus if they're going here to (University of Cincinnati) or Xavier. Maybe they're able to live on campus instead of at home … Will it enable them to go to their first choice of universities?"
Opportunity. The 6-0 Nickerson trying to defy the college free agency odds and the league's physical parameters with a great feel for the game. The 5-3 Orchid Wang, who uses guile and concentration to get around the course instead of might, is trying to find a way to negotiate various challenges to attend some West Coast schools. For now, Ohio State beckons with the opportunity of playing club golf while majoring in data analytics.
Yet helping people is at the top of her list, so the health care field remains a draw.
"I'm still trying to decide what I want to do,' she says.
This class is close to Lewis' heart. Wang and Mount Healthy High School's Fortune Uzo-Ngerem are children of immigrants, more proof to him that opportunity has no borders on an NFL roster or in life.
"It's incredible, their stories how the family ended up here and why," Lewis says.
Wang's story is incredible in the sense it is so American. Her father, a business analyst, was born in Taiwan and raised in Los Angeles. He met her mother in her native Shanghai, China on a business trip. Their oldest was born in Los Angeles and when they moved to Cincinnati for a job, Orchid was an 11-year-old who came to grips with her environment with the help of golf.
"I was missing something- a passion. I just wasn't interested in things the way I was before the move," she writes in her essay. "After about half a year, an opportunity arose at school for girls interested in taking beginner golf lessons. I was not enthusiastic, but my family encouraged me to try it. So with a desire to explore, I began … The highs were incredibly reassuring while the lows hit me hard. Nonetheless, I continued to pursue golf. I enjoyed succeeding and being with my teammates."
There have been Marvin Lewis scholars who grew up as interpreters in their own home since English wasn't the first language. But Wang's Chinese is so good that she is among 400 selected international students who are spending a month this summer in Taiwan teaching English to disadvantaged students in rural areas. According to MLCF, the other students were chosen in part because they have conversational Chinese skills
"I was really excited to hear I got accepted because the people were applying from all over the world," says Wang, who has also volunteered for the Ronald McDonald House and People Working Cooperatively. "It will be the longest service and most intensive I've ever done."
This is why Lewis does it.  He's been doing this long enough to see trends. That's when you know you're doing something that waters the roots of the next.
"Every year it seems like our female candidates rock in comparison to the guys," Lewis says with a training-camp like challenge. "The guys have to step it up….The young ladies really seem to have their stuff together as they make the next step to their collegiate careers."
Cincinnati Bengals host off season workouts at Paul Brown Stadium Practice Fields.