Marcus Hardison is still seeking his first NFL snap two years after his draft.
Bengaldom is teeming with mock draft picks like D.C. teems with rancor. And they don't stop at No. 9. They go all the way to No. 251, the third to last pick in the entire April 27-29 draft and the Bengals' 11th of the weekend.
It's an excellent, commendable exercise and a good guide even if it borders on fantasy football.
So let's take a look at a real-live-non-mock prospect who visited Paul Brown Stadium Monday who hits the Bengals where they live along the defensive line and who had such a good Pro Day on his campus estimable draftnick Rob Rang had this to say about him on CBS Sports.com:
"The former Sun Devil who really caught the attention of scouts, however, was … a fast-rising defensive lineman who is coming off of a strong performance at the Senior Bowl. The 6-foot-3, 305-pound(er) is a bit of a defensive end in a defensive tackle's body, showing impressive quick-twitch athleticism for a man of his bulk. He was clocked in the high 4.8s to mid 4.9s on two attempts at the 40 yard dash and came in at 4.65 seconds in the short shuttle and 7.29 seconds in the 3 cone drill. (His) quickness makes him one of the more intriguing interior pass rushers among this year's defensive tackles."
The thing is, Arizona State's Marcus Hardison is already here.
If you forgot he was a fourth-round pick for the Bengals in the 2015 draft, you can be forgiven. He has yet to take an NFL snap because of injuries. But he's been cleared from his latest misfortune, a season-ending torn labrum in Jacksonville during last year's third pre-season game, and that's why he was here Monday as he tuned for the start of off-season workouts two Mondays from now on April 17.
"I've had good preseasons. I'm ready for a regular season right now," Hardison said. "I don't want to be just a guy with a lot of potential. I want to put it all on tape."
The Bengals, seeking more pass rushers in this draft, would be delighted to get it from a guy that's already played seven pre-season games and on paper last year got penciled in to back up Pro Bowler Geno Atkins at the pass-rushing defensive tackle spot known as the three technique.
At the very least, he could be the NFL's biggest emergency quarterback.
They're banking on the 25-year-old Hardison being the same athlete that showed up at ASU's Pro Day.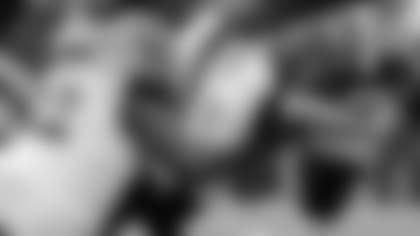 Veteran Pat Sims has also been all over Hardison.
The one that ran the speed option as a very large quarterback for Charlotte High School in Punta Gorda, Fla., during the first three years of his varsity career before defensive end beckoned.
The guy that last year went out to the PBS field after a practice his mates dared him to show off his arm and he threw a ball 70 yards.
The guy that dabbled in basketball while also playing football at Dodge Junior College.
"I get that from my dad. He played basketball in high school. He's about 6-5, 300," Hardison said. "I come from a pretty big family. I knew I was going to grow. My big uncle is 6-5, 360-380. My little uncle is the biggest uncle."
The guy that goes through a baseball windup (even though he didn't pitch on his high school team) and says he thinks he could top 95 miles per hour.
"They want me to throw out the first pitch," said Hardison, nodding to Great American Ball Park.
Hardison,  a fan of stand-up comics such as Mike Epps and Tony Roberts who believes he's been to 10 local comic shows since he's been drafted,  admits he's got a "silly,"  sense of humor. He cracks what he calls "stupid jokes." Such as when they're walking from drill to drill he may say something like, "hey, want a pizza joke?' Nah, that's too cheesy."
"I'm the laid back, goofy guy (on the D-Line's text group)," Hardison said.  "But when you turn on the lights and it's time to go, I have a serious side.
"I get the guys laughing and we go to work," Hardison said. "When I crack a joke, I crack a smile and that keeps me going."
But his athleticism with all that size is no joke and the Bengals are hoping it's a prodigious punch line. He can run, he can bend, he can swivel the hips. He needs to shed a few more pounds to get to 310, but he's already lost 30 and he's had a dizzying offseason between defensive line work at a Phoenix-area performance center, working out at ASU, and working at Ignition Sports when he's in Cincinnati.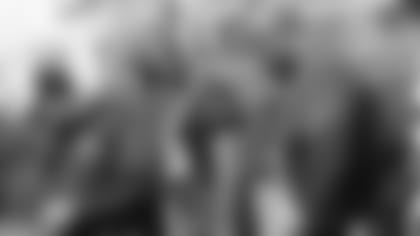 Defensive line coach Jacob Burney has some youth and he'll probably get at least two more draft picks.
(It's not like they're lacking talent up front, but they could use some experience and health. Joining Hardison at PBS Monday was backup D-tackle Brandon Thompson, who missed all last season rehabbing an ACL, and end Will Clarke, a 2014 third-rounder still looking to break out with fewer than 600 career snaps. And another third-year three-technique, DeShawn Williams, hasn't missed a workout this offseason at Ignition.)  
Bengals defensive line coach Jacob Burney believes Hardison just needs the reps at learning how to play off blocks inside after racking up 10 sacks his senior year playing a wide end at Arizona State.
"He was coming on. He was getting physical,' Burney said of the last preseason. "He certainly has the athleticism to play both inside and at end. You like the guys that are able to do that."
Hardison goes one better. He thinks he can also play nose tackle. But they're going to put his 6-3, 310-pound frame inside for the time being and see what develops on a line that is going to be markedly younger with 2016 fourth-rounder Andrew Billings replacing 11-year nose tackle Domata Peko. Billings (knee) is another fourth-rounder that hasn't taken a snap, but he and Hardison are following in fourth-round royalty on the Bengals front since 2004.
If you're looking to mock, the fourth has been no fantasy.
That's when they drafted Georgia defensive lineman Robert Geathers (117th pick) and he went on to play 11 seasons, end, tackle, linebacker, and 152 games, third most ever by a Cincinnati down lineman. In '06 they drafted Peko (123rd) out of Michigan State in the fourth and his 171 games were the second most by a Bengals defensive lineman next to Tim Krumrie. In '10 they drafted Atkins (120th) out of Georgia in the fourth and five Pro Bowls later he is the most decorated Bengals defender in 40 years. Hardison (135th) arrived in 2015, followed by Billings (122nd) last season.
"I don't see a big difference," Hardison said. "We have the talent. I think we'll be just as good. Even better."
Hardison, who hurt his knee in his rookie pre-season finale, was never active that season after he took seven weeks to get healthy but he turned to those veterans to get through.
"We have a great defensive line. I embraced it watching my rookie year," Hardison said. "Every guy has touched me in some way. Mike (Johnson) kind of took me under his wing …. He's showed me how to stay healthy, how to take care of my body, and how to learn the playbook. Not learn what you do, but why you're doing it."
But last year was more frustrating. He could do nothing as he stood on the sideline with his arm in a brace.
"I was helpless," Hardison said. "I never missed practice or a game before I was drafted. I was itching to play … They brought me here for a reason."
And veteran defensive tackle Pat Sims is on his way.
"The main person over my head every day is Pat Sims. He's always on my case," Hardison said. "Every guy has their role … He's always taught me a lot of stuff on the field.  A big impact … As soon as April 17th comes, he'll be on my butt."
And now Hardison is cleared to go.
Which is no joke. Another draft pick.