Bengals coach Marvin Lewis said Tuesday he's not interested in re-signing suspended wide receiver Chris Henry.
"It's not productive for our football team," Lewis said when he met the media before the annual training camp luncheon at Paul Brown Stadium. "You have to be a productive part to be an NFL player. There is a responsibility to be an NFL player. It's a privilege, not a right."
Bengals president Mike Brown, in his only scheduled media appearance of the season, said he hopes the club has turned the corner on the character issue.
"We don't want that kind of behavior. We're trying to be more concientous of guys we bring in," Brown said. "We're trying to go forward with guys who are reliable and guys who are not only good players, but good citizens."
That apparently takes Henry out of the mix a week after his fifth arrest as a Bengal, an assault charge that led to his April 3 release from the club, was dropped in a Hamilton County Court. Henry was suspended by NFL commissioner Roger Goodell after the arrest and is believed to meet in New York with the commissioner this week in his bid to get reinstated to the NFL. Lewis was more kind about the other Bengals wideout that was in the news before Brett Favre conquered the media. With Chad Johnson now texting him about his ankle instead of blowing him off with his trade demands, Lewis was gracious in welcoming Johnson back to the fold.
"There's no more upside the other way," Lewis said of Johnson's tirade-laced offseason. "Enough said. He said that. He's a very, very good player. I'm excited for him to cleanse his mind and get back to having fun and playing football the way he knows how to play it."
Johnson has been anxious since his June 18 arthroscopic surgery in which bone spurs, as well as other loose bodies were removed from his ankle. Because of the bone spurs, it was a bigger procedure than the one a couple of years ago that sidelined him for just two weeks in the spring.
The club wanted him to have the surgery right after the season, as did his agent, Johnson has said, but the trade demands got in the way.
"He is nervous about it," Lewis said of the soreness. "That's why you pay attention to those things in Janaury or February. We took this one a little later, but we'll make the best of it. His concerns are everything (isn't) like the last time. Well, sometimes things change and you have to adjust. He'll be fine."
Lewis sees a silver lining. He says the Bengals are as healthy as they've been for the start of a camp in recent years, indicating the only players that may not be ready are running backs Kenny Irons (knee) and DeDe Dorsey (groin). Irons may not practice at all this camp if, indeed, PUP is in his future. Indications are Dorsey could be back to play preseason games.
But don't be surprised if Lewis also shelves Johnson early, or at least makes him limited. Call it coach's revenge. For years they've been trying for Johnson to cut back on his camp snaps.
"As I told him, 'Less may be better,' so that will be a good thing," Lewis said.
Asked if the relationship has been taxed because of the offseason strain, Lewis said, "It really hasn't been taxed because I didn't hear from him. It's good to have him back."
Lewis revealed his training camp depth chart Tuesday with no jarring surprises that start with Stacy Andrews as the right tackle in front of four-time Pro Bowler Willie Anderson. That is expected to change if Anderson (knee) shows the same health during camp that he showed last month at the mandatory minicamp. Also, as expected Dhani Jones becomes the sixth different training camp middle linebacker in Lewis' sixth season and is backed up by Corey Mays. Third-round pick Ahmad Brooks, making a position switch in his third season, backs up Rashad Jeanty at SAM backer. Arizona free agent Brandon Johnson backs up first-round pick Keith Rivers at WILL backer.
Veteran Dexter Jackson remains in front of second-year man Chinedum Ndukwe at strong safety while Marvin White takes over for the departed Madieu Williams at free. Despite the shuffling around the last day of minicamp, Dan Santucci and Kyle Cook are the backups to center Eric Ghiaciuc and there is no sign of right guard Bobbie Williams at that spot.
Kenny Watson backs up Rudi Johnson at running back with Chris Perry running third team.
Lewis isolated as competitive spots right tackle, strong safety, the offensive and defensive lines, linebacker and wide receivers.
Lewis said the club was encouraged with how Anderson looked back in June.
"We really didn't know where Willie was," said Lewis of Anderson's knee injury that limited him to seven games last season. "He was in a good spot, so we have a good issue as we go forward. We have a good young player in Stacy and a guy as good as there's been in the NFL at right tackle, so we're blessed."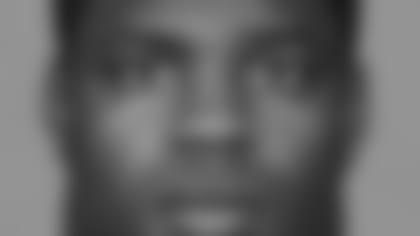 Lewis is also hoping the Bengals are blessed with Rivers getting in on time Monday morning with a contract. Like No. 1 pick David Pollack in 2005, Rivers has been targeted as a starting linebacker. But the similarities end there.
Unlike Pollack, whose transition from college defensive end to SAM linebacker was almost stillborn because of a three-week holdout, Rivers is playing the spot he played at USC and is used to some of the defensive calls.
"He's benefiting from some things because he's lined up in the same spot," Lewis said. "We'd like to get him in here because it helps the team. You've got one spot nailed down, now you can turn your sights to other things. ... It would be nice to have that."
The Bengals announced the official signing of seventh-rounder Mario Urrutia, a Louisville wide receiver, to a four-year contract. That leaves Rivers and five other picks unsigned
Lewis doesn't mind the fact that the Bengals and Packers are the last two teams to start practicing next week.
"Not with the roster cut back to 80. I like our number of practices," he said. "We have to cut back somewhere. You get into camp you run out of folks. You wear them down. We have a hot, humid camp. The ability to keep our guys hydrated is very important...Having been down the road a few times, I think we're in a good spot."
Brown also welcomed back Chad Johnson by saying, "We went through a rough patch. He did his little dance. I wish it hadn't happened."
He called Johnson "one of our greatest players," and said, "We need him. He's an integral part of what we do. i would hate to think of us without him. He's over it and he's back in the swing of it with us. I welcome him back."
As for Carson Palmer's comments about Ohio State, Brown chuckled and recalled his father Paul coached two blowouts over USC as the Buckeyes coach in the early '40s.
"He knows where he can find me," Brown said with a laugh. "I don't think anyone takes it seriously. If they do, they shouldn't. Just having fun."
Brown got serous about the impending expiration of the collectve bargaining agreement. He did say he thought the Bengals could stay competitive through tough, uncertain economic times, but also said he thought a salary cap worked wel for both teams and players.
Paul Brown's name was invoked later in the luncheon when Anderson High School's Jeff Giesting was named winner of the 2007 winner of the Paul Brown Excellence in Coaching Award. In his first season as the head man of the Redskins, Giesting led the Redskins to a 13-2 record on the way to winning the Ohio Division II state championship.
Giesting is the second Anderson coach to win the award. Vince Suriano, now the assistant head coach and offensive coordinator at Mount St. Joseph, shared the first PB award with Taft coach and former Bengals receiver Mike Martin in 2002.