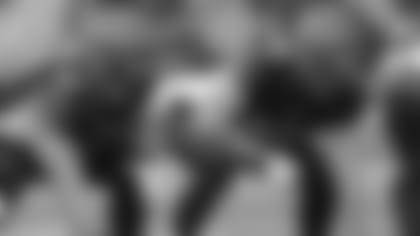 With Russell Bodine (left) now in Buffalo, T.J. Johnson (60) figures to move over a spot to center.
Not only has the Bengals' offensive line started its overhaul with new players at the key positions of left tackle and center, it looks like it is undergoing a culture change in practice under new offensive line coach Frank Pollack.

Pollack, the Cowboys former offensive line coach, is ordering a bevy of field equipment ranging from medicine balls for balance to "Big Brutus," a 350-pound swinging weight. Plus, he's got more sleds than Santa, something called a trap-and-chute, and arches.
 It's in marked contrast to the practices of Paul Alexander, the Bengals' long-time offensive line coach before he swapped jobs with Pollack in January. He pretty much used only blocking shields during a run he was considered one of the top line coaches in the league.
"It's the first different offensive line coach in 23 years, so it's a different thought process. A different set of eyes, says Jeff Brickner, the Bengals director of operations.  "Frank's got a plan and along with (head coach) Marvin Lewis we're just trying to give him what he needs."
Better? Who knows? That's a philosophical question. Save that one for the clinics. But different? Yes, different.
As different as the new center they'll have when Russell Bodine signed in Buffalo Monday. Bodine played every game since the Bengals drafted him in the fourth round in 2014. If you knew Kyle Cook in the 2013 Wild Card Game was the last non-Bodine start, go to the head of the class.
Lewis and Pollack indicated they wanted Bodine back for the experience he brought to an offense already undergoing a bunch of changes and maybe even more on the offensive line. But his number was too high early last week and when the Bengals got other deals done as the week went on, they figured there weren't enough numbers left for a player that drew so many different reactions in the organization.
There was the fact he never missed a game with toughness and durability, but there were also his annual position rankings on profootballfocus.com that were perennially in the bottom ten: 34, 35, 30, and 32.
The conventional wisdom is the trade for Bills left tackle Cordy Glenn that drops them to No. 21 from No. 12 puts them in prime position to draft one of the top prospects at center. If not, later, since the draft is considered deep in the interior.
Until then, the leader-in-the-clubhouse is T.J. Johnson, a reliable vet and a solid center at South Carolina before the Bengals took him in the seventh round in 2013. He's started just five NFL games and none at center, but the prospect of losing Bodine is why they signed Johnson to a two-year deal last year.
Trey Hopkins, who started 12 games at right guard last season, has also taken practice snaps.
Whoever lines up there, it doesn't matter. They'll be taking on Big Brutus and all the other equipment that Pollack, an intense stickler, uses to work on the tiniest of techniques that he used to help make what many thought to be the league's best offensive line in Dallas.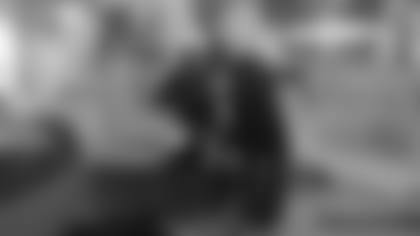 Equipment managers Sam Staley (left) and Adam Knollman putting together a new field apparatus.
There's the trap-and-chute, where the linemen must stay low near their stance and power through without touching a tight tunnel. The arches are also designed to keep them low when they simulate the movement in trap plays.  There are pop-up bags, sand bags, and small tire-like objects that the feet must be balanced on while they catch medicine balls.
And there are two different kinds of sleds. Pollack had a custom-made one-man sled built in Dallas with a pop-up bag that he's getting here. And there are a pair of two-man sleds each with an 85-pound weight on the pan.
"From what we saw on the video," says Bengals equipment manager Adam Knollman, "he's got it working full with four guys going all the time."
If it sounds organized, it is. Knollman says Pollack plans to meet with assistant equipment manager Sam Staley every morning of practice at 7 to go over what he wants on the field that day.
"The guys in Dallas said he was great about it. Really organized," Knollman says. "Meeting with Sam, that will just make sure we don't have to drag everything out there every day. It depends on the practice. That makes it easier for us."
The Bengals were looking for different up front. They got it.
"Different strokes for different folks," Brickner says.
Now they just have to figure out who the folks are.