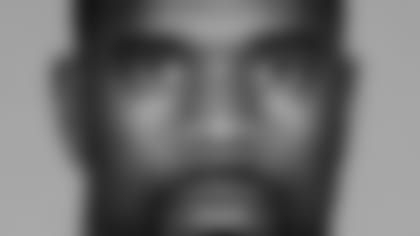 No one could have called this back in an empty, dark Paul Brown Stadium as Jan. 8 became Jan. 9, but when the Bengals open training camp Saturday night Carson Palmer is going to be calling signals for the offense and Brian Simmons is going to be calling signals for the defense as the new middle linebacker.
Both calls were anticipated after what transpired five weeks ago in minicamp, when Palmer practiced four times in about 24 hours on his reconstructed left knee and Simmons moved from right outside to take the place of the guy the Bengals figured they probably wouldn't have in the middle on Opening Day. On Wednesday, the Bengals confirmed that Odell Thurman is gone for the first four games in violation of the NFL's substance abuse policy.
"Go back and watch the last four games and tell me we're going to miss him. I don't buy that," said defensive coordinator Chuck Bresnahan. "That's why we have a depth chart.
"(Simmons) has been there. The guy's done it. The guy knows how to approach the game and studies. He knows what he's supposed to do and not give up easy touchdowns when we're supposed to have the play covered like a glove."
Thurman drew almost as much ire from the coaches for being out of position as he did praise for coming up with five interceptions and leading the Bengals with 148 tackles and four forced fumbles. Bresnahan knows they'll miss Thurman's playmaking, but he's also looking at his secondary.
"They're going to point to the interceptions, but we're just going to have to get it from other people," Bresnahan said. "One more for Deltha. A couple more for Tory. Johnathan Joseph gets a couple and so does Keiwan, and now you've more than made up for it. You've got to look at the glass half full, and he's not guaranteed anything when he gets back. These other guys have worked hard to get comfortable together." If no one saw the offseason problems lurking for Thurman, they couldn't have been expected to see Palmer's supersonic recovery that night he hung his head on the cart as he rode off the field. Palmer's shredded knee (torn ACL and MCL and dislocated kneecap) is intact enough to start training camp on time.
The plan had once been to start camp with Palmer as the No. 3 quarterback and cool his heels for a week or two. But Lewis said Wednesday that Palmer in mid June was where he thought he would be in mid-August.
"To my eye, he's pretty close (to normal)," said Bengals president Mike Brown. "He couldn't have done any more than he did. We expected he'd be back and playing, and he's our key guy. The doctors have to make the call on that and at the appropriate time we'll get him in there."
He'll be in there Saturday night, but offensive coordinator Bob Bratkowski's challenge is to divide the snaps so Palmer's knee doesn't take a pounding and Anthony Wright and Doug Johnson get enough chances to decide who the backup is going to be. The current depth chart lists Wright No. 2 and Johnson No. 3.
It won't be like last camp's all-Palmer-all-the-time script when he was healthy and backup Jon Kitna was heading into his fifth season in the system.
"It will be a day-to-day thing. It wouldn't be as if everything was normal and he didn't have the injury," Bratkowski said. "We'll start out with a certain number of snaps for each guy. It will change as we determine who the No. 2 guy is. It could change when Carson might need a day off. Marvin has a good idea what he wants to do. I don't think anything is etched in stone. We'll give him reps judiciously, but it's mainly going to be a feel thing."
But there's no question that Palmer is going to be worked as if he's the Opening Day starter.
"Maybe not in your determination, but in ours," Lewis said. Lewis is holding the hand he's been dealt in the Thurman situation closer to the vest. Thurman is eligible to practice and play in the preseason games, as well as attend meetings and work out on his own at the facility when the suspension begins Sept. 4 and ends Oct. 1.
But Lewis made it clear Wednesday that he has the discretion to let Thurman practice now and then activate him on Oct. 2, and he isn't saying what he's going to let him do.
All signs indicate that Thurman is up to 240 pounds and is well enough to practice and that he has not shriveled up to a 190-pound addict as some cyberspace hysteria declared. It appears as if he's getting ready to leave his Monticello, Ga., home Friday to make the trip here.
What both Brown and Lewis are saying is that Thurman approaches a critical part of his life in trying to get his drug problem behind him. Because the NFL fines up to $500,000 for violating the confidentiality of its drug rehab program, no specifics are available. But Brown cited a USA Today story he read recently that said 20 percent of American families have someone who is addicted.
Brown has already lived the nightmare with Stanley Wilson and the cocaine binge on the eve of the Super Bowl that Paul Brown went to his grave believing cost the Bengals a world championship.
"If that's an accurate statement, I think it's not surprising that occasionally we have things crop up in pro football or with us," Mike Brown said. "I wish it didn't. I feel strongly about it.
"They are most often very sad (cases). It's been a debate for a long time. Treat it like an illness or something to be penalized. We operate with the CBA ... and in those ground rules these guys are going to be given every chance to right themselves. We're going to work to get that done."
Because of the suspension, rookie linebackers Ahmad Brooks and A.J. Nicholson figure to get some work in the middle, but Lewis singled out third-year man Caleb Miller's outstanding play in the middle during the spring. All three guys don't figure to make it, although Thurman won't count on the final 53-man roster.
Brooks has flashed since he arrived following his surprising selection two weeks ago in the third round of the supplemental draft. Lewis has been getting a charge out of it because since he was one of the only coaches around last week and Brooks was one of the only players, Lewis got back to his roots with some up-close-and-personal coaching.
"He's a sponge," Lewis said. "Even when he's in the car driving and talking, he asks questions."
Brooks has only been in individual workouts, but Bresnahan said of the 260-pounder: "He's a big man. Big. And it looks like he can move. But I can't predict what happens before the pads go on."