GEORGETOWN, Ky. - Listening to Mike Zimmer rejuvenate the Bengals defense is worth the price of admission at training camp these days.
Just ask the guys that really ought to know:
Blunt, bold, and sometimes downright blue, there are two things that can already be said in the always first few murky days of camp.
The Bengals have some fast and intriguing talent on defense and Zimmer has brought a different climate to that side of the ball that has fought an inferiority complex ever since Joe Montana marched down the field at the end of a Super Bowl XX years ago.
After Zimmer throws down his hat, a defensive back may gingerly try to give it back to him in between a stream of mature language.
Or, he'll point out that he could have pulled a fan out of the Georgetown College stands to get better coverage.
Or, he may try a little sarcasm on a secondary that boasts Fighting Irish product Chinedum Ndukwe:
"You know (the offense) knows it's going to be covered. And they didn't go to Notre Dame."
Or, he just might flat out ask a rookie, "Are you, ignorant?" There is no effort to downgrade the coaching that came before. But what is different is, well, Zimmer is in-your-face different.
Right tackle Willie Anderson, who is not ignorant and has played for the Bengals from Reinard Wilson to Odell Thurman and all the other tries to build a defense in between, also saw Zimmer do this the other day:
Linebacker Brandon Johnson blew through a screen pass to put a hit on running back Kenny Watson and Zimmer came sprinting into the pile to lift up Johnson and pound congratulations into his helmet.
"They need that kind of reinforcement; we all do," Anderson said. "I think there will be times this year the defense will play as well or better than our offense. I really believe that. The style of coaching they're getting is going to work. Teaching. They're teaching."
Anderson heard the excitement in head coach Marvin Lewis' voice when he discussed the Zimmer hire after the spring workouts.
"You no longer see Marvin coaching every position on defense," Anderson said. "Marvin told me this summer, 'I don't get a chance to say anything. Zim's got the whole defense locked down.'
"That's the way I'm sure Marvin wants it. It allows him to be the head coach of the entire organization."
Just how much Lewis has been involved in the defense in the last five years is subject to debate. While he has distanced himself from the process he has also been quick to take the blame for not being able to mesh with his first two hires here in Leslie Frazier and Chuck Bresnahan.
Anderson has lived through the defensive inferiority complex. Bresnahan knew he was fighting it, too, because when he left he mentioned the disparity in salaries, the biggest gap between offense and defense in the NFL. But Anderson has noticed some things lately. Such as the contract extensions of left end Robert Geathers and defensive tackle Domata Peko, as well as the addition of $30 Million Man Antwan Odom.
"It's good to see some guys over there getting paid. We need a couple of Pro Bowlers over there to even things out," Anderson said. "Last year showed we had some players. Two young talented cornerbacks, safeties. Robert Geathers as a pass rusher. Now it's finally the scheme putting those guys together. I think it's going to be exciting."
After Wednesday morning's practice, Zimmer was clearly not excited. He sighed as he was read just some of the litany of his lectures that could be heard.
"You've got to stop listening," he said.
But safety Dexter Jackson, one of the few veterans on Zimmer's crew who once played where defense was king in Tampa Bay, loves to hear it.
"When you see that, it picks up everybody up. They try to pick up their own game because he's not showing any favoritism," Jackson said. "It doesn't matter who you are. He doesn't care. I wouldn't say he's a nasty guy. He's straightforward. He tells the truth. A lot of people can't handle the truth. We need a strong coordinator, and he's a demanding guy that knows what it takes. He's been in the top five."
It is Wednesday morning and the truth is Zimmer wasn't happy. But he also doesn't want to pound the psyche of a unit that needs some tender, loving care after five seasons of finishing better than No. 27 in the league just once.
He was upset because the tight pass coverage the defense has been playing since he arrived from Dallas and Atlanta was missing as Carson Palmer and Co., ripped it up. Zimmer had installed a few different techniques in the secondary, but apparently now wasn't the time.
"These guys have had such little success, they've really responded with what we're trying to do," Zimmer said.
By Wednesday night, things were better in the second practice of full pads. Safety Kyries Hebert broke up a sweep to cause a fumble. The defense stopped three of four runs in goal-line situations.
"I think everybody can see the difference," Ndukwe said. "Guys are running around, flying to the ball. You're not seeing those long passes."
Yes, Jackson and cornerback Johnathan Joseph hung with wide receiver Antonio Chatman on a deep ball despite some dipsy-do in the backfield.
But Zimmer is preaching the "Physical" T-shirts that Lewis handed out to his team. His first priority is stopping the run. If you don't stop the run, you won't play.
You could also see Wednesday night where Zimmer gets the edge. Before practice on the sidelines he sat next to a guy that when everybody walked by them couldn't help but stop and say "This must be your dad."
Bill Zimmer, who coached his quarterback/wrestler son in Lockport on the way to the Illinois Hall of Fame, is 77, plays golf three times a week in Florida, and remembers he gave up wrestling Mike when the kid finally beat him. But it took his son until he was in college and Bill was 50.
Mike Zimmer, now 52 himself and a veteran of eight years as an NFL coordinator, has been hearing the praises of spring and summer and scowls, "Just wait until October if it isn't going right."
He knows it's early. So does Kevin Coyle, the secondary coach who is now working for his fourth different coordinator in his eighth season in Cincinnati.
Zimmer, who served the Cowboys secondary for six seasons before becoming the head man in 2000, spends a lot of time back there. But as a fellow preparer, Coyle did that himself as a college coordinator at three Division I schools and the transition has been smooth.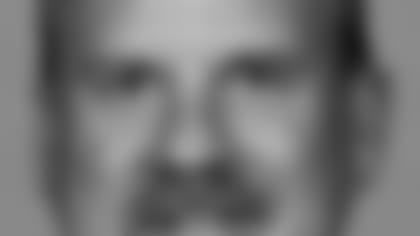 "He's very thorough in terms of getting across what he wants done. We're learning exactly how he wants to do it," Coyle said. "He's very involved as a former secondary coach and I was the same way with the DBs. It keeps everybody on their toes."
The offense has noticed. Not only is he back in the secondary, but he also checks in on the defensive line and the various techniques he has brought in for them, as well as working with new linebackers coach Jeff FitzGerald.
"I think it's great for veterans like Michael Myers and John Thornton," Anderson said. "For years, guys like Dexter Jackson and John Thornton have been screaming about the defense (taking a bigger role.) They come from places (Tampa and Tennessee, respectively) where defenses rule. And they should."
Jackson says Zimmer is different in the sense that he's looking to force the offense to make decisions.
"He's an aggressive defensive coordinator. He wants to dictate to them," Jackson said and middle linebacker Dhani Jones said, "Guys are buying into his mentality."
Jones, who writes poetry, has no problems with Zimmer's outbursts. It's not exactly Haiku but Jones says "It's something we need as a defensive unit."
Brandon Johnson, the newcomer from Arizona via Louisville, says Zimmer has said something to him every day, whether critical or positive, and he appreciates the attention.
"I like the hard coaching," he said. "I like their focus, I like their intensity. Coming from Bobby Petrino, I'm used to anything."
Suddenly, a Bengals defense that was used to anything but praise is ready to hear some.