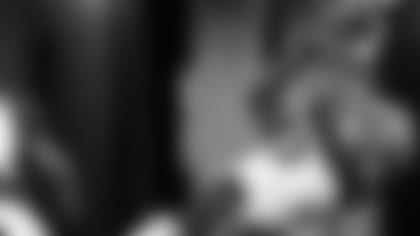 Johnson hauls in a key fourth-quarter 48-yard reception. (AP photo)
BALTIMORE - The legend of Marvin Lewis as master psychologist went, well, to the top of the list here before the Bengals' 21-9 victory over the Ravens.
Bengals wide receiver Chad Johnson finally found out what happened to his "Ravens Only" list, that infamous second sheet that spurred Lewis to post his own list in Johnson's locker this past Wednesday at Paul Brown Stadium.
The "Ravens Only" list surfaced in Johnson's locker here by the time he arrived three hours before the game and he admitted, "When I saw it, I had a big smile on my face."
Lewis wouldn't take credit for the list ("No comment") and said he had no idea where it came from, but Johnson is convinced that Lewis let him use his own list to get jacked up in his own personal way three hours before kickoff.
Johnson said it shows his coach has a sense of humor, and shows that Lewis knows what he's doing in finding another way to motivate him. P>After being properly psyched, Johnson wrecked the NFL's second-best defense with two crunch-time plays back-to-back worthy of a two-time Pro Bowler looking to add playoffs to his list. With the Bengals clinging to a 14-9 lead midway through the fourth quarter, Johnson, quiet in double coverage until then, made a leaping catch in double coverage for 12 yards on third-and-nine at the Bengals 48. Then on the next snap he got behind Pro Bowl cornerback Chris McAlister for the longest play of the game, a falling, stretching, tumbling 48-yard grab that put the ball on the Ravens 4 and set up the game's final score.
Quarterback Carson Palmer didn't know which one was better, the first or second catch. But he does know that he thinks that Johnson may be the best receiver in the league after Terrell Owens's suspension.
"It was huge, huge, an unbelievable catch," said Palmer of the long ball. "He's unbelievable. I don't know if there's anybody better in the league especially now that T.O. is not playing. I don't know if T.O's better than him. He makes huge catches at critical times in games. He also had a big catch over the middle on third and long against double coverage when he's not supposed to get the ball. I have so much confidence in him. I know that he's going to make a play for me when I need it. He made two huge ones today and a number of them all over the field."
Johnson, who came in as the AFC's leading receiver in receptions and yards, added five more catches for 91 yards and was surprised that Palmer went to him on third down because he was double covered. But, why not? Palmer hit six of seven passes for 82 yards in the drive on the way to converting seven of 11 third downs and finishing 19-of-26 for 248 yards for his eighth 100-plus passer rating (128.4) in nine games this season.
"That was a good play by Carson. The coverage being played on my side, the ball shouldn't have come my way," Johnson said. "But Carson has trust in what I like to call myself - 'State Farm.' "
He may have meant "Allstate, the good hands people," but who cares? McAlister was enraged after the next play, claiming that Johnson pushed off on the 48-yarder. But if he did, it was ever so subtle. This time Johnson was surprised because the Ravens had double covered him most of the day. But here the call was a long ball and it came on a play he was matched up with McAlister one-on-one.
"I don't think I touched him and, if I did, I didn't feel it," Johnson said, "I'm unbelievable (fast) off the line ... they were doubling me all the time. At the half, Coach Bratkowski (offensive coordinator Bob), told me the plays are going to come ... (McAlister) was just playing off. He had no help. He went back as far as he could, but he wasn't able to make a play."
Johnson couldn't stop talking about how Lewis's ploy (at least he thinks it was Lewis) got him fired up when he walked in here Sunday at 10 a.m. There was the list that Johnson came up with earlier in the week, listing all the players in the Ravens secondary complete with the question, "Who Will Cover 85 on Nov. 6, 2005?" with the "Yes" and "No" boxes. Lewis had swiped that one out of his locker ("Everyone around here is out of the list business," he said.) and replaced it with his own list of team-oriented goals with the heading, "Did 85 do everything he could to lead his team to victory 11-6-05?"
But there, somehow, was the original list Sunday.
"Ain't that motivation?" Johnson asked.
Johnson was able to pull out Lewis's own list, the team one, because, like Lewis, he brought the competing list on the trip.
"Yeah, we're on the same page," Johnson said. "You know, it's funny. I brought his list, too."
He looked at Lewis's list:
Zero mental errors in practice?
See all his sights and hots?
Did he run after the catch?
Did he finish in blocking?
"I'm back in the list business. He put me back in it," Johnson said. "I saw my hots (the quick routes against blitzes). I made the entire team better today. No mental errors. I finished blocking. I like sprung Rudi twice. Everybody gets a check. What more can you ask for?"
It was mentioned to Johnson that Ravens general manager Ozzie Newsome built this secondary of 114 career interceptions and 15 Pro Bowls with Palmer and Johnson in mind.
"That's why I love Ravens week. They're the complete package," said Johnson, who had this big day after combining for 260 yards in two games against them last season as he rapidly becomes known as a Raven killer.
With the media horde crunched around his locker, Johnson took his "Ravens Only" list from inside his locker and taped it on front for all the world to see that, yes, Lewis has a sense of humor. Not to mention a sense for his players.
"I think he's playing with my mind," he said with that smile he had since 10 a.m.
It turns out they're not only on the same page, but the same lists.