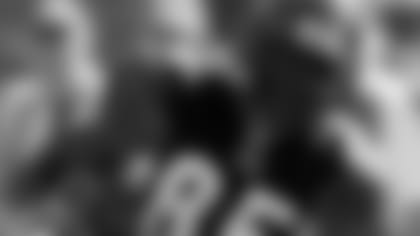 Chad Johnson heads upfield on the way to his 70-yard touchdown reception. (AP photo)MIAMI - This one was for the guys who update the media guide.
The Bengals end their season at 7-9 in a 38-25 walk over the 1-15 Dolphins. On the strength of a 316-yard day, Carson Palmer broke his own club record for passing yards in a season while wide receiver Chad Johnson broke his own franchise records for receiving yards and then everyone settled in to see if wide receiver T.J. Houshmandzadeh could overtake New England's Wes Welker for the NFL receiving title Sunday at Dolphin Stadium.
He drew within one of Welker's 112 catches with less than three minutes left and then he tied him with 2:27 left on a two-yard flip to the Dolphins 12, his fifth catch of the drive and ninth of the day. But his bid to get it fell short on the next play when he couldn't corral a swing pass out of the backfield on third-and-one that may have gone as a run, anyway.
"I led T.J. a little bit too much and it ended up being a fumble," Palmer said. "I don't think that T.J. really cares (about not getting the record)."
Palmer said the coaches told him before the final drive to try to get Houshmandzadeh the title.
"When I went in the huddle and said, 'let's do this,' T.J. looked surprised," Palmer said. "He said, 'Really?' "
Houshmandzadeh acknowledged he was a little caught off guard with the effort to get him the record.
"I appreciate them trying to get it for me," he said. "That was a surprise. After last night I didn't think I'd have a chance to get it. Really it would be fitting if (the Patriots) got the record because of the kind of season they had. I've caught that ball all year, one-handed. I've had more drops this year (eight) than the last two years combined."
The Bengals then settled for Shayne Graham's 30-yard field with 2:16 left for a 38-17 advantage. On their next possession the Dolphins scored a meaningless touchdown with 28 seconds remaining when wide receiver Derek Hagan hauled in a 22-yard scoring toss from quarterback John Beck. Beck then connected with Hagan for the two-point conversion to account for the 38-25 final.
Asked following the game whether or not there will be changes to the coaching staff, Bengals head coach Marvin Lewis said, "I can't tell you that right now.
"Five years and things are a little stale. We're going to take all those doggone binders from five years of games and get rid of them, and clean up as new people come in.
"In general, go to your garage, you look in your garage and you say, 'I've got to get rid of this junk.' I'm talking about our players when they come back they have a fresh outlook and not allow that cloud to hang over our heads."
Palmer echoed his coach's sentiments that there needs to be some turnover in personnel in the offseason.
"We definitely need to make some changes," he said. "Find more guys that love football. Find guys where football is important to them personally. I hope we do that."
With Sunday's win, the Bengals won back-to-back games for the first time since Nov. 30, 2006 (Baltimore) and Dec. 10, 2006 (Oakland). It was also just Cincinnati's second road win of the season. The other was a 21-7 win at Baltimore on Nov. 11.
A couple of players said that Lewis burned a football at practice on Friday to signify a fresh start. Right tackle Willie Anderson talked about getting back to the "bring a shovel" mentality he spoke of earlier in the season.
"That was the kind of mentality we had. We had the shovel, Marvin was from a coal-mining town," Anderson said of the 2003 theme. "I think for the last couple of weeks we've gone back to that mentality of being physical."
Game captain Chad Johnson came through on his vow to give the home folks a thrill when he turned a 70-yard touchdown pass into his second score of the game as Cincinnati built a 21-10 halftime lead.
Johnson added his fourth catch of the day, a 43-yarder whipping past cornerback Michael Lehan down the sideline, to set up running back Kenny Watson's two yard touchdown run with 10:03 left that made it 35-17.
That gave Johnson 131 yards for the game and 1,440 for the season, breaking his club record of 1,432 set in 2005. It was Johnson's biggest day of the season since hauling in 206 yards in the Week 2 loss at Cleveland.
The Bengals survived a turnover on the first series of the second half (Dolphins linebacker Derrick Pope's leaping interception of a Carson Palmer pass over the middle) when defensive end Justin Smith drove Dolphins quarterback Cleo Lemon from the game with a hip injury. On the next snap, rookie replacement Beck fumbled a shotgun snap and rookie safety Chinedum Ndukwe picked it up off the grassy scramble and went 54 yards untouched for his first NFL touchdown punctuated by his dunk through the goal posts to make it 28-10.
The Dolphins cut the lead to 28-17 with 12:21 left in the game when Beck nudged it over from two yards. That ended a seven-minute grind job that featured the running and catching of rookie running back Lorenzo Booker. Booker caught Ndukwe in coverage and rattled off 18 yards in the flat.
Before the pick, Palmer had thrown three first-half touchdowns and engineered a 58-second touchdown drive that took up all but the last four seconds of the half. The Bengals took a 21-10 halftime lead over the Dolphins on wide receiver Antonio Chatman's first touchdown in two seasons as a Bengal on a four-yard touchdown pass.
That gave Palmer his second straight 4,000-yard season. His 316 yards passing for the game gave him 4,131 on the year, eclipsing the 4,035 yards he had in 2006. He also rolled up a 121.4 passer rating, his best single-game rating of the season. The 21-point outburst also gave the Bengals the most points they have scored in a game since Nov. 25.
The defense made the last-minute drive possible when it forced a three-and-out on rookie safety Marvin White's blitz that knocked down Lemon's third-down pass.
The Bengals couldn't take advantage of Chatman's 45-yard punt return when an unidentified player was called for a block in the back, but Palmer got it back quickly when the next punt sailed out of bounds at the Cincinnati 37. He gunned a 23-yarder to Houshmandzadeh over the middle and followed that up with a 25-yard throw to rookie tight end Daniel Coats down the seam that put the ball on the four with 10 seconds left. Palmer then hung in the pocket and jammed the ball into Chatman over the pass rush.
Johnson's second touchdown and second catch of the day came on the team's longest pass of the season with that 70-yarder. Johnson caught a 15-yard pass over the middle and when safety Jason Allen slipped he had the field to himself and beat safety Lance Schulters to the end zone.
But there was no celebration for his longest catch since his 74-yard touchdown play against San Diego on Nov. 12, 2006.
Johnson was gunning for his fifth straight AFC receiving yards title but despite the big day Sunday, he fell short. Randy Moss of New England finished the season with 1,493 yards, while the Colts' Reggie Wayne, who plays Sunday night, currently stands at 1,423 and needs 71 yards to overtake Moss.
Johnson just missed getting about 15 yards more on the first snap after the two-minute warning. He was open on the sidelines, but Palmer got absolutely blown up in the pocket and did well to get rid of the ball in a hurry. He couldn't get that much on it and Johnson juggled it slightly as he went out of bounds.
Johnson made his next catch with 6:20 left in the third quarter when he caught a 16-yard laser over the middle before taking a shot to the head from Allen's shoulder. Johnson then scrambled to his feet and chased Allen back to the huddle clapping.
The Bengals defense grappled with the Dolphins' No. 28 offense and gave up an 11-play, 72-yard drive that took nearly six minutes and gave Miami a brief 10-7 lead with 7:03 left in the half.
A rare occurrence, given Miami had been outscored 235-99 in the first half coming into the game.
On second down from the Bengals 5, Lemon pump-faked inside as he rolled out of the pocket and when the Cincinnati secondary bit, it allowed Lemon to shotput a line drive into wide receiver Ted Ginn's body as both were about to step out of bounds.
Lemon found tight end David Martin for a pair of 19-yard throws over the middle, the last one coming when middle linebacker Landon Johnson and Ndukwe couldn't throw him down. Lemon finished 8-of-12 for 86 yards, and had one drive blow up when defensive lineman Jonathan Fanene sacked him on third down. The Dolphins only managed 11 yards on six rushes and had just 89 yards of offense in the half.
Johnson returned home to cap the Bengals' first drive with a two-yard touchdown catch on third down on the back line of the end zone in which he survived a hellacious sandwich shot from cornerback Michael Lehan and Schulters.
It was Johnson's first touchdown since Nov. 25 as the Bengals took a 7-3 lead late in the first quarter after keeping the ball for 7:23. Two Miami penalties in the secondary on third down kept the drive alive, as well as two passes over the middle for 16 and 17 yards to wide receiver Chris Henry and Houshmandzadeh, respectively .
The Bengals had no success running the ball in their first crack at the NFL's worst rushing defense. Watson could manage just one yard on his first six carries and finished the half with just nine yards on 10 carries. Watson had a much second half in finishing with 69 yards on 21 carries.
Dolphins get on board first
The Bengals defense amped it up after coming out slugglishly when Miami went nine plays to get a 49-yard field goal from Jay Feely to take a 3-0 lead 3:44 into the game.
Ignited by a 32-yard kick return by Ginn, the Dolphins stalled when defensive end Robert Geathers forced an incompletion when he hit Lemon and running back Lorenzo Booker dropped a third-down pass wide open over the middle.
The Bengals forced a punt on the first snap of the second quarter when cornerback Johnathan Joseph when he was one-on-one with Hagan and knocked away a third-and-14 pass on the sideline.
The Bengals changed up the offensive line on the second series, in part to help their big men to combat the heat. Willie Anderson went to right tackle for Stacy Andrews and Scott Kooistra went to right guard to give Bobbie Williams a breather.
But the running game still went nowhere. Three straight Watson runs went for four yards with Watson getting drilled up the middle for a two-yard loss on third-and-two in a possession that lasted about two minutes.
PREGAME NOTES: While the Dolphins looked over their shoulders at Bill Parcells on Sunday, the Bengals looked back on Marvin Lewis' first season plagued by injury and rife with inconsistency.
So it was fitting three regulars were listed as inactive before the game in strong safety Dexter Jackson (calf), running back Rudi Johnson (hamstring), and defensive tackle Michael Myers (not listed on the injury report). Right tackle Willie Anderson didn't start but dressed.
Defensive end Frostee Rucker dressed after being inactive for the past six games because of coaching decisions. Also inactive for a club that came into the game one player shy of the 53-man roster limit: linebacker Anthony Schlegel, guard Nate Livings, and tight end Nate Lawrie.
Anderson, listed as questionable after practicing limited Wednesday and Thursday and not working Friday, had hamstring problems after returning for the first time in nine games last week against Cleveland. Lewis indicated after Friday's practice that the injury wasn't related to the bone bruise and sprained medial collateral ligament Anderson suffered in his knee Sept. 23 in Seattle.
Lewis also indicated that the Bengals would do what they did last week in the 155-yard rushing effort and rotate Anderson with starter Stacy Andrews.
With temperatures hitting 80 degrees as kickoff approached, depth was a concern. Kenny Watson got the start again at running back, but with the injuries to Johnson and DeDe Dorsey, Quincy Wilson is the only available tailback. Wilson rejoined the team Wednesday and practiced for the first time since being released before the season.
And the Bengals no doubt wanted to run it Sunday against the Dolphins' last-ranked run defense. Plus, the Dolphins' big defensive tackle, Keith Traylor was inactive.
But the Bengals would probably also like to get wide receiver T.J. Houshmandzadeh the NFL receiving title. After New England's Wes Welker hauled in 11 catches Saturday night to give him 112, Houshmandzadeh needed 10 to overtake him.
Also worth watching are the games in the AFC West that will decide the Bengals' last foe next season. They are matched with the Jets in a road game and are waiting to see if the Raiders or Chiefs finish third to set up a game at Paul Brown Stadium.
The Bengals came out in their black jerseys and white pants (8-11 record) and sent Miami native Chad Johnson and defensive lineman Bryan Robinson as game captains joining Carson Palmer, John Thornton and Dhani Jones. They lost the toss and Miami took the ball. Lewis also had the offense introduced as a unit for the starting lineups.