William Jackson ends his rookie season on injured reserve.
It wasn't a done deal. But that's where they were headed. Rookie cornerback William Jackson was the leader in the clubhouse.
When the time was right in the next six weeks, the Bengals would make the move for the future and activate Jackson, their first-round pick, and send veteran Pro Bowl special teamer and running back Cedric Peerman to season-ending injured reserve.
But the world changed with less than a minute left in Sunday's game against Buffalo. When running back Giovani Bernard tore his ACL, it left the Bengals with just two running backs heading into a stretch where the AFC North title is still in play.
With Peerman's experience in Bernard's spot as a third-down back and his elite play on special teams, it was pretty much the only move that could be made and that's why Peerman practiced for the first time Wednesday since breaking his forearm in the third pre-season game on Aug. 28. He's still not on the roster and the Bengals are saying they don't know if he'll play, but it's all set up that way. They've got one spot open with Bernard going on injured reserve and Peerman says he could have played a few weeks ago.
And how many times can you pull a Pro Bowler off the bench with six games left?
Head coach Marvin Lewis called it the move that was the best for the team.
"A lot of it is Marvin. A lot of it has to do with the health of the rest of your football team, too," said special teams coordinator Darrin Simmons, the biggest beneficiary of the transaction. "Obviously you never want to see anybody go down, like it was with Gio, but I think it becomes an easier fit for Ced to be the guy that comes back. I'm sure everybody's excited, like I am, to see Will Jackson play, too, but it was kind of a natural fit, and where we are as a team I think it makes the most sense."
Peerman, 30, admitted he thought about the debate. The old pro vs. the young guy in a young man's game.
"You think about a lot of things. I had 10 weeks to think about it," Peerman said. "I had all kind of thins running through my head and I really didn't know what to expect but just getting this opportunity is amazing. It's great. I just hope to make the best of it."
If there was ever a game they needed a special teams boost from Peerman, a 2009 sixth-round pick of the Ravens, this is it on Sunday (1 p.m.-Cincinnati's Channel 12) in Baltimore. The Ravens have blocked four kicks, Justin Tucker has made all his kicks and that includes extra points, punter Sam Koch is a Pro Bowler and they went out in the offseason and signed Hall-of-Fame returner Devin Hester.
It will be recalled that during the last Pro Bowl it was Koch who yelled from the other sideline that Peerman could run a fake punt as the personal protector and he did for a first down.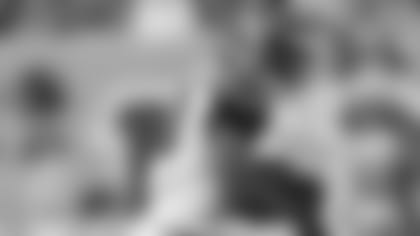 How many teams get a Pro Bowler off the bench for a stretch run?
It will also be recalled that last year in his seventh season Peerman became the first Bengal to make it in the Pro Bowl as a cover player, largely because of his play on kick cover. He had a team-leading 17 tackles with his signature moment in the Nov. 1 win in Pittsburgh when he logged solo tackles at the Steelers 10 and then the 15 on kickoffs in a 16-10 victory.
"His experience and his speed and his desire. Those three intangible things that you can't quantify," said Simmons after Wednesday's practice. "He's got a lot of skins on the wall. He's covered a lot of plays. He's sat through a lot of meetings and he's done a lot of time. He's done a lot of dirty work that goes unnoticed. Obviously it was a great thing for him to get the recognition he's deserved for several years a year ago."
It's hard to keep a good man down. Peerman is the locker room's spiritual leader, a man that had his preaching license in his home state of Virginia, and is there for anyone who asks.
"He breaks his arm and has surgery on his arm and," Simmons said, "He was right back in the meetings. He missed a couple days but never missed a beat. That was just because they were worried about him getting an infection. I think it goes to show you his commitment to our football and our program and more importantly his teammates. That's what makes him so unique and so special."
Here's another reason why the move makes sense. Running back Rex Burkhead, the man who has replaced Peerman in the key spots in the kicking game, is poised to replace Bernard as the third-down back. So the thinking is Peerman can slide back into his old spots on special teams.
"I think it's a feeling out process," Simmons said. "Because we've changed since we had him. We've had some guys. Rex has been productive in the spots he's been productive in. I don't want to lose that production either. Like I said, it will be a process. We've had injuries to several positions. We'll just see how it all shakes out toward the end of the week. I don't think there's anything set in stone that says he's going to play, if that's what you're asking."
Peerman is ready and he says Burkhead is ready. Especially after he did his best Peerman imitation. Like his buddy, Burkhead leads them with 11 special teams tackles.
"Rex is a baller man," Peerman said. "He can play anything, he can do any position out there, he's a great athlete, I knew he was going to succeed wherever they put him at … Rex is always a guy who's well prepared, obviously he's a great athlete, he can run, he can catch the ball out of the backfield, he can block. I have the utmost confidence in Rex."
As Simmons walked through the locker room before practice Wednesday, he saw Peerman get the media treatment and put his index finger to his lips to shoosh him. In Peerman and Burkhead he's got interchangeable guys and there's no reason to let Baltimore know if and when they're going to line up.
"I think it's a positive for the room," Simmons said. "He's been involved in meetings, so that part of it hasn't left, but the thing you miss is his presence on the field. So we'll try to work him back in a little bit and just see where it goes. I don't know what all that means. It's been a long time since he's played. But he's been a presence in meetings the whole time, so he's up to speed in what to do; it's just a matter of whether he can do it physically."
What it means for Jackson is that his rookie year is no more, done after barely a week in training camp, when he tore his pectoral muscle. That means his first NFL practice in pads is set for August.
"He had (only) three practices. He doesn't get a chance to practice football his rookie year," Lewis said. "But in my mind, it doesn't change — we saw enough of him all spring — how we feel about him moving forward at all. Just him going through this reinforces to me what kind of person we have as far as a worker. And that part is good."
Jackson and Peerman talked about it all the time during their rehabs. They knew only one could come back.
"It is bittersweet. It's tough. But at the same time we always talk about it," Peerman said. "It could be one or the other or maybe both of us might be done for the season. So just getting the opportunity to come back is great."