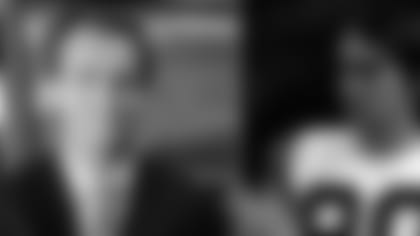 Collinsworth returns to Cincinnati on Sunday as part of NBC's broadcast team 25 years after leading the Bengals to the Super Bowl.
It just sort of worked out.
Just the way it did 25 years ago when the kid with the long drawl and even longer stride showed up to become the first cover boy of Bengaldom as we know it today.
The 2006 Bengals get underway on national television Sunday night on NBC, marking the silver anniversary of their first Super Bowl, and finally there is Cris Collinsworth working a game at Paul Brown Stadium with twice as many Emmys (six) as Pro Bowl berths (3).
For the first time in seven seasons, Collinsworth drives over the bridge from his Fort Thomas, Ky., home to broadcast from the stadium he helped build in the heavy metal '80s of two AFC championship trophies.
"It will be nice," Collinsworth says from the home office last week, "not to have to go to the airport to go to work."
There are two Super teams, but the '81 team is the one that still fires the imagination and inquiries for Collinsworth. So dominating during the season. So bad in the first 30 minutes of the Super Bowl XVI loss to the 49ers. The best Bengals team ever.
"I still get so mad when I think about it that I can hardly talk about it," Collinsworth says. "There's no doubt in my mind that it was the best (Bengals) team. The '88 team came closer to winning it, but in '81 we just rolled through the season. And we just blew it. We just blew it with a bad half of football."
After these Bengals and the Redskins get done with their half in Sunday's preseason opener, Collinsworth puts his two cents in on his new assignment with NBC's studio crew anchored on the PBS plaza that includes Bob Costas, Sterling Sharpe and a visage sure to enrage the faithful, former Steelers running back Jerome Bettis.
"I'm going to be all over him," Collinsworth says of his on-air strategy. "I'm going to tell him that this stadium should have been where he played his last game."
The cool, breezy studio presence of Collinsworth that has caught him all those Emmys will no doubt prevent Bengaldom from staging a halftime revolt against "The Bus." Not to be confused with John Madden's Cruiser.
Collinsworth remains among the most visible and popular of ex-Bengals, unable to attend Sunday's festivities in the new luxury suite named for him because he's working.
(He'll be back for the Nov. 30 game against the Ravens that he'll analyze while Bryant Gumble does the play-by-play on the NFL Network.)
The fact that five of the seven new suites that are named after Bengals greats come from the '81 roster convinces Collinsworth even more that club coached by Forrest Gregg could have beaten the '88 team coached by Sam Wyche.
Only Carl Pickens has caught more balls than Collinsworth in stripes. Quarterback Ken Anderson is an NFL MVP and a certifiable Hall of Famer with four NFL passing titles, as is Collinsworth's fellow wide receiver Isaac Curtis with his 17.1 yards per catch. Cornerback Ken Riley has the fifth most interceptions of all time with 65 and Anthony Muñoz is the only Hall of Famer who played every game of his career in Cincinnati.
"It makes you wonder if we'd won that Super Bowl what would have happened," Collinsworth still muses. "Would Joe Montana have become Joe Montana? Would Forrest Gregg have stayed here longer than two years after that?"
Quarterback Boomer Esiason and nose tackle Tim Krumrie arrived later in the '80s, but by that time the spectacle known as Bengaldom had been born in that 1981 season.
Do you think it's crazy now? Do you think the orange faces and the black shirts and the striped passion is a product of Marvin, Carson and Chad?
Collinsworth, enjoying the rebirth, has seen it all before. He was on the ground floor of Who-Dey. As far as he's concerned it's the '90s that were different.
"I thought it was always supposed to be like this," says Collinsworth, who arrived out of Florida as a second-rounder in the spring of '81. "I hadn't been here before. I thought you always go to the Super Bowl and the Pro Bowl and the place was sold out and the people going crazy. It's funny, when one of my kids told one of his friends that his dad used to be a Bengal, the kid said something like, 'I'm sorry.' And I told him, 'Hey, we used to be pretty good.'
"The season that still makes me mad is '86. We won 10 games and didn't make the playoffs because the two scenarios we needed to happen failed. I think if we'd got in, we could have gone a long way that year."
Honoring the Bengals greats
It's a franchise that doesn't pour out sentimentality in a To Go cup. The Paul Brown creed that honors are a bit too showy for a team sport still exists. So there is no blatant pageantry like a Hall of Fame for the all-timers. But photos of the greats do hang in a stately galaxy at one of the PBS entrances.
When the club sent a letter to Collinsworth asking permission to use his name on the suite, he knew what it meant.
"It's like, 'Where do I sign?' " he says. "It's a great honor. ... I guess this is the Cincinnati version of the Cowboys Ring of Honor."
Collinsworth has offered some photos for the box and he's pretty sure the Sports Illustrated cover from the '81 stretch run is in there. It's simply a shot of a face that would some day be one of the most recognized in the media as a highly-respected, brutally candid talking head seen regularly on NBC, Fox, HBO and now back on NBC where it all began.
But back then, it was an aw-shucks, wide-eyed face with a slight convention-be-damned smile that if it didn't have a cowlick on top of it, it should have. It was also the face of a cold-eyed assassin in the middle of the field who caught 67 balls and became the club's first 1,000-yard receiver with 1,009.
"It was the perfect offense for me," Collinsworth says. "It was based on reading option routes and Lindy Infante had it running at such a high level. Kenny (Anderson) just kind of followed me around and found me all year long."
Collinsworth thinks these Bengals can go just as far depending, of course, on the health of quarterback Carson Palmer. After watching them work Friday at Georgetown College, he's still impressed.
"Their secondary is really good. I forgot what a good player (safety) Madieu Williams is. He's got to be their best defensive player," Collinsworth says. "I really like that rookie linebacker, Ahmad Brooks. He's probably not going to be able to do much for them this year, but it looks like he's going to be a heck of a player. I can see them going to a 3-4 defense next year and putting Odell Thurman and (Brooks) in the middle just because they have so many linebackers."
But Collinsworth knows the Bengals can only go as far as Palmer and even he dreads the decision that has to come about whether to start Palmer on Opening Day just eight months after reconstructive surgery on his left knee.
"I'd hate to have to make the call that the Bengals are going to have to make at some point," Collinsworth says. "Here you've got a guy that can be an MVP maybe four or five times and take you to three or four Super Bowls. The kind of guy you'll never get again.
"How can you tell him to go out there if he doesn't say he's ready? You can't. You can't risk it. He's got to be ready and he's got to tell you he's ready. I almost think you have to see how the season is going before you make a call. If you're around .500 early and Carson feels OK, go ahead. Anthony Wright isn't a bad quarterback. He's won some games and he's around some great receivers now. Somebody's going to have to win some games for them. Then you have to figure out how to get Wright snaps in practice. It's tough."
A good deal of NBC's coverage is going to focus on the Bengals' off-field problems with the count now at five players arrested and one player suspended for violation of the NFL's substance abuse policy since May. He shakes his head at what he calls "the knuckleheads." As a Bengals season ticket holder, yeah, Collinsworth is mad.
"It's not Chad Johnson and Carson Palmer, but you can believe everywhere I go that's the first thing that people ask me," Collinsworth says. "Yeah, it makes me mad. Guys have to realize it's not just about them. They're representing not only guys that used to play there, but the city.
"People are paying a lot of money to go down there and fill up the stadium. It's something that is really built on a personal and emotional level and when things like that happen, there is a little bit more distance and not as much emotion. People don't want to invest in it so heavily at some point."
And Collinsworth does have a bond here. It stems from wife Holly growing up and wanting to raise her family of four children here and her husband hasn't needed much convincing. His career moves the last few years have been pointed to melding work and family.
After heading back to NBC and the studio, Collinsworth had last fall to coach his son's team before he moved on this year to the Highlands High School freshman team.
Now he's looking to have his Friday nights at some point, plus he's enjoying his reunion with NBC, particularly with the network's sports chief, Dick Ebersol. And it's where he cut his teeth working with guys he considered his mentors, Tom Hammond and Marv Albert.
Unlike that team 25 years ago, Collinsworth never wonders about the what-ifs of his TV career. It all fell into place.
"When NBC (lost the games), that opened up a great opportunity at Fox, and now that NBC has the games again, it allows me to go back where I learned the business," he says.
Hard to believe it has been 25 years. More Emmys than Pro Bowls.
"That's a good thing because the Emmys are what puts the food on the table," he says. "Those Pro Bowls won't get you anything now."
But a suite place at the beginning of Bengaldom isn't all that bad, either.