The Bengals say they're as mad and as ornery as the Patriots were while they prep to tee it up against the Panthers Sunday (1 p.m.-Cincinnati's Channel 19) in one of those rare NFC visits to Paul Brown Stadium.
The Bengals.com Media Roundtable has certainly rebounded from the 43-17 dismissal in New England Sunday night, when the Patriots took out their Monday Night shellacking in Kansas City on the Bengals' hopes to barge into the AFC elite.
A week after going with the Bengals in New England, The Table unanimously goes for Cincinnati even though the hosts aren't expected to have three-time Pro Bowl wide receiver A.J. Green.
Judy Battista, NFL.com columnist and NFL Network analyst, covered the game in Foxboro last Sunday night, and taps the Bengals because she still believes they are a top AFC team going against an unpredictable NFC club looking to find its way.
Greg Bedard, senior NFL writer for MMQB.com, sees the Bengals overcoming the lack of Green with a heady game from quarterback Andy Dalton off a steady performance in Foxboro.
Joe Person, the Panthers beat reporter for The Charlotte Observer, has thought they fell back a bit from the 12-4 run of last season, particularly with the loss of franchise player Greg Hardy at defensive end. He thinks Dalton gets enough time against the Carolina pass rush to beat 2011 draft classmate Cam Newton.
Jay Morrison, a hometown kid who grew up to cover the Bengals for the Dayton Daily News, thinks the matchup of St. Xavier High School middle linebacker Luke Kuechly against the Bengals running backs is pivotal. He sees them overcoming the loss of Green with their running game, defense, and home crowd.
Let's go around The Table. As always, ladies and visitors first:
My first question after covering the game in Foxboro is there going to be any hangover from that mess? I thought the Bengals went into that game looking like maybe the most complete and well-rounded team in the NFL, if not in the AFC, at that point. I was surprised how poorly they played and thoroughly they were dominated.
The question about A.J. is not this week, but you have to worry about a toe injury lingering. That's the kind of thing that can last all season if he doesn't really get well and that's obviously a problem. Now the question is if the offense is going to have a dip in confidence after the Patriots game.
Having said that, probably not at home. Let's be honest. The Panthers are not Tom Brady and Bill Belichick. They're as uneven as any team. Against the Bears they opened up a lot of eyes, but they're an unpredictable team, too, and they're capable of laying eggs as much as anybody.
They went out and scored 31 points on the Bears, although that may be more of an indictment on the Bears than anything. But their wins have been relatively low scoring. They beat the Bucs, the Lions. In their losses they barely scored.  It looks like running back Jonathan Stewart might not be able to play since he's been out for a while.
THE EDGE: Bengals, 24-20. Until proven otherwise I have to assume that last week was an aberration. They went into a hornet's nest. People were doubting the Patriots. Tom Brady got angry. No matter how poorly you think the Patriots are playing, it's hard to win in Foxboro, especially at night. And the Bengals at home is a significant edge for them. It was only a week ago I thought they were the most complete team in the AFC, they were playing great and you thought, "This is it; they're going to make the leap into the AFC elite." Until I see further evidence that we were all wrong, I have to assume they're going to go back to generally being a top tier AFC team.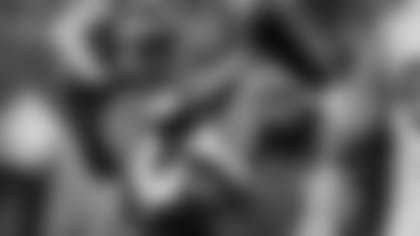 The Bengals figure to give Giovani Bernard a lot of work at running back and receiver against the Panthers.
I don't think the Panthers are going to get pressure on Dalton just because how quickly he gets rid of the ball and the Bengals have given up only one sack. The Panthers' pass rush is just not the same without defensive end Greg Hardy, so they've got to figure out other ways to be disruptive. Panthers head coach Ron Rivera talked about the line getting its hands up, knocking down some of those shorter passes where there's not a lot of room for error. They have to swarm to the ball, which they're pretty good at doing with linebackers Luke Kuechly and Thomas Davis.
Offensively, it would be nice to say this is an opportunity for the Panthers to get their running game going, but they're playing with fourth-, fifth-, sixth-team running backs. I know the Bengals gave up a bunch of yards on the ground against the Patriots, but the Panthers have not been a good rushing team.
So as it often does, it's going to fall back on the shoulders of Panthers quarterback Cam Newton and whether he can make enough big plays. That means big plays in the passing game because he's not anywhere near the runner he's been in the past.  He has improved as a pocket passer. His quarterback rating is up, his completion percentage is up, but make no mistake. They'd love to have him run a little bit more, but that ankle is just not in a place where he feels comfortable doing that.
 It's a completely different offense from what they ran Cam's rookie year. They're not taking a lot of down-field shots. It's more like a 12-yard out to rookie wide receiver Kelvin Benjamin, or an 18-yard crossing pattern to tight end Greg Olsen. There just aren't many down-field throws he's made in the last two years.
To miss A.J. is a break for these guys. They've been a secondary that has played up and down, it's not like that's their strong suit, so anything to help them back there would probably be greatly appreciated by the coaching staff. They play their cornerbacks off a lot of the time in soft zone coverage and they ask them to come up and make a lot of tackles.
THE EDGE: Bengals, 24-21. Vegas always says at least a field goal for the home team in most cases. I know the Bengals are missing A.J. I do think it's a couple of evenly matched teams. To me, it comes back to the Panthers defense even without A.J. They have not looked like the Panthers defense from last year when they were so good at stopping people and getting off the field quickly. Losing Greg Hardy was a big blow and I think Dalton is going to have plenty of time to throw.
The first thing the Bengals need to do is catch the ball. They had a problem with that against the Patriots. After watching the first quarter and a half when we saw sort of post-season Andy Dalton, I thought Andy played well, he just got let down a few times by his receivers in key spots and they can't continue to have that.
I think the Bengals are going to need to re-group and think about how they cover tight ends. Their linebackers in coverage were really exposed against the Patriots. It looks like the Patriots saw that on film going in and really targeted that.
A couple of smart people told me you know exactly where your teams' weaknesses are after you play the Patriots because they probably do the best job of exploiting them. The Bengals have to shore that up because Greg Olsen is one of the most underrated tight ends in the league.
As far as the Panthers offense, Can Newton's injuries have relegated him to a pocket passer, which, surprisingly, he's been pretty good. He can make all the throws. The Bengals aren't going to have to worry about the mobile Cam Newton in this game and that really helps defensively.
The Carolina defense has been struggling. They got back a little bit in the groove last week, but they're not really rushing the passer very well. Their secondary, which has been one of the weaker parts of the team, has been exposed a little bit. The Bengals should have plenty of options offensively and they just need to capitalize.
When you don't have a difference maker like A.J. Green, other guys need to step up. But the Bengals have a lot of good players and I think this is a game where maybe they're not quite as explosive as they normally are without A.J. Green in the lineup, but this is an Andy Dalton dink-and-dunk type of game. I think he's fully capable of it, especially with the way the Panthers have struggled defensively.
THE EDGE: Bengals, 27-20. This is a game the Bengals should win as long as they're smart about what they saw on film against the Patriots and adjust.
A big element in this one is Panthers middle linebacker Luke Kuechly against the running backs. The Bengals got the running game going a little bit Sunday night in New England and had to abandon it because they got so far down.
Bengals heads coach Marvin Lewis talked about how well defensive tackle Geno Atkins played against New England and we'll see if he keeps that progression. He hasn't gone four games without a sack since his rookie year and that's where he is right now against a four-time Pro Bowler in Carolina center Ryan Kalil trying to stop the Panthers running attack and getting that sack. He hasn't had one since the Miami game last year right before he got hurt.
The other big matchup is keeping Panthers quarterback Cam Newton controlled. He's growing as a passer and he had more designed runs last week, so you have to figure they're going to do that in order to slow down any pass rush and if the Bengals are blitzing off the edge it will be important not to lose contain.
I think mentally the Bengals are fine. I think they all knew, as left tackle Andrew Whitworth pointed out, there weren't a lot of teams that were going to go into New England and win that game. It's one of those games you have to put behind you and move on. Everything went wrong. They didn't have Vontaze Burfict. They hit a lull after the bye. Sometimes a bye later in the year is good, it gives you that rest. But sometimes early in the year when you're just getting going, it breaks the momentum, like a day off in baseball.
I think this is still a fairly young team, but it's still a veteran team with a lot of younger guys playing a lot of games. I don't think it's something they'll let linger this week. I think they'll come out fresh. They've got the home crowd, the winning streak at home.
The big issue is not having A.J. I think they can overcome it against the Panthers. The running game is good enough to carry the team and the defense is good enough to keep it close and make it a low-scoring game to kind of grind one out. If Carolina does get hot and turns it into a shootout, I'm not sure they can combat that without A.J.
THE EDGE, Bengals 20-13. It will be kind of a December game mentality with the running games even though the weather won't be December.
In a tight field position game, the Benagls need points from kicker Mike Nugent.
The Bengals began saying all the right things from the moment they escaped the field in Foxboro. They have to be mad, they have to be emotional, they have to have an edge. The fact they get all of that in the return of Pro Bowl WILL linebacker Vontaze Burfict should be a huge help.
But how long can the Bengals play a game without their two best wide receivers (Green and Marvin Jones) and top receiving tight end (Tyler Eifert) and not have it catch up with them? Pardon the pun.
But if they play their typical tight PBS defense, which has allowed 15 points per game in the 11-game home winning streak, and block for running backs Giovani Bernard and Jeremy Hill like they did when Green played just five snaps against Atlanta, they should be OK on Sunday.
Just don't look for any riverfest fireworks. If the Bengals are going to win it has to be a grind job in the best tradition of an AFC North game in December. If the Bengals let tight end Greg Olsen go nuts over the middle like the two New England tight ends did with 185 yards, they are going to have a hard time keeping up in a shootout with Cam Newton. Especially since their own tight ends have combined to catch just 95 yards this season and the wide receivers behind Mohamed Sanu have a combined 18 targets all year.
One thing to watch for the Bengals receivers: the Panthers cornerbacks are ranked highly in tackling, but not in coverage because of a scheme that asks them to keep plays in front of them in a zone.
So in this push-and-shove game of field position and few mistakes on both sides of the ball (the teams are a combined plus-seven in turnover ratio), it's fitting that the players of special teams coordinator Darrin Simmons are going to have to be extremely good. Before Simmons became Lewis' only special teams coach, he served in Carolina for four years and helped develop a rookie returner named Steve Smith Sr.
At the moment Simmons has the NFL's best punt returner in cornerback Adam Jones, but he's going to keep rotating him with wide receiver Brandon Tate and keep picking his spots. Jones and the Bengals don't want to give up any of his snaps at cornerback and the current rotation has yielded Jones' 23.6 average, a good five yards better than runnerup Ted Ginn. So whether he gets the two returns he needs to qualify for the title again next week remains to be seen against a Panthers' punt cover team ranked third from the bottom.
Carolina hasn't been great covering kickoffs, either, where they are ranked 27th. Tate fumbled a kickoff into a touchdown in New England, but Simmons defended Tate's decision-making all night. Obviously they can't have the fumble, but Simmons said Tate showed good judgment on which balls he decided to run back.
With The Table calling for a close game, they need points badly from kicker Mike Nugent. After four games he's already got five field-goal misses, his most in five Bengals seasons, but Simmons and Lewis are giving him hearty endorsements.
Nugent disputes that the wind knocked down his 52-yard attempt in Foxboro and blamed himself. He knew even as holder Kevin Huber high-fived him that even though it was straight, it was going to be short: "I got under it. When you've got a 52-yarder in chilly weather, you have to hit it well and I got under it too much. I've got the leg for a 52-yarder."
Special teams has to work in tandem with a defense that is vowing to tackle better after giving up 220 yards on the ground in New England. This is the unit that has to rebound and fly around, unlike how tentatively it played in New England. But they also have to be careful Newton doesn't take advantage of its aggressiveness.         
 The return of Burfict after missing the last two games with a concussion is a tremendous lift. Their trouble against the tight ends stemmed, in part, from blown coverages and getting lined up. That won't be a problem with Burfict in there. He hasn't played since Sept. 14 and couldn't do much in the concussion protocol until this week, so they may have to keep an eye on his number of snaps.
Plus, the defense should be able to keep all its focus on Newton since the Panthers' running backs are banged up in a running game ranked 28th in the league. Life has not been good for one-dimensional offenses in the Bengals' 11-game home winning streak. Quarterbacks have thrown 10 more picks than TDs and they've failed 77 percent of the time on third down. An interesting matchup since Newton is a first-down machine and the Panthers are 42 percent on third down.  
It won't be a vintage PBS blowout, circa 2013 and 2014, but even without Green and company they've got enough elements to win. They can pound two running backs (Rex Burkhead's fresh legs could also be available) in order to control the clock, they can do a lot of different things with Bernard and Sanu as receivers, they have a big target in tight end Jermaine Gresham if he breaks out of his early-season slump, and they've got the old reliables of the crowd, defense, and special teams in their back pocket.