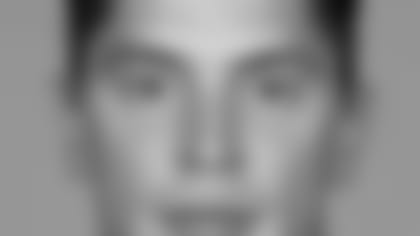 As expected Tuesday, safety Kevin Kaesviharn decided to join linebacker Brian Simmons on the New Orleans defense. But agreeing to the four-year, $10 million deal with the Saints wasn't as easy as it looked.
"It was the best six years of my life. We really wanted to go back there. We tried, but it just couldn't happen," said Kaesviharn on Tuesday night with a hint of disappointment after his improbable run in Cincinnati ended. "That's why it took so long. There were so many factors to think about."
With the Bengals and Browns still in the mix Tuesday, the Saints won the derby for Kaesviharn, 30, a six-year veteran who led all NFL safeties with six interceptions and four sacks last season.
Although Kaesviharn wondered what might have been had the Bengals approached him before the end of the season about an extension instead of a few days before free agency, he's excited about joining a New Orleans team that critics say is young and good enough to contend for a Super Bowl title for several years.
"Both teams, the Bengals and Saints, have good chances to win the Super Bowl," Kaesviharn said. "It's the NFL. You never know. The Saints won only a few games and the next year they almost went to the Super Bowl. The Bengals went from 11-5 to not making the playoffs. Pittsburgh won the Super Bowl and didn't make the playoffs."
Kaesviharn and his agent, Bruce Tollner, didn't divulge or discuss numbers but Yahoo Sports reported the signing bonus at $3.2 million and the yearly average at $2.5 million. Both are considered about $1 million more than the Bengals would normally give a backup safety.
"The Bengals were in it from the beginning," Tollner said. "Kevin has a lot of respect for Coach (Marvin) Lewis and the organization and I believe they have a great deal of respect for him and what he brings to the team both on the field and off.
"They were honest with us through the entire process. Kevin had a wonderful six years with the Bengals. He will always be thankful for the opportunity and will never forget the appreciation he received over the years from the fans in Cincinnati."
A hard-earned pay day for Kaesviharn, who arrived in Cincinnati in October of 2001 fresh off substitute teaching a high school gym class in his adopted home of Sioux Falls, S.D., flush off the waiver wire and the hard edges of the pro game.
Except Kaesviharn was more than a backup to Madieu Williams and Dexter Jackson.
Kaesviharn's value came in his versatility, starting 45 games at all four secondary spots. Although he didn't start in base packages, he played in all the rest. Williams can also play safety and corner, as well as backup corner Keiwan Ratliff.
Kaesviharn's role in New Orleans isn't as clear, where the Saints start two 24-year-olds in Josh Bullocks and Roman Harper at safety. But Harper is coming off a knee injury and the Saints can use Kaesviharn much like the Bengals did in what they call "sub" packages as either a free or strong, or even as a corner at times.
"We just felt at this time it was the best fit for us right now," Kaesviharn said.
"Kevin will be a good addition to our group of safeties from a productivity standpoint on the field in addition to being a leader for our young players," said Saints executive vice president/general manager Mickey Loomis in a statement released Tuesday announcing the signing. "He has been a solid, consistent player for the Bengals for several years and a good influence in the locker room. Kevin is the kind of player we were looking for to add to our mix on defense."
The Bengals could find their third safety among a trio of second-year players in Herana-Daze Jones, Ethan Kilmer and John Busing but they have no NFL starts combined. If safety wasn't a priority in the draft, it is now.
"I know (the Bengals) had some issues. They had a list of things they needed to get done," Kaesviharn said. "I knew where I was in Cincinnati. In New Orleans, they're giving me a chance to compete and that's all you can ever ask."
He goes to a team he helped beat last season with an end-zone interception of Pro Bowl quarterback Drew Brees at the end of the half, which preserved a 10-7 halftime lead and paved the way for a 31-16 victory.
After the Saints watched Kaesviharn make three end-zone interceptions on tape this season (two sealed the Carolina and Pittsburgh victories), they apparently felt he could boost a defense that reached the NFC title game despite forcing the second-fewest turnovers in the league last season with 19. Only two teams (Miami with eight and Washington with six) had fewer interceptions than the 11 by the Saints.
Maybe that was a $10 million play against the Saints. On Kaesviharn's visit to New Orleans the first weekend of free agency, Saints head coach Sean Payton told him he got tipped off to him when he was first playing arena ball. Payton, then the Giants offensive coordinator, went to the front office with the name.
The next thing he knew, he saw the name on the Bengals roster. He went to the front office to find out if they checked on him. The next thing he knew, he saw Kaesviharn stepping in front of the ball in the end zone.
"He said something like, 'Oh, that guy,' " Kaesviharn said. "He said he guessed the Giants never checked it out."
But the Bengals did and now Kaesviharn
leaves Cincinnati with 15 career interceptions, tied for eighth most on the club's all-time list, and one of the best rags-to-riches story in NFL history.
Kaesviharn, who hails from California, showed up at the Green Bay Packers '01 training camp four years after he was a Division II All-American at Augustana of South Dakota.
But he did arrive with 26 pro interceptions, courtesy of Arenaball and the XFL, and the Bengals saw enough that they picked him off waivers in October.
Not only that, like recently departed tight end Tony Stewart, Kaesviharn also enjoyed a high community profile. For the last couple of years he served as the team's spokesman for breast cancer awareness.
When Stewart left over the weekend, Michael Anderson, Hoxworth Blood Center's director of public relations released a statement that said, in part, Stewart "was instrumental in helping us get the word out about the need for blood donors. Tony was easy to work with and made himself available for media interviews whenever he could. During the blood drive, he would greet the blood donors, sign autographs and pose for photos with anyone who asked him. His passion, energy and enthusiasm to help the community will be sorely missed."
Kaesviharn also felt the ties that bind while others wince at the loss of another good locker-room guy.
"And I really do thank them for the opportunity they gave me," Kaesviharn said. "You grow attached to the coaches, to the players, to the city. There are good people there. You get to a point where you don't want to leave but you have to do what you have to do."
Kaesviharn admits the off-field problems bothered him, but he said it wasn't a deciding factor.
"I'd be lying if I said it wasn't a reason but honestly, it was a minor thing," he said. "Just like I'd be lying if I said money wasn't a factor. It was, but it wasn't the only thing. You can't tell me that those things only happen on the Bengals. It happens all over the league. I think Marvin has got a handle on it. There are some things, but he'll deal with them. He's a good coach. They've got some issues on defense, but with the core of guys they have, they can get to a Super Bowl. And I hope it's against us because we can get there, too."
With the loss of Simmons and Kaesviharn, only one player remains on the defense from the pre-Marvin Lewis days in end Justin Smith. He joins the group of Willie Anderson, Levi Jones, Chad Johnson, Rudi Johnson, T.J. Houshmandzadeh and Brad St. Louis as the only pre-Lewis players left.
Which brings Kaesviharn to his best Bengals moment.
"Winning the division," he said of the 2005 AFC North title. "I'd been there when things were rough, but to see how we came through things as a team and won it like that, it was a great feeling."
BENGALS ALL-TIME INTERCEPTION LEADERS:
65 - CB Ken Riley, 1969-83
33 - CB Louis Breeden, 1978-87
31 - SS David Fulcher, 1986-92
25 - CB Lemar Parrish, 1970-77
21 - CB Tory James, 2003-06
17 - FS Tommy Casanova, 1972-77
16 - OLB Reggie Williams, 1976-89
15 - S-CB Kevin Kaesviharn, 2001-06
15 - CB Deltha O'Neal, 2004-06
15 - CB Eric Thomas, 1987-92
15 - FS Robert Jackson, 1981-87, 1989
15 - OLB Al Beauchamp, 1968-75