Vontaze Burfict. The ultimate coach on the field.
Since Vontaze Burfict is suspended for the first three games of the regular season, head coach Marvin Lewis has decreed he won't play in the preseason and he didn't make the trip for Thursday night's game (7:30-Cincinnati's Channel 12) in Detroit when Cincinnati plays the Lions at Ford Field.
But instead of getting frustrated, Burfict is looking to the future with the help of Lewis and other coaches past and present in whittling his post-football career options to two professions.
"That's what I've been telling Marvin and Paulie G. and Zim when he was down here," said Burfict this week, referring to his two NFL defensive coordinators, Paul Guenther and Mike Zimmer.
 "They ask me what I'm going to do after football l and I tell them I'm going to be a coach or a police officer," Burfict said. "That's what I'm going to pursue. We'll see how it far it goes."
Of course, it's a little early for all that. Burfict doesn't turn 26 until next month and he's coming off a remarkable fourth NFL season in which he posted the third most tackles on the team despite missing the first six games for the final rehab of his micro fracture knee surgery. It would have been a Pro Bowl encore of 2013 at WILL linebacker if he had played more than 10 games.
"I'm just going to focus on my career and then after that hopefully it happens," he said. "I don't want to leave football. I just want to stay around the game."
Ever since Burfict arrived as one of the league's most celebrated undrafted free agents, Guenther, his linebackers coach in his first two seasons, has been saying he'll offer him a coaching job once he stops playing. It looks like this training camp Burfict has taken him up on it.
"I feel like I'm a coach on the defense. I know all the spots, especially linebackers," Burfict said. "If somebody messes up, either Coach G or me is the first one to correct it on the sidelines. I'm trying to be like an assistant coach … If he's talking to the safeties, I'm talking to the linebackers. Sometimes I talk to the D-line. It's just a chain reaction."
That's what happened on the sidelines in last Friday night's pre-season opener at Paul Brown Stadium against Zimmer's Vikings. With linebackers coach Jim Haslett and assistant David Lippincott in the coaches booth, Burfict helped out with young guys like the last two third-round picks, Nick Vigil and P.J. Dawson, while wielding an iPad.
In their first home pre-season game this year, both teams are allowed to use video tablets on the sidelines as the NFL looks to transition to using them during the 2017 regular season. Right now, only still photos are allowed.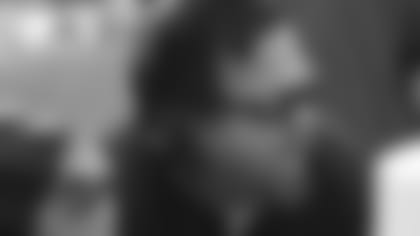 Paul Guenther coached the linebackers in Burfict's first two seasons.
"I'm there on the sidelines with my young linebackers," Burfict said. "They played pretty well. There are some plays that we have to talk about on the sidelines and get fixed."
Ever since he rushed Burfict into a brand new position in less than 48 hours in the second game of his rookie year, Guenther has encouraged his players to learn and communicate like coaches. One of the stories he told this year's defense is that in that game, Burfict's first NFL start against Cleveland at home, he covered the Cleveland tight end on a wheel route, his toughest coverage in the game plan.
As Guenther congratulated him on the sidelines, he asked him about the previous running play.
"He starts saying, 'They did this, they ran it like this, they blocked it like this,' and I'm thinking, 'You've got to be kidding me,'" Guenther said. "'This must be another dumb rookie.' But I went back and looked at the tape and he was exactly right. He understands the front seven and the back end and how it fits … He did a good job helping with the video.
"That's how we teach it. Not just him, but all the players. They can point it out right now.  It's how he was raised in the system and I think we do it a little bit differently than other teams … He's at the Master's level right now of our system. He knows how I want it done."
The hours of a coach are terrible and long. Especially for a guy working on his second contract. But Burfict doesn't care. Head coach? Coordinator? Position coach?  It doesn't matter to him. College or pro? Doesn't matter.
"I don't mind. I just want to coach," Burfict said. "Pro would obviously be better because guys are dedicated to their craft. I feel like in college there would be too much recruiting and all that."
But police work also intrigues him.  He wants nothing to do with a 9-to-5 job. And solving mysteries sounds like a job where he could also use the competitiveness and instincts he brings to the middle of the field.
"I want to be like a crime scene investigator," Burfict said. "You have to start somewhere. Protect the community and it just seems like a fun job where you wouldn't get bored … Different categories. Different suspects. It's not just always pen and paper sitting at a desk type thing."
But for now he seems quite content staying on the scent of the Super Bowl.
"Hopefully he plays a long time and makes the decision from there," Guenther said.
Cincinnati Bengals travel to Detroit, Michigan to take on the Lions in week 2 of the preseason. (8/17/2016)