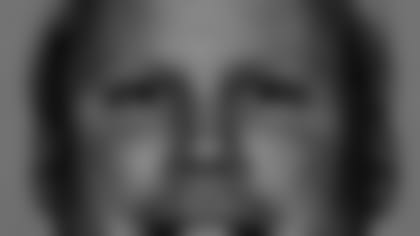 Two of the straightest shooters in Bengaldom took their best shots Tuesday as they looked to Thursday's opening of training camp.
Looking to raise the scoring average to a playoff-like 24.5 points, offensive coordinator Bob Bratkowski points to the Colts' diligence while defensive coordinator Chuck Bresnahan needs consistency.
"That's the one thing I pride myself on," Bresnahan said. "To almost shut out two teams in one week and then blow a 28-7 halftime lead another week, that's not professional football."
But Bresnahan also said this is the best and tightest group he's had since he arrived in 2004 and Bratkowski believes the presence of Carson Palmer this spring has put his unit ahead of last year, when they still scored the seventh most points in the NFL.
But that computes to only 23.3 points per game.
"If you look at the 18 AFC teams that made the playoffs the last three years, they averaged 24.5 points," said Bratkowski, whose '05 AFC North champs hit 26.3. "That gets you there. We didn't make it. Close, but it's not enough. ... Even great offensive teams have a bad week, but you can't have bad two or three weeks in a row, or at the end."
As they went about their appointed rounds during Tuesday's media luncheon to herald the start of the season, Bratkowski, Bresnahan and their boss, Marvin Lewis, were all talking about the same thing Bresnahan seeks from a unit he believes is faster, younger, and better.
As usual, Bratkowski pulled fewer punches than a standup comic after midnight, observing that big plays in the running game have been lacking in part because of "the worst blocking receivers in the NFL over the past few years."
The offense could be excused for injuries to center Rich Braham and left tackle Levi Jones that accounted for some of the reasons why the Bengals averaged just 3.7 yards per rush.
Or that wide receiver Chad Johnson nursed a sore shoulder most of the season and running mate T.J. Houshmandzadeh played the last month with four small broken bones in his back.
Or the injuries to Palmer, running back Chris Perry, wide receiver Tab Perry, and the first Chris Henry suspension as reasons for a passing game that only clicked 35.8 percent of the time on third down, down from 42.9. "We can't use injuries as an excuse; we have to overcome injuries," Bratkowski said. "New England has done it for years. They plug in guys and find a way to win. So let's go."
And it's not like Bratkowski doesn't have some juice. In his six seasons running the Cincinnati offense, he has overseen the best individual passing, receiving and rushing seasons in franchise history.
But Bratkowski and Bresnahan aren't immune from their own candor. Bresnahan, whose units have finished 28th and 30th after Leslie Frazier was let go for finishing 19th, welcomes the heat.
"Nobody has to put pressure on me; I'll be my own worst critic," said Bresnahan, who had nine different starting linebacker combinations last year. "Last year we had to move those guys around because of injuries. Who was up, who was down. Those things we have to avoid. We've got to get guys in position and let them master those positions and that's on us. I won't deflect that one bit. That's on us as a staff."
Rewind to the offense and the final minute of the first half of the finale against the Steelers in a game that if they win the Bengals make the playoffs. We all know a missed 39-yard field goal at the end forced a losing overtime, but two straight procedure penalties along the offensive line when it was second-and-six from the Steelers 6 at the end of the half forced Shayne Graham to kick a field goal that cut the deficit to 7-3 instead of a tying extra point.
"Maybe some of it is we tried to do too much. Maybe it was a lack of discipline on the players' part. Maybe it was a freak thing, it was so loud and they couldn't hear the quarterback," Bratkowski said. "If it's a case of trying to do too much, then it falls on my shoulders. ... Marvin said it best; give ourselves a bigger margin of error so one or two plays doesn't keep us out of it."
So Bratkowski is preaching consistency. He points to a Colts offense that didn't leave any points on the field with 26.7 points per game.
"I tell you this. You watch the Indianapolis Colts receivers block," Bratkowski said. "Marvin Harrison and Reggie Wayne. They're another reason why they are as consistent as they are because those guys do the dirty jobs as well as the ones that they enjoy doing. If we can get our guys to that level, we'll be a much better football team."
Speaking of receivers, the Bengals won't have Henry's career average of one touchdown every 4.5 catches for the first eight games and while he says running the ball better will help, Bratkowski knows they can't get around it.
"Our third (receiver) is going to have to generate big plays," he said, and it may not be one guy but a committee of Tab Perry, Antonio Chatman, Bennie Brazell, Glenn Holt, or whoever emerges.
And probably only three of them will dress for games behind Chad Johnson and T.J. Houshmandzadeh.
"We may use Tab for these routes, Antonio for those routes, and Bennie for others," Bratkowski said. "We'll see how guys play. We know we've got a lot of guys who have the ability to do it."
Bresnahan is banking on a bit of the same thing. He's convinced that such moves as putting Domata Peko at left tackle, Ahmad Brooks at middle linebacker, and Leon Hall at the third cornerback have made this the best group heading into Bresnahan's four camps as a Bengal.
Hall received rave reviews Tuesday, drawing the rare "he's even better than we thought" tag from Lewis despite his impatience with rookies. But the guy who best symbolizes this defense is Brooks, who can also be considered a first-round pick.
The draftnicks believe if Brooks didn't come out in last year's supplemental draft, when the Bengals took him in the third round, he would have been a first-rounder this past April. His work habits and lack of spring preparation kept his 260-pound athleticism off the field, but no more.
Bresnahan threw out a Silver and Black reminder that his Oakland Super Bowl defense in 2002 had a rookie in the middle of it in Napoleon Harris.
"His attitude has to be don't care about mistakes. Just go play football," Bresnahan said. "It's better that he just go play, be the best you can be and learn from his mistakes if he does make them."
Really, that's how Bresnahan wants everyone to play after the unit often looked tentative in '06. Yes, he wants them to do less but he thinks the fixed roles will breed that simplicity and, ergo, the consistency.
"It's time to let it go and play football and have fun doing it, he said. "If you make a mistake, learn from it and move on. But don't fear making a mistake ... that's where you play your best defense. Defense is a reaction game. It's not a thinking man's game. Offense is a thinking man's game. The defense has to react to what (it) sees."
Now the coaches get to see the players react to the candor. And it isn't just Bresnahan and Bratkowski. Special teams coach Darrin Simmons said last week he needs more leadership from his big three of Graham, punter Kyle Larson, and long snapper Brad St. Louis.
"I see more bonding among offensive and defensive players, special teams, regardless," Bresnahan said. "I think they understand what exactly is at stake this year. It's our time, and it's going to be fun to watch them respond to that."