Campbell's Chunky donated 25,000 cans of soup on Tuesday, or more than 50,000 servings, to the Freestore Foodbank as the final part of the "2018 Tackle Hunger" program, a partnership between Campbell Soup Company and the Cincinnati Bengals.
As part of the hunger relief program, Campbell donated 30 cans of soup for every Bengals' defensive tackle during the 2018 regular season, up to a maximum of 25,000 cans. The Bengals finished the 2018 season with 986 tackles on defense, so Campbell is donating 25,000 cans of soup – 500 cans more than last year.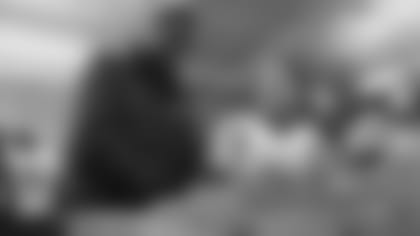 "The Tackle Hunger Program reminds us that we can all play a role in making real food more accessible to those who need it most," said Josh Wooley, Team Leader – Kroger Team, of the Campbell Soup Company. "Campbell's Chunky is proud to support this program for the fifth year in a row and to work with outstanding organizations, such as Kroger, the Cincinnati Bengals and Freestore Foodbank, who share our passion for the Cincinnati community."
Bengals wide receiver A.J. Green was onsite to help donate the 25,000 cans of soup on behalf of his team and the Campbell Soup Company. Green and volunteers, including members of the Wyoming High School football team, helped sort and package food to be distributed to families in need.
Bengals Executive Vice President Katie Blackburn said, "Our partnership with Campbell Soup Company has been a real positive in this community. I'm proud of our team for helping to contribute 25,000 cans of soup to the Freestore Foodbank."  
"In our fight against hunger, it's all about teamwork," said Freestore Foodbank CEO Kurt Reiber. "After the holidays, we are challenged to restock our pantries' shelves with nutritious food. Campbell and the Bengals have once again teamed up to Tackle Hunger and provide some wonderful Campbell's soup to our Tri-State neighbors to help get them through this cold winter weather. This donation allows us to tell the story of hunger's impact on our community. With teammates like Campbell and the Bengals, we know that we can solve hunger."
The program is also supported by Kroger as part of their local community "Zero Hunger, Zero Waste" initiative.
"Kroger is proud to assist great partners like Campbell and the Freestore Foodbank to help our Cincinnati Bengals Tackle Hunger," said Erin Wolfes, Corporate Affairs Manager of The Kroger Company. "Kroger is committed to end hunger in our communities by 2025, as part of our 'Zero Hunger | Zero Waste' plan, and this program is one more step toward that goal."
The Bengals partnered with Campbell's and joined the Wyoming High School football team at the Freestore Foodbank to tackle local hunger.