Andy Dalton and his orange jersey put up a touchdown drive in a quick afternoon of work.
PLAYER OF THE DAY:  WR A.J. Green
Before a Family Day crowd of 7,650 at Paul Brown Stadium, Bengals head coach Marvin Lewis rolled out a long-lost relative Saturday. The Mock Game. Or what's left of it.
In a brisk 58-minute exercise in shoulder pads that featured the first team against the backups in a controlled two-hand touch setting of situations with no hitting, no scorekeeping, and no stats, Green put on a brief but impressive display with four catches for an estimated 70 yards during the couple of series he and quarterback Andy Dalton were on the field.
As long as they were together, things purred and then Lewis made sure he got them the heck out of there, putting an end to the first week of work.
After Sunday's off day, they practice for two days and host Mike Zimmer's Vikings in practices Wednesday and Thursday before opening the preseason Friday night (7:30-Cincinnati's Channel 12) against Minnesota.  
Green, who dropped a bomb when he mis-timed his jump on the first drive, came back to set up the first touchdown of the day when he did what perennial Pro Bowlers do and made a leaping 39-yard catch on the backups' 12-yard line before tumbling out-of-bounds despite rookie cornerback Darius Hillary hanging all over him.
Then fittingly sophomore tight end C.J. Uzomah, who kick-started the six-play, 98-yard TD drive with a 30-yard catch wide open over the middle, finished it off on the next snap when he bodied his 6-6, 265 pounds for a touchdown catch down the seam.
The first-team offense also got a 53-yard field goal from Mike Nugent and a 38-yard touchdown pass from backup quarterback Andy Dalton working behind the No. 1 offensive line to rookie wide receiver Tyler Boyd on a nice floater that Boyd swiped from rookie cornerback Corey Tindal in the end zone.
More than anything, The Semi-Mock Game is an operational tune-up for coaches as well as players and first-year offensive coordinator Ken Zampese got things off so smoothly that it seemed like he's been on the sidelines for all of Lewis' 13 seasons.
"We're looking for substitutions and crispness out of the huddle," said Lewis, who said he was happy with the flow. "That's what you're looking for. To continue with continuity of what we had."
And that's the thing. Zampese has been at all 13 of these previous Mock Games under Lewis as the quarterbacks coach. Dalton easily moved into calls from a third offensive coordinator because Zampese has always been there under Bob Bratkowski, Jay Gruden, and Hue Jackson.
"Even then with Hue and Jay, he was giving ideas and he was still a big part of what we were doing," Dalton said. "Before I got here he was giving the plays to Carson (Palmer) on the sidelines. It's not his first time doing it. It's no different."
Bratkowski called the plays down from the press box to Zampese. When Dalton and Gruden, and then later Jackson arrived, Zampese talked to the coordinators from the press box. During various pre-season games he has called plays for a quarter, but he admits down on the field Sept. 11 in New York is going to different, "with the adrenaline and the responsibility of each call."
Certainly Dalton hasn't missed a beat so far with Jackson now head coaching the Browns. On Saturday he was nine of 12 passing for an estimated 122 yards.
But Zampese's biggest challenge isn't experience; it's calling the shots for an offense that is lacking experience at wide receiver behind Green. It's been a bit inconsistent behind Green early on, yet the rookie Boyd has been terrific, although the Bengals know that it's dicey to rely on a second-round rookie to help Green.
"We're going to need him to keep doing that. He's going to be a big part of what we do," Dalton said of Boyd. "I feel like these guys are getting it. It comes with timing. It comes with experience. We'll see more once we start playing games.
"There's practice and a lot of factors that go into it. We want to see these guys step up and play well in games. When it's new there's a little bit of a learning curve. I feel like these guys have done a really good job this camp of being at the right spot and understanding what we're doing and when it hasn't gone right, learning from it."
Boyd had a chance for another touchdown on the first drive of the day, but Hillary, who had a really nice day, got his hand on it as they leaped up for the ball in the end zone. When they got back to the huddle, Dalton told Boyd he should have led him better.
Uzomah continued his torrid camp and he has to. For the past few days he and John Peters have been the only tight ends practicing. The 12-yard touchdown pass was vintage Tyler Eifert, down the seam against a Cover Two. Hard to cover with Green in the mix.
"C.J. over the middle, he's going to be open … He scores touchdowns," said Dalton of a guy that had just 29 catches and seven for TDs at Auburn. "Being a big body guy, he was open … C.J. has a great feel for the game. He understands what we're trying to do."
His 30-yard catch got the drive going.
"I was able to get the safety off me in the slot and swim past him," Uzomah said. "Good throw good catch."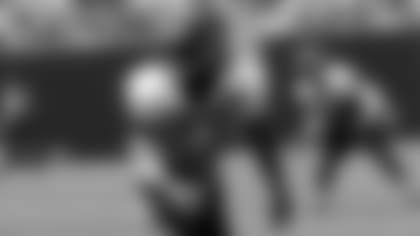 Cornerbacks Dre Kirkpatrick (27) and Adam Jones allowed very little Saturday.
PLAY OF THE DAY: CB Adam Jones.
The first-team defense was as efficient as the first offense. It gave no one anything all day as epitomized by Jones' 50-yard pick six of No. 3 QB Keith Wenning when he stepped in front of wide receiver Michael Bennett at midfield in the middle of the field.
"I was playing (the defense) like it was something else," Jones said. "Because that's what we do. Disguise. Hit me in the bread basket."
Dre Kirkpatrick, the starting cornerback opposite Jones, also had a nice day. In one two-play sequence he batted away Wenning's pass to Bennett over the middle and then on the next snap he drove rookie wide receiver Alonzo Russell into the sideline to force an incompletion.
McCarron ended up 6-for-12 for an estimated 114 yards, but the first-team pass rush didn't allow many of those. Wide receiver Mario Alford did nick the first secondary for a 15-yard gain, but that was about it. The defense thought another big completion should have been negated by an offensive interference penalty they thought impeded Kirkpatrick.
QUOTE OF THE DAY: Lewis on WILL linebacker Vontaze Burfict taking a bunch of snaps Saturday on his third day back: "He gets more work than he needs. We've got to keep pushing the other guys in there. I've got to corral him and keep him out. He wants to practice … there's no reason to overexpose him."
SLANTS AND SCREENS: Burfict blew up a couple of plays, one a run and the other on a blitz that was thankfully whistled off because he had everyone dead to rights …
Rookie linebacker Nick Vigil earned a shot with the first defense, talking off his black No. 59 in favor of P.J. Dawson's No. 47 …
The two draft picks, Boyd and sixth-rounder Cody Core (who has a drop and a catch), joined Green, Brandon LaFell, and Brandon Tate on the first team as Dalton's wide receivers. ..
Dalton' last series started at about his 40 with 1:35 left in the first half and a timeout. But pass protection broke down on the left side, where rookie tackle Andrew Billings and rookie end Jack Gangwish, working against backups in left guard T.J. Johnson and left tackle Jake Fisher, and forced a sack. But Fisher and Johnson have had good camps and Bengals radio analyst Dave Lapham has said all week that Fisher looks so much better than he did last summer.
Starting left tackle Andrew Whitworth had the day off … Backup safety Derron Smith (ankle) sat out, as did tight ends Ryan Hewitt (unknown) and Matt Lengel (concussion) ...
The first defensive line did go through some rotation with Margus Hunt playing some end in base and tackle on passing downs ...
Cincinnati Bengals host Family Day at Paul Stadium 8/6/2016