Joe Mixon is off to the races Friday.
Give Bengals head coach Marvin Lewis a clean sweep of Player, Play, and Quote of the Day in the last public practice of training camp on Wednesday. That's what happens when he returns from the hospital and rumor mill to put them through a 45-minute walk-through in the final practice before Friday night's pre-season opener (7:30-Cincnnati's Channel 12) against Tampa Bay at Paul Brown Stadium.
And here's the quote. He acknowledged this is a stronger roster than last year in several spots and he wants to keep it that way.
  "In a lot of places I feel like we are a lot stronger," Lewis said. "These pre-season games going into the regular season, I'm just crossing my fingers and have everybody get through it healthy. I'm pleased where we are. We are in a good spot."
And here's the play. Practice was washed, which is a lot different than the hand-to-hand combat they had in three of the previous four years in the last practice before the opener because they were scrimmaging against the team they were playing in 48 hours.
"I was not really looking to do that this year," Lewis said. "I wanted to do what we've been doing. Unfortunately, the last three or four years we've had a guy get injured on today. There will be no chance of anyone getting injured today. What was out there yesterday practicing will go into the game playing."
Last year against the Vikings they lost rookie nose tackle Andrew Billings for the season with a knee injury. In 2013 in Atlanta linebacker Vincent Rey tweaked his knee and was out for about a week.
MIXON, LAWSON EXCITE: As usual Lewis wouldn't divulge playing time for the starters, but if tradition holds true A.J. Green, Andy Dalton and Co., figure to get about 10 offensive naps while Geno, Carlos, et al, play the first defense into about the middle of the first quarter.
But he's quite definitive about rookie running back Joe Mixon. He likes the affable, gifted Mixon and says flat out they're going to give him plenty of chances.
"His personality, his work ethic, how he comes and approaches practice every day. From the very first rookie camp here in Cincinnati, you felt that, but you aren't sure because it's a very limited exposure," Lewis said about what he likes. "Now that's a day-to-day thing with the ups and downs in camp — being tired, being asked to run and finish every play. He likes to do that. He likes to run down that field like he is scoring a touchdown, and we are going to give him a lot of opportunities to do that. That's just part of his makeup, and that's good. He can never lose that. That's the other part of it; you don't want him to lose that. I hope he keeps that enthusiasm that he has now."
Lewis knows exactly what he wants to see from the guy that has wowed everyone this camp, from Hall-of-Famer Anthony Munoz to your next-door neighbor who came down to watch practice.
"Play with great pad level, and protect the football. He's very natural at the other stuff," Lewis said. "And then he is going to get an opportunity to protect the quarterback. The rest of the stuff he does very naturally, like running or catching. But (I want to see) his pad level, and making sure his tracks are correct. Those are the things we are going to continue to evaluate and make sure he gets up to speed on and stays consistent. So far, he has been very good with that, and I don't expect that to change."
And rookie pass rusher Carl Lawson has set the other side of the ball aflame much like Mixon with his exciting burst off the ball and he's got as many eyes on him as Mixon.
 "He's been the early (to work) guy, the (staying) late guy," Lewis said. "He wants to do everything correctly. He actually talks out there on the field. He doesn't seem like somebody who talks much. He wants to come over and talk. He comes in my office and wants to sit and watch film. That part, you really like about him. We are blessed with that."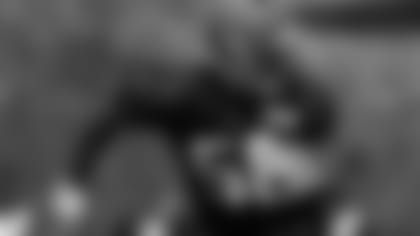 Not only is Friday Carl Lawson's NFL debut, but also his maiden voyage playing linebacker for more than a few plays.
Defensive coordinator Paul Guenther says rookies typically get a yeoman's share of the snaps in the first pre-season game and Lawson is no different. The Bengals aren't looking to wear down Lawson on running downs and know he's most effective coming off right end in the nickel package. But he'll also make his debut as a linebacker when he lines up as the second team SAM.
"We pretty much play it simple in these games," Guenther said. "We're looking to see that his alignments are correct and he understands where to line up and his responsibilities. And, like all the young guys, we don't want them to throw technique out the window just because they're playing live football for the first time."
Plus, Guenther indicates he wants the young guys to play against the better players, so we may not see a lot of some veterans.
"We don't want to get to that last pre-season game and we've only see them against guys that are going to get cut," Guenther said.
LINE IT UP: What that means for an offensive line in transition is anyone's guess. Lewis said they're looking for the five best guys. He left it up in the air.
"I don't think we are going to piece anything together. We're allowing guys the opportunity to compete for jobs, and that's part of it," Lewis said. "Some guys have been in there a little longer and some are newer to it. I'll play it by ear."
WELCOME BACK: And here's why Lewis is the Player of the Day. After missing practice in order to go through three tests at Christ Hospital Tuesday to make sure that a cyst in his knee wasn't a blood clot, he showed up for the evening meetings to a round of applause.
He's disputing that he missed the practice and says he merely left early. In 15 seasons with the Bengals he's only missed a workout after his father died during the off-season program in 2014 and on Aug. 21, 2007 after he underwent ankle surgery.
MOVES:  It was Wednesday but the Bengals still signed first-year punter Will Monday. The 6-4, 210-pound Monday, a free agent out of Duke in 2016 waived by Pittsburgh last preseason and the Chiefs before this training camp, gives them a fresh leg in an effort not to tire out incumbent Kevin Huber. In three pre-season games in Pittsburgh last year Monday punted 11 times for a 42.8-yard average and put one inside the 20 with no touchbacks with a net average of 38.5.
 They made room for him by waiving injured wide receiver Jake Kumerow, who injured his foot in the first weekend of camp. If he clears waivers Thursday he'll revert to the Bengals' injured reserve and be out for the year.
Cincinnati Bengals host Training Camp at Paul Brown Stadium Practice Fields 8/9/2017