They gave Bowling Green quarterback Matt Johnson the Sammy Baugh Award for being the best passer in college football last year, but he wasn't very surprised that no NFL team called and he ended up in Bengals rookie minicamp undrafted.
"Probably size and playing in the spread offense I'm sure that didn't help in the eyes of the NFL scouts," said Johnson Friday before minicamp's first practice. "I got my shot here. That's all that matters."
Never mind he's just 6-0. That doesn't help, but what really doesn't help is he estimates he took 30 snaps from underneath center. Everything else was in the shot-gun formation five yards behind center.
"That's going to be the number one adjustment," Johnson said. "The big thing is working on staying  under center for all my drops Just trying to get my depth and making reads while going backwards instead of already being back there."
Johnson has been in California working with a quarterback guru during the offseason, but it was his relationship with Bengals quarterbacks coach Bill Lazor that brought him here. The Bengals sent a scout to his pro day and Lazor, looking at film, kept in touch leading up to the draft.
"I felt like when he called, this felt like the right place to be," Johnson said. "He'd text me and tell me to be patient with the process."
A couple of more selling points were the quarterbacks everyone knows are going to be here, starter Andy Dalton and backup Andy Dalton. The best Johnson can hope for is a practice squad spot, which last year was manned by another MAC quarterback, Ball State's Keith Wenning. Wenning is back, but not participating in the minicamp. The camp's only other quarterback is tryout candidate Travis Wilson of Utah.
"I love the way (Dalton) plays. I love the way he's the leader of the offense," Johnson said. "When McCarron came in you can tell that he learned a lot from Andy. I'm looking to do the same thing and learn from both of them."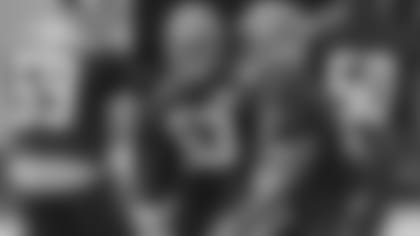 Kendall Walker (53) and his linebacker mates going through the paces Friday.
WALKER IN STEPS: Equipment manager Adam Knollman didn't assign No. 59 to Kendall Walker for his tryout this weekend at Bengals rookie minicamp and it's just as well he's wearing No. 53.
His dad, Kevin Walker, wore No. 59 for the Bengals from 1988-92 and he raised his family here. Kendall, a twin, was conveniently born during the bye week in 1992, Kevin's last season as a player after numerous knee problems curtailed a fine career.
"Growing up playing little league, high school, it felt like a little burden, but you get used to it," Kendall Walker said of playing in town as the son of a former Bengal. "Talking to my dad he told me, 'Don't be like me. Create your own legacy.' I've been working on creating my legacy.
"Numbers don't matter much to me."
Kendall's legacy is he helped carry on the tradition of Moeller High School and linebacker before he went to Indiana State and played in both the 3-4 and the 4-3. He played primarily the WILL in school and has been placed at SAM for camp.
He knows what he has to do here to pull an Emmanuel Lamur, the last man to wear No. 59. In 2012 Lamur parlayed a minicamp tryout into a contract, a contract into a practice squad spot, and a practice squad spot into a post-season start in the last game of his rookie year.
"Take advantage of my opportunities. I know there'll be just a few," Walker said. "Just learning fast, not breaking down, knowing the playbook, play hard, smart, fast."
He has watched old school VCR tapes of his dad, a third-rounder out of Maryland, and he approves.
"Pretty good. He could hit pretty good, he could run pretty well," Kendall said.
He's been watching the Bengals since he can remember, both at Riverfront Stadium and Paul Brown Stadium. His favorite guy to watch now is another WILL backer.
"I'm a big fan of (Vontaze) Burfict," Walker said. "I love the way he plays. Hard. Fast. Always in the right position. Playmaker."
Kendall Walker has heard the "Curse of Bo," theory. The Bengals haven't won a post-season game since Kevin Walker ended Raiders running back Bo Jackson's career on a simple and clean sideline tackle that ruined his hip in a Jan. 13, 1991 AFC Divisional Game.
"I thought we had it last year when Vontaze intercepted that pass. We were right there," Kendall said. "It almost seemed liked there was a curse."
But maybe this would reverse the curse. The son of Kevin Walker in stripes.
"I'll do my best,' he said.
SLANTS AND SCREENS: So 28 years after Walker got No. 59, it went to another third-round linebacker, Utah State's Nick Vigil . . .
Another Bengal son who is a rookie here already has a contract in undrafted Wisconsin cornerback Darius Hillary. His former teammate, undrafted Wisconsin wide receiver Alex Erickson, offered a scouting report:
 "He's got long arms. You have to be ready to get him off you. He knows me, I know him. He's a heck of a player. I'm pulling for him, but I'm competing against him, too."
Look for some action in the slot, where both are going to get looks in their respective nickel packages this spring: "We've had some good battles over the years." . . .
Hillary had to admit it was a thrill to see the striped helmet and No. 28 in his locker after growing up hearing the stories "from my dad and godfathers."
The son of Ira Hillary, a Super Bowl wide receiver for the 1988 Bengals, Darius' godfathers are guys like Joe Kelly, Barney Bussey,  and Tim McGee. Now he's trying to get in some of the stories.
"We're close-knit," Darius Hillary said. "We always had people over the house Saturdays and Sundays and for games . . . It means a lot to make it to the NFL, but for it to be able to be the Bengals, that's a bonus . .. it's a blessing."  . . .
Seventh-round safety Clayton Fejedelem of Illinois knows exactly where he stands.
"I've got to be a core special teamer and help out in the safety room any way I can,' he said of what he has to do make the team.
Special teams coordinator Darrin Simmons must have similar plans because he's lining him up as his quarterback as the punter's personal protector. He's also lining him up in the slot.
Although Fejedelem played boundary safety last year, he said he's prepared for the Bengals' interchangeable safety system because the Illini's are also interchangeable and he played both as a junior. ..
Offensive line coach Paul Alexander said after the morning walk through he's using as many as six different centers out there . . .