Some observations between the morning and afternoon sessions during Saturday of rookie camp at Paul Brown Stadium:
The Bengals are humming about how good fourth-round pick Anthony Collins looks. The 6-6, 311-pound Collins has impressed with his quick feet and presence that have them thinking he can be a left tackle as well as a right tackle pretty early in his development. Collins played left last year at Kansas after a year at right. Although the Bengals are toying about getting him snaps at guard, he has left tackle all to himself this weekend.
Count one of his fans as Bengals radio analyst Dave Lapham, who calls the Big 12 on Saturdays.
"He looks like a bear out there. An athlete. To see him play, it's hard to believe they got him in the fourth," Lapham said after the morning practice. "Anytime you sat down with their coach (Mark Mangino) and asked him who his bell cows were, Collins would be the first guy he'd mention."
Angelo Craig, a seventh-round pick, showed up at another weight this weekend, a very light 231 pounds, but the University of Cincinnati defensive end vows to be back to around 250 by training camp.
He played at about 230 last season for the Bearcats, when he had eight tackles for losses, three sacks, two pass breakups and a fumble recovery returned for a touchdown as an end.
He has been a bit of mystery to the Bengals. He showed up at the scouting combine at 252 pounds, then a couple of weeks ago at UC's Pro Day he came in at 241. Now he's 10 pounds lighter and they may not be looking at an end.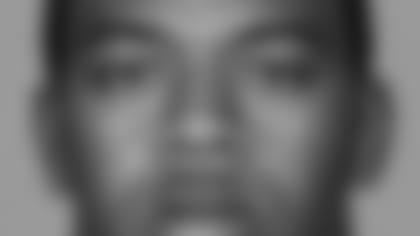 CraigBut Craig, who ran slow because of a hamstring injury at the combine, says he'll put it back on.
"I felt like I needed to lose some weight because I got hurt," he said. "I wanted to get quicker with my pass rushing, and I've been eating better and getting my diet more under control."
But he doesn't think putting on another 20 is going to be a problem. The Bengals hope not because they didn't bargain having to switch positions with him to outside backer.
Still, if he can rush the passer, they'll find a spot for him no matter the weight. The third generation UC pass rusher (Antwan Peek, Trent Cole) comes from a line that has had to make a few moves in the pros. Cole moved from UC nose tackle to NFL end and Peek has moved around all the linebacking spots. Plus, the 6-4 Craig is actually taller than Peek and Cole.
It takes all kinds to make up a rookie camp. Two of the tryout guys, Idaho State receiver Clyde Logan and Boston College punter Johnny Ayers, didn't get here the Mel Kiper, Jr., way.
The 6-3, 202-pound Logan, who has caught just about everything thrown at him this weekend, is 26 years old and ended up in Pocatello after four years in the Marines and a stint in junior college. Ayers, a four-year punter for the Eagles, also started at six different positions and switch hit for the Boston College baseball team.
Ayers obviously isn't playing baseball this semester. Even though he once got a hit off Red Sox ace Daisuke Matsuzaka, he has decided to pursue his true passion of punting in the NFL.
"Fastball, 92, middle out," Ayers recalled of Dice K's pitch he slapped the other way to left field for a single in the Eagles' annual spring scrimmage with the Red Sox. "I went 0-for-2 off Curt Schilling the year before, so I'm 1-for-3 in my Red Sox career."
Dice-K signed the ball in Japanese, but even that couldn't lure him away from football. Ayers probably figured it out while playing in the nation's best amateur baseball league on Cape Cod last summer. His Yarmouth-Dennis Red Sox won the title, but after games Ayers found himself going to a stadium to kick and bringing along the 12-year-old son of his host family to shag.
"I talked to a couple of (major league teams), but it wasn't the type of money to pull me away from football," Ayers said.
You can't say Logan isn't tough. He served in the military police at Camp Pendleton. He may be the second-oldest player in camp (former CFL safety Kyries Hebert has him beat at 27), but even he wasn't born yet when Idaho State won the 1981 Division 1-AA title with a graduate assistant coach by the name of Marvin Lewis in his first job after completing his linebacker career at the school the season before.
Logan was born a few weeks later, but he has heard plenty about the title and Lewis.
"Coach talked to us all the time about that team; about striving to get back to that level," Logan said. "We hear a lot about Coach Lewis because when it comes to success with alumni in the NFL, he's at the top. It's a big thrill just to get the opportunity and with a team that has a coach that played there."