Carl Lawson, in his 2014 Lexus, doesn't need a new car.
A few years back, one of the Georgia Gang that let the junior high kid work out with them during one of Atlanta's searing summers when they got ready for their NFL seasons wanted to let his guys know that Carl was doing just fine playing for Milton High School in nearby Alpharetta.
It might have been Hines Ward or Jamal Lewis or Wayne Gandy or Osi Umenyiora.  Takeo Spikes is still smiling about it.
 Carl. You know. "Sweat Pants."
 Spikes may have lost track of Carl Lawson Jr., when he went to high school, but now that Lawson has gone on to Auburn to wear Spikes' No. 55 and then trade it in for a new number on a Bengals jersey in the draft just like Spikes 19 years ago this week, he's more than caught up.
 Like when Lawson pulled Spikes aside before the Tigers' opener last season and told him, 'Watch me,' and he went out and dominated.
 "He's a junkie," Spikes says. "You know when coaches get up and read the rules sheet? The dos and the don'ts? You don't have to do that with Carl. He's so worried about football. 'Talk to me about something that matters.'  All that other stuff doesn't matter. That's the type of junkie that he is."
When the Bengals open training camp in a 3 p.m. Friday workout on the practice fields adjacent to Paul Brown Stadium, they won't be calling the 6-2, 260-pound Lawson, "Sweat Pants."  During this camp Bengaldom may very well end up calling him, "The Next Best Thing," because as fast as John Ross runs and as big and nifty as Joe Mixon handles the ball, it was Lawson that quickly established the rookie buzz of the spring camps with his jolting pass rush off the edge.
If you're looking for pedigree and poise, Lawson is your guy. They're calling him a linebacker and trying him at SAM, but he's a pass rusher all the way.
Chuck Smith, the Atlanta-based pass rush guru who hosted Lawson for a few sessions among his elite group this offseason, spent the draft season walking through Bengals coaches like head man Marvin Lewis and defensive coordinator Paul Guenther on the plusses of drafting Lawson. It was an easy sell since the personnel department had him staked out for a couple of years.
"He's going to be a special player. He's an absolute monster. They were lucky to get him," says Smith, far from surprised when the Bengals took Lawson in the fourth round. "It's a credit to Marvin and those guys. The Bengals are as well prepared as anyone (in the draft).
Spikes? Lawson was worthy of No. 55, he says, so what else can the man say?
"He'll be a great addition to what Marvin is doing there," says Spikes, looking at Lawson as a mentor as well as a Sirius NFL Radio analyst. "I truly believe he'll bring in a better pass rush for those guys. He'll be able to help Carlos Dunlap. I really love the fit. I know how Marvin can push certain people's buttons. It doesn't take much."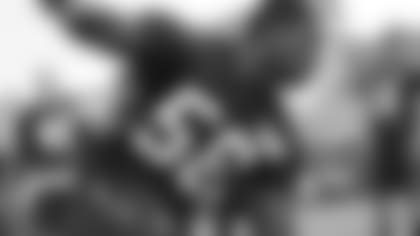 Lawson's athleticism and strength dominated the NFL scouting combine.
He may have had "Sweat Pants,' work ethic early on, but the talent and fitness is in his genes. His grandfather Dudley nearly became Mr. Universe after he won a bronze medal as a middle heavyweight powerlifter for Jamaica in the 1966 Commonwealth Games. His grand uncle Carl Lawson sprinted for the emerging Jamaican powerhouse at the dawn of the '70s, and helped the four-by-100 relay team win Commonwealth gold in the 1970 games.
And his father won a national title as a Georgia Tech fullback/running back. They bubbled together to produce nine sacks this past season and then an NFL scouting combine-best 35 reps of 225 pounds and shuttle time that led all defensive linemen at Indy.
"He's better than the guys that went in front of him," Chuck Smith says.
Carl Lawson Sr., became a trainer and crossed paths early in Spikes' NFL career. Junior was just out of eighth grade  when he hooked up with the gang and trainer Tony Villani. And while he was a go-fer for everyone, young Carl also finished every workout they did.
Spikes, who never taps out on anything, would think about it when they ran the stadium steps. In that Georgia furnace how could you not think about stopping?  And the kid would run the steps right with them.
"He was focused. He was like a dry sponge. He saw greatness in us and tried to absorb everything out of us," Spikes says.  "After we worked out he'd ask, 'Why?' I was thinking to myself, 'Why? You might want to ask why before we did it.' It just goes to show he didn't care. 'Whatever it takes for me to be great, that's what I'm going to do.'"
Carl Lawson Sr., a gifted soccer player who knew football, in part, through Herschel Walker's New Jersey Generals after he moved to Brooklyn from Jamaica about the age his son was confounding the pros, knew he'd eventually figure it out, too.
"He didn't know what to expect. A 12-year-old kid going outside to work out, he had no idea what the heat is like. He's going out there in his sweat pants because he felt more comfortable," Lawson Sr. says. "Eventually he would take his shirt off."
About ten summers later the Atlanta humidity still grips and drips, but Lawson Jr., has on shorts because they're free. And the Tony Villani academy shorts qualify. But maybe not the Yankees hat.
"Everything I'm wearing is free," Junior says in a John's Creek smoothie shop. "I just like the hat. It's a Yankees hat, right? People are big on that. I just like the hat. It looks cool on me. I don't know. I can't remember. I might have bought it … I'm not a big brand person.  If it looks good on me, I'll wear it … As athletes, we get a bunch of free stuff … Why am I going to go buy something?"
Lawson is just coming from a pass-rushing session with Smith and is headed across town to a deep massage. He'll pass on a smoothie. If he's not paying for anything that makes him better in football, he'll usually hold off.
"Food. I'll (spend for) food," he says and when asked his favorite dish he says, 'Get back to me when I've got a death sentence (for a last meal)."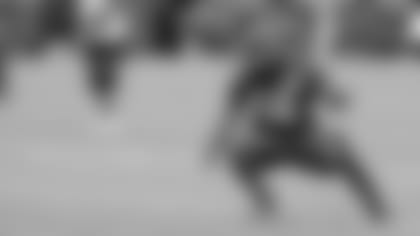 Lawson, known mainly as a defensive end at Auburn, is working on his drops at NFL linebacker.
Cars? The 2014 Lexus he bought after he was drafted is nice, but he vows never to buy a new car. "Waste of money," he says. "Depreciates as soon as you take it off the lot. You can still find a nice car." With just 29,000 miles, it is. He needed one because the car his mother gave him to use at school, a Buick from the turn of the century ("a '98, maybe a 2000") began to break down.
"For the draft we got two free suits, so I don't have to buy a suit anytime soon," Lawson says. "My money is mainly going to things that make me a better football player."
All of which is no surprise to Lawson Senior. His son has always been in to it. Even when he'd walk out of the living room and turn down the hallway to go to his bedroom, he'd flip his hips and work his hands. Then around 1 a.m. they might hear him in his room watching film because one of his idols, Peyton Manning, always watched film. And he was watching the same guys, pass rushers like Michael Strahan and Derrick Thomas.
"I haven't seen anybody touch his work ethic," says Carl Sr., who makes a living out of doing it and coaching it. "It almost borders on obsession. We try to keep him grounded and he convinces us this is what makes him happy. Practicing and playing the game makes him happy. Watching film makes him happy. He loves it."
All Junior had to do was watch Senior, a self-made player in the '80s. When Senior moved to Brooklyn from Jamaica when he was about ten, no one from New York City ever went big time in football. They still don't, particularly a transplanted soccer and track enthusiast living in East Flatbush who found himself at Samuel J. Tilden High School.
"I was in love with football, but the rest of my classmates and teammates weren't as in love with football as I was," Lawson says. "I didn't have what the kids in Ohio and Georgia have, which would be football I.Q. My football I.Q., was low, my athletic ability was high."
You could say elite speed and strength. Watching Walker and college running backs like Marcus Dupree got him outside and when he began to break away from everyone else running with the ball in his hands, he wondered if he could do it on the field. When he went to Long Island to play at Nassau Community College, he caught the eye of Georgia Tech defensive coordinator George O'Leary, a charismatic, hard-bitten Long Islander raiding the Northeast for new Tech head coach Bobby Ross, an Eastern transplant himself from Maryland.
"Being in Atlanta, it didn't have to be much of a sell," Lawson says. "I had committed to Penn State. Maryland also recruited me and I liked Maryland's offense …"
When Lawson got to Atlanta he saw things he had never seen before. Like zone defenses and playbooks. Those things would become like air and water for his son. Junior got the I.Q., but Senior got the 1990 national title.
"I thought Carl was going to get one, too," Lawson says of that loss freshman year in the national title game. "I still have bragging rights in the house."
But, as usual, the kid is coming after him. Their pitched battles are already the stuff of Bengals lore. There was the time Senior tore his ACL trying to block Junior on a back-yard pass rush and Junior handing out Senior's number this spring so the media could ask him about it. There was also the time Senior broke his foot on Junior's knee when they were kickboxing.
"We had to get civilized in the house. Napkins and forks optional," says Senior with a laugh. "Football all day, ESPN, always some kind of game. Plus, all the homework he had and going to school."
The competitiveness bull-rushed into Senior's lifting and performance records at Georgia Tech. Junior vowed to break his marks, but he came up shy with 455 pounds on one bench press lift. Senior holds the Tech record for backs with 460.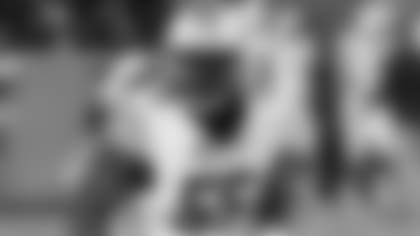 Like Takeo Spikes, Lawson wore No. 55 at Auburn. Like Spikes, he's got a different number in Cincy. Spikes had No. 51, Lawson has No. 58.
"But I did that at 22 years old. He had just turned 16," Senior says. "And he reached a point where he was lifting for football and not just for lifting."
Still, Junior romped to Georgia state high school powerlifting titles as a junior and senior. How easy was it? He was so far ahead he didn't have to go for personal bests. One year all he needed was a 300-pound bench to clinch the championship. He also squatted 515 pounds and cleaned 325 and there was nobody within 50 pounds of him.
"My dad really helped me as I got older teaching me how to work more efficiently," Junior says. You don't need all those heavy muscles nowadays. A big part of football is movement. You need power, but you need small muscles, too."
The only thing that kept him from going in the first round like Spikes was the injuries. An ACL tear wiped out one season and a hip injury wiped out half of another, which is why he had just 20 starts.
"If he stays healthy…." Spikes says.
That's why all the money is going into his body and not a new Lexus.
"I feel like, honestly, if I have the ability to stay healthy the sky's the limit for me,' Lawson says. "When you think about it last year was my first real year of football. If I'm able to take care of my body, I know I'll have success."
Spikes can't wait to get back to Cincinnati to watch him.
"When I wore 55 my motto was that's the speed limit. Nobody goes faster than me," Spikes says. "If he just keeps going forward, he's going to be fine."
The Bengals First 50 recognizes the top 50 retired Bengals players as voted on by fans and media. Here are the results for 10-1