WILL linebacker Vontaze Burfict went from undrafted to Hawaii.
Vontaze Burfict, who last year led the NFL in tackles and return on investment, sat in the Bengals locker room last week, nodded at the locker where James Harrison used to reside, and noted the new resident.
 "His locker is next to mine for a reason," Burfict says of fellow linebacker Emmaneul Lamur. "We're the young guys. We were undrafted. When we came in we said, 'We've got to make this team,' and we've clicked ever since."
This is where NFL Network should be fawning. This is who Roger Goodell should be hugging. The bright lights should be shining into the dark crevices of the draft process, where some of the best players and most riveting stories don't get selected and become the notorious college free agents.
Two years ago, Burfict and Lamur went from being undrafted to rookies that started a playoff game. When Lamur missed last season with a shoulder injury, Burfict went to the Pro Bowl while becoming the inexhaustible three-down soul in the heart of the Bengals defense.
They may not get prime time, but according to stats from that 2012 season, nearly 25 percent of NFL players were undrafted while 29 percent arrived via the first and second rounds.
"I changed certain things that I did," Burfict says of his textbook transition to the pros. "More film study, taking care of my weight, working harder in the weight room and understanding where my help is in the whole defensive system. It allows you to play faster. If you do mess up you know where your help is at so you can err on that side of the ball."
Burfict's rise and fall and rise redux has been well documented. How he went from being a top ten pick to out of the draft because of poor conditioning, too much weight, the combine from hell, anger issues on the field, problems with his coaches, and then how Bengals head coach Marvin Lewis rescued his career with a heart-to-head talk at Burfict's pro day at Arizona State.
"It was more fun to play for coaches that love you and want you to do well,' Burfict says. "And your teammates who want you to do well, because then you feel like you don't have too much stress on yourself and you just go out and play."
When it comes to college free agency, Burfict's situation is an anomaly. It had no part in what Bengals director of player personnel Duke Tobin calls the usual "controlled chaos,' that takes place after the draft as the 32 teams try to land 500 or so undrafted players in the same two-hour window. It's like Match.com and Zoosk.com meeting just for lunch on the same server.
If you want teamwork in the draft room, forget that ever so sacred first-round pick. When the CFA hunt begins after Mr. Irrelevant is crowned with the last selection in the seventh round, Bengals assistant coaches are paired with scouts or members of ownership to secure their players. They can't exceed the total CFA allotment of $80,000 for bonuses per team as decreed by the NFL and monitored by club vice president Katie Blackburn
"All of a sudden you go from selecting to recruiting," says Greg Seamon, the club's east coast scout. "It's like going from pro football to college football. And what we're selling is that you'll get a real opportunity to come here and stick around the NFL. Just look at our history. We get a pretty good reception."
All the agents have to do is talk to Bengals defensive coordinator Paul Guenther. As the linebackers coach last year, his room had only two drafted players in Rey Maualuga and Michael Boley.
"I've already got a list ready to go of the guys I want if they don't get drafted," says Guenther, about 30 hours before the draft starts. "You first look at the redeemable qualities. Speed, quickness, athleticism, size. Fit is probably the last thing we look for because sometimes we don't envision a fit until we see what he can do when he gets here."
But what was expected to be a league-wide auction for Burfict turned into one phone call to Lewis from the agent. That's how much Burfict believes in Lewis.
"(The) agent asked if we were going to draft him and we said 'No, we're not going to draft him,'' Lewis recalled for the media this week. 'Well, if he's not drafted, would you be interested after the draft?' I said, 'Likely.' I told Paul Guenther, 'Paul, I got you a free one. If he's not drafted, I've got one for free for you.'"
Lewis says Guenther didn't have to do much work on it. Not as much as he did trying to woo University of Cincinnati linebacker J.K. Schaffer.  Lewis doesn't remember how it went down after the draft, but there was a phone call with the agent and he was asked if the Bengals would sign Burfict.
"I said, 'Yes.' Then I squeezed $1,000 out of Katie so he could have some spending money for the summer," Lewis said with a laugh.
A few minutes later, things weren't going as smoothly with Schaffer, UC's tackling machine out of Cincinnati's LaSalle High School. Schaffer's lifelong dream of playing for his hometown team got trumped by one of the most persuasive and charismatic coaches in the league, Mark Duffner, then the linebackers coach for the Jaguars. Duffner, a former UC assistant and Bengals defensive coordinator, had plenty of local knowledge to woo away Schaffer as they were signing Burfict.
There's no time for haggling in CFAdom. As Seamon says, there's an offer and if there's a counter, that's about all either side has time to do.
"It's hard because everybody gets a guy in mind and when they don't get him, then we have to re-focus on another guy. It's very competitive," Tobin says. "You find out quickly if a guy has many suitors or a few of them. You have to know when to move on. You can get tied up waiting on somebody and that takes you away from somebody else and you're left out in the cold."
The kid who had such lousy senior tape in Tempe is now watching gobs of NFL tape and has spent time looking at the best linebackers in the NFL. Asked who's the best, he's as definitive as a draft pick.
"Me. I would be stupid if I said I'm not the best. Come on now," Burfict says.
But he watches the others. Seattle's  Bobby Wagner: "He's from the same area I am (Corona, Calif.) and he's a great linebacker, the kind you want. He's big, fast, gets off blocks, a leader."   NaVorro Bowman of the 49ers. Sean Lee of the Cowboys.
"I didn't get to watch a lot of Sean Ley last year because he was injured," Burfict says. "I like to watch a lot of linebackers that run a 4-3, the same scheme we do. Which is Miami and stuff like that. I like to watch linebackers that are good and have a name for themselves."
The undrafted kid who was labeled undisciplined arrived at Paul Brown Stadium last month at 245 pounds, down 10 from the end of last season, and he's shooting to play at 240 because, "I don't lose weight in the cold weather."
The kid who was supposed to be uncoachable breaks down his strengths and weakness like some sagacious NFL assistant.
"Getting off blocks. Making open field tackles. I still need to get better at open-field tackling. It's not the easiest," Burfict says. "They don't blitz me much, but when I do I have to take full advantage. Last year I had my most sacks. When I blitz, I need to bend my hips and get underneath to get to the quarterback."
The kid who was supposed to be a wild man on the field (16 personal fouls in his last 26 Arizona State games), talks about the things he can control.
Which isn't the ham-handed way the NFL handles tackling stats. NFL.com has him for a league-leading 171 in 2013. But the Bengals had him for a franchise-record 204.
"Does it bother you that the league tackling stats are...," he is asked.
"Not accurate?" he asks. "There will be some games I had 17 and with the NFL I get 12. As long as we win the game, I'm good with that. They miss some tackles, I can't control that."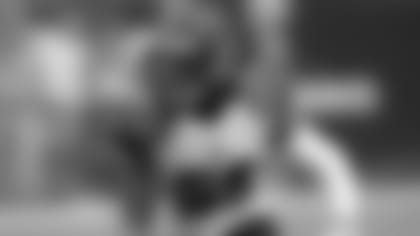 Linebacker Emmanuel Lamur didn't need a draft pick to make the NFL. Only a plane ticket.
The Bengals may have lost Schaffer to Jacksonville (and eventually got him a few months later after the Jags cut him), but at the end of the night they got Burfict they invited Kansas State's Lamur for a tryout at the rookie minicamp.
In one of his last acts before retiring, director of football operations Jim Lippincott made a school call at Kansas State and wrote up Lamur as a free agent to watch after the draft. Then southeast scout Robert Livingston, in one of his first acts with the Bengals, saw Lamur play in the now defunct Florida all-star game and liked him a lot. Guenther was sold at the camp and they signed him at the end of the weekend. Now he's looking at being the Opening Day SAM backer.
But Lamur may be the last of these tryout stories. With the draft now instead of late April, the rookie minicamp has been cancelled and the Bengals, along with other teams, don't have the opportunity to bring in a batch of guys to try out and see how they respond in practice with learning the playbook and then executing it.
"The late draft has done away with the rookie minicamp, not just for us, but other teams," Tobin says. "So instead of 500 guys getting tryouts, it's going to be about 250. We'll bring in guys to tryout, but it will be just a couple of guys here and there."
They didn't have to lure Lamur with money. They just had to give him a plane ticket. But it's not always that easy. Last year, Guenther liked the way Jayson DiManche played what he calls a glorified defensive end at Southern Illinois and thought his movement skills could transfer to linebacker and they gave him their highest free-agent bonus at $15,000 for '13 and he ended up with the second most special teams tackles.
But they got Vinny Rey for a lot less than that and the backup backer just signed a two-year deal for $4.2 million. Rey was playing out of position at middle linebacker at Duke and it turned out the position hid his speed and athleticism, which was revealed at the Duke pro day.
"We've done a lot of research to see if there's a direct correlation between how much money you pay these guys and how much value you get," Tobin says. "There is no correlation between money and career for college free agents. A guy that makes $15,000 is no more likely to make it than a guy that makes $2,000."
It's a good thing because they're not exactly rolling in it at that point. And there are times, for example, when the wide receiver room may ask for more money from the linebacker room.
"If you get shut out by your first three guys and there's another position that has got a guy talking to two other teams, you might move some money around to close that deal," Tobin says.
With so many rookie free agents playing pivotal roles for them (remember linebacker Dan Skuta playing half the snaps this season for the 49ers?), agents are aware that the Bengals are going to give their guys a shot.
That gives them a good rapport with the agents, whom are not usually from the big national agencies but guys with a regional presence.
The trust was reflected in last year's signing of Auburn running back Onterio McCalebb, the speed merchant they switched to cornerback. With Bengals president Mike Brown urging they try that kind of speed at multiple positions, the Bengals worked out McCalebb at cornerback and wide receiver as well as running back sat the Auburn pro day.
Adam Heller, who was then McCalebb's agent based in Columbus, Ohio, kept in touch with Tobin during the six weeks between the pro day and the draft.
"The fact that a team invested the time to look at him in a couple of different spots is a good sign," Heller said when McCalebb was drafted. "I had kept in touch with Duke Tobin during the whole process and got the sense they were interested in using him some different ways and that's going to help him."
But no matter how much work is done before, those two hours after the draft?
"Organized chaos," Tobin says.
Two years, 378 tackles, a No. 3 defensive ranking, an AFC North title, and a Pro Bowl later, Burfict has more than overcome an empty draft day.
"I think that would be a factor for anybody," Burfict says. "If they know they're good enough to be drafted and they're not drafted, that's pretty much food on their plate. They feel like they have to step up."
The word is the Bengals are talking to Burfict about an extension even though he's scheduled to become a restricted free agent at the end of the season. That $1,000, at some point, is going to turn into millions.
"That $1,000 was a lot of money coming out of college," Burfict says. "I didn't care. As long as I was on a team and I could make my statement and be a leader, I didn't care. I'm not playing football for money. If that was the case, I wouldn't have played college ball. I play for the competition. I want to play for my family, coaches and my teammates."