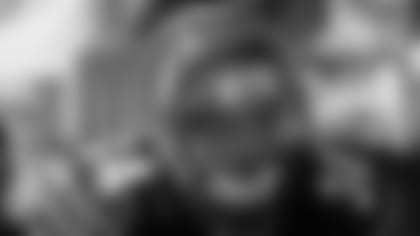 Kevin Kaesviharn hauls in the first half interception. (AP photo)
TAMPA, Fla. - The undermanned, injury-riddled Bengals defense, without three starters that included the sudden loss of middle linebacker Brian Simmons before the game, held up in the 80-degree heat until the final 35 seconds when rookie quarterback Bruce Gradkowski's eight-yard pass on fourth down broke their heart in a 14-13 loss Sunday here at Raymond James Stadium.
The play, to Bucs wide receiver Michael Clayton, was originally ruled incomplete as the ball fell out of his hands diving to the goal line but then got overturned on replay.
The Bengals, who lost left tackle Levi Jones, cornerback Tory James and wide receiver Kelley Washington to injuries during the long frustrating day, were also enraged by several calls. The most noteworthy came with 2:45 left in the game when defensive end Justin Smith sacked Gradkowski but was called for a roughing the passer penalty. The flag, the Bengals' 10th of the day, gave Tampa Bay a first down at the Bengals 25.
"I guess you have to cuddle him to the ground," said Bengals head coach Marvin Lewis.
"I couldn't believe it," said Smith, who forced a fumble that was recovered by teammate Robert Geathers on the play. "That was the ballgame.
"It's a shock to everybody, except the guy who called it. He must have season tickets down here. It's pretty bad if you can't touch them. I wish I was a quarterback."
So does wide receiver T.J. Houshmandzadeh, who had his first 100-yard day of the season with 102 on 10 catches.
"They ought to put a red jersey on him and touch him with two hands," Houshmandzadeh said.
But while the Bengals licked their wounds as they waited to hear further reports on Jones, James and Washington, they also know their offense missed several chances to keep the winless Bucs at bay.
After the game Lewis said the biggest disappointment is the failure to run the ball consistently after the Bengals gained just three yards on seven carries in the first half. Running back Rudi Johnson finished with just 52 yards on 17 carries.
"It gets back to the consistency," said Eric Steinbach, who played three different positions along the offensive line Sunday. "That's what we had all last year. This year we've got a different lineup each week. Of course that's going to affect the offense."
Following the questionable roughing the passer call against Smith, Gradkowski hammered in a 10-yard pass to running back Michael Pittman over the middle. He then found wide receiver Joey Galloway for seven more, and looked to flip a first down pass to fullback Mike Alstott, but it was negated by a tripping call on offensive lineman Sean Mahan.
Facing a fourth down and three from the Bengals 8, Gradkowski muscled it over the middle to Clayton with Bengals cornerback Keiwan Ratliff draped on him at about the 2. With strong safety Kevin Kaesviharn closing, Clayton beat the defense to the imaginary pane of glass.
"The first look is Joey Galloway on the out-and-up and they double-covered him and I came underneath," Clayton said. "Bruce got it there. (Receivers) Coach Richard Mann says you have to 'bow up' because there's a little contact down there. He made a good throw. I was able to catch it and stretch out over the goal line."
Lewis opted not to use any timeouts to regroup on that last drive.
"I don't want to give them the opportunity, with a young quarterback, to have an opportunity to sit in the huddle and call the play and get their guys lined up correctly," Lewis said. "Plus, I believe [at that time] we're going to stop them, frankly as well."
It was just a weird game all the way around. The Bengals got the only turnover of the game, a Kevin Kaesviharn interception, but fell to 20-2 under Lewis when they have a positive turnover differential.
The Bengals bid for the winning field goal got blown up when defensive lineman Ellis Wyms sacked Palmer on second down and Shayne Graham was forced to try a 62-yard field goal that was short and wide right. The field goal attempt was one yard shy of the NFL record of 63 shared by Tom Dempsey of New Orleans and Denver's Jason Elam.
"The challenge there is not to try and kick as hard as you can," Graham said.
Lewis said after the game he thought the field goal try was a better option than trying to throw one more pass since there were only six seconds remaining.
Gradkowski hooked up with tight end Alex Smith on third-and-goal for a quick two-yard touchdown pass over the middle against Kaesviharn to tie the game at seven.
The Bengals, pilfered in the ground game the last two weeks, made sure Bucs running back Cadillac Williams didn't hurt them until then. Held to 42 yards in the first half, Williams broke a 38-yarder on that touchdown drive when the Bucs offensive line blew a hole in the defense up the middle. And Gradkowski kept the drive alive when he scrambled through the Bengals' left perimeter for six yards on third-and-six.
The Bengals took a 10-7 lead with 2:29 left third quarter on Shayne Graham's 37-yard field goal, his 17th straight inside 40 yards. But he had to rescue a sloppy foray into the red zone once the Bengals faced a first down at the Tampa 20. Rudi Johnson, who rustled for 19 yards on the drive after getting just three in the first half, could get just one on first down, and Houshmandzadeh lost a yard on a dump pass. On third down Palmer didn't have enough room to set his feet and underthrew Houshmandzadeh at the goal line.
The Bengals extended the lead to 13-7 early in the fourth quarter on Graham's 47-yard field goal. It came courtesy of Pro Bowl wide receiver's Chad Johnson's longest catch of the year, a 51-yarder against his long awaited one-on-one matchup. This one was against cornerback Juran Bolden and gave Johnson 99 yards on six catches to fall just shy of his first 100-yard game of the season.
Johnson now has 403 career catches, only the fourth Bengal to reach 400, putting him behind Carl Pickens (530), Cris Collinsworth (417), and Isaac Curtis (416).
On a drive that began when the Bengals had just 28 yards of offense, Palmer broke a 0-0 scrum with 9:08 left in the first half when his No Huddle adjustment saw cornerback Ronde Barber lined up one-on-one with Houshmandzadeh and they clicked on a 33-yard touchdown catch.
The Bengals were able to keep their shutout intact at the half when a bad field-goal snap by Tampa Bay with 4:40 left in the half foiled the Bucs' deepest penetration of the day to the Cincinnati 25. Then Kaesviharn handed Gradkowski his first NFL interception on a high fling to Galloway that Kaesviharn caught like a center-fielder at the Bengals 23.
As expected, Steinbach made his first NFL start at center as the Bengals tried to shore up their pass protection. What was unexpected was the offensive line had to revert back to form late in the first half when Jones left with a left knee injury, and Eric Ghiaciuc had to go back to center and Steinbach to left tackle. In the second half, Steinbach went back to left guard and Andrew Whitworth went to left tackle.
Jones is scheduled for an MRI exam on his injured left knee, which is not the same one he had scoped three years ago.
Steinbach and Palmer mishandled a third-down exchange to blow up their first drive of the game in that offensively brutal first quarter. Rudi Johnson had trouble getting back to the line of scrimmage, gaining no yards on his first four carries and recovering his own fumble while losing a yard on one of them. He also lost two yards on a sweep to the right, and Palmer was relegated to throwing dump passes to a defense that came in ranked 30th against the rush, and only one of his three first-quarter completions went to a wide receiver (Houshmandzadeh).
The early portion of the second quarter was no better. Two penalties (delay of game and only six men on the line) sentenced the Bengals inside their own 10, and Palmer missed his first pass on his sixth throw of the game when he and Chad Johnson mistimed a sideline route on third down.
But the defense reacted so well to the unexpected absence of Simmons. He was benched with a neck injury, giving rookie Ahmad Brooks his first NFL start in the middle, and Brooks rung up three tackles in the first quarter.
Cincinnati's beleaguered run defense also had to play without starters Dexter Jackson (ankle) at strong safety and Rashad Jeanty (foot) at strong-side linebacker, both deactivated by head coach Marvin Lewis for the second straight game.
Gradkowski, who hit 20 of 31 passes in his first start last week against New Orleans, was just nine-of-20 for 75 yards in the half. His best break came when defensive end Robert Geathers was called for a 15-yard facemask penalty on second-and-11, but the bad snap came moments later to keep the shutout intact.
As badly as the Bengals struggled offensively, they could take heart in their 21-4 record under Lewis when they have the lead at the half.
Palmer, who hit nine of his first 11 passes on the way to 15-of-20 passing in the half for 132 yards and a 108.8 passer rating, got it together long enough for a score early in the second quarter.
With Rudi Johnson able to go nowhere (just three yards on seven carries in the half), Palmer went short. When he saw the Bucs slide the eighth man in the box on one No Huddle play, he hit Chad Johnson for one of his catches in the half for 43 yards on a quick hitch, and Johnson made cornerback Juran Bolden miss the tackle in picking up 12 yards after the catch.
Then on the next snap as they No Huddled, Palmer launched a lob to Houshmandzadeh working on Barber at the front left pylon. Houshmandzadeh put his hands over his head, jumped, and came down on the pylon. The play survived a replay and stood for Palmer's seventh touchdown pass of the season, and third to Houshmandzadeh.
It was just the second game Simmons has missed in the last six years and robbed the Bengals of their most experienced linebacker at a critical time. Brooks, who arrived late as a supplemental draft pick in July, went into the middle of a defense that allowed 406 rushing yards in the past two games.
But he responded with five tackles in the first half, as did free safety Madieu Williams.
Simmons, a nine-year veteran, practiced all week and wasn't on the injury report as he nursed a minor neck injury. But when he woke here Sunday morning, he was deemed unable to play.
With the injuries to Jeanty and David Pollack on the strong side and Simmons in the middle, as well as the year-long suspension of middle linebacker Odell Thurman, the only remaining starting backer from the spring workouts Sunday was Landon Johnson. But for the second straight game, he moved to strong and Caleb Miller took Johnson's spot on the weak side.
Cincinnati's two remaining backups were Marcus Wilkins, a special-teamer who rarely plays from scrimmage, and Andre Frazier, a waiver-wire pickup from two weeks ago.
Brooks got his most snaps two Sundays ago against the Patriots. About half of his 11 plays came in the middle on goal-line situations, and the others came on the strong side.
In one of the efforts to cut down sacks that have reached 14 in the past three games, Steinbach moved from left guard to replace Ghiaciuc and Whitworth made his second start at guard as the Bengals continue to try and find a way to cope without injured 13-year center Rich Braham.
It's the first time Steinbach worked at center for any significant time in a game since he played the position for the first time ever in an emergency situation during a 16-10 victory last Oct. 2 against Houston.
The Bengals used the bye week to make the switch, a move they think makes them more physical because of the presence of the 6-7, 340-pound Whitworth. They also hoped Steinbach's experience of 50 NFL starts speeds up the calls.
Also, rookie wide receiver Reggie McNeal went into the game as the third quarterback, meaning he could only play as a quarterback if the two guys in front of him, Palmer and Doug Johnson, got hurt before the fourth quarter. McNeal replaced No. 2 quarterback Anthony Wright, who underwent an appendectomy Friday.
Rookie safety John Busing, signed from the practice squad Saturday, was active saw action on special teams, lining up to cover the first kickoff. Other inactives for the Bengals were wide receiver Tab Perry and linebacker A.J. Nicholson.
For the Bucs, cornerback Brian Kelly (toe) who didn't practice much of the week, didn't play. Nickel corner Juran Bolden took his place.
Lewis sent out for captains Wilkins, right tackle Willie Anderson, defensive tackle John Thornton, defensive end Bryan Robinson, and tight end Reggie Kelly.