With Carson Palmer on the bench resting his sore throwing elbow, the Bengals had no firepower to counter a Browns team that didn't have much more in Cleveland's 20-12 victory Sunday that submerged Paul Brown Stadium into an 0-4 tomb.
"It's embarrassing," said wide receiver T.J. Houshmandzadeh. "I don't want to leave the house."
Head coach Marvin Lewis said Palmer's inflamed elbow is better and he was sat for precautionary reasons in an effort to get him ready for next week's game in Dallas. At 0-4, everything is banged up.
"It's the last thing, but it's one of the things that could have happened, one of the possibilities," said Lewis on if he ever thought he'd be 0-4 going to play the powerful Cowboys. "We'll be ready to go. This football team will be ready to play in Dallas next week. We'll play better than we played last week and we'll play better than we played this week. We'll come home with nothing short of a victory. It's going to be a great football game."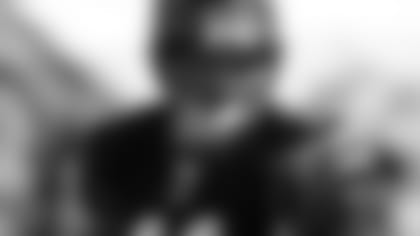 Ryan Fitzpatrick got the nod at quarterback in place of the injured Carson Palmer. (Bengals photo)As backup quarterback Ryan Fitzpatrick tried to rally the Bengals with 3:01 left and the ball on their own 20, the coup de grace came when rookie linebacker Alex Hall beat right tackle Stacy Andrews around the edge and sacked Fitzpatrick to force a fumble that led to Phil Dawson's 29-yard field goal with 32 seconds left.
The game basically ended on Fitzpatrick's third interception of the day by cornerback Terry Cousin on a throw over the middle with four second left as he finished the day 21-of-33 for 156 yards.
But the big stat? Running back Chris Perry could manage only 28 yards on 12 carries.
And yes, only the San Diego Chargers made the 1992 playoffs after starting 0-4.
The Browns used their two touchdowns to take a 17-6 lead with 10 minutes left. The unthinkable of 0-4 dropped into the crowd of 65,541 when Perry fumbled at his own 24 when linebacker Kamerion Wimbley put his helmet on the ball and safety Mike Adams fell on it. A few minutes later Browns running back Jamal Lewis almost gave it back when he fumbled inside the 5, but he got it back and later bucked over from the 1 for the touchdown that made it 17-6.
The Bengals cut it to 17-12 with 7:46 left in the game when Fitzpatrick rolled out and hit wide receiver Chad Ocho Cinco for a four-yard touchdown pass running away from cornerback Eric Wright in the corner of the end zone. The Bengals went for two, but Fitzpatrick couldn't get it to Ocho Cinco in the back of the end zone.
Just before Perry's fumble, Browns quarterback Derek Anderson hit wide receiver Braylon Edwards with a four-yard touchdown pass over cornerback Leon Hall in one-on-one coverage. Edwards snatched it one-handed one play after Hall broke up the same play in the other corner of the end zone.
It was a grinding, sloppy 80-play drive that took nearly seven minutes and was aided by right end Antwan Odom going offsides on the critical third-and-four play. Cornerback David Jones stepped in front of wide receiver Braylon Edwards for the interception, but the penalty gave Cleveland a first down.
Lewis thought it looked an awful lot like Hall's game-ending sack.
"It's unfortunate. I think we were on the snap very similar to the last sack that they got, conversely," Lewis said. "In that case, they called us, they didn't call them."
The Bengals compounded their miseries by taking their final two timeouts after losing one on a challenge.
Bengals get first INT of season
With defensive tackle Domata Peko pressuring Anderson in the first two minutes of the second half, safety Chinedum Ndukwe came up with the Bengals' first interception of the season at about the Bengals 20. It was Ndukwe's third pick of Anderson after he had two in last year's win at PBS on Dec. 23.
The Bengals also got a big punt from Kyle Larson that put the ball on the Browns 2, as well as a personal foul call on Cleveland wide receiver Braylon Edwards for a late block on safety Marvin White.
Plus, the Bengals didn't let tight end Kellen Winslow make a catch until five minutes left in the third quarter.
But the Bengals offensive line couldn't get any push against the Browns in the running game. Fitzpatrick had 41 of the Bengals' 69 rushing yards. Perry, the team's lone healthy running back with Kenny Watson and DeDe Dorsey felled by hamstring injuries, had just 28 yards on 12 caries and 12 of those yards came on one carry.
Ocho Cinco came up with his biggest play of the season when he scooped up a fumble forced by Perry that turned into Shayne Graham's 45-yard field goal with eight seconds left in the first half to give the Bengals a 6-3 halftime lead.
The play summed up a brutal half of offensive football, coming at the end of Fitzpatrick's second interception. Cornerback Eric Wright leaped in front of Ocho Cinco down the sideline on an underthrown ball, but when Wright returned the ball to midfield, Perry lowered his helmet and jarred the ball from Wright. Ocho Cinco, who had one catch for 13 yards in the half, covered the ball at the Browns 45 with 2:28 left in the half.
But with Fitzpatrick finishing the half just 9-of-17 for 57 yards, the Bengals could go just 17 yards in seven plays to settle for Graham's field goal.
Yet Anderson was actually worse. He was just 4-of-10 for 27 yards and could have had a gamebreaking play with 3:36 left in the half and the Browns facing a fourth-and-one from the Bengals 45. After a play-action fake, Anderson short-armed the ball to wide-open tight end Steve Heiden for a gross incompletion.
Yet at least Fitzpatrick flashed his moxie. His 24 rushing yards on two third-down conversions was one more than Perry's 23 yards on eight carries.
Using his legs more than his arm, Fitzpatrick engineered a 13-play drive that took more than seven minutes and ended in Graham's 42-yard field goal that tied it at 3 with 10:22 left in the first half.
Fitzpatrick's last jaunt went for 13 yards when Fitzpatrick deked Cleveland cornerback Terry Cousin in the middle of the field.
But the conventional passing and running games couldn't get untracked, and with the Bengals sniffing the red zone, left tackle Levi Jones picked up his third false start in two games.
The Browns then sent a double safety blitz, but when Fitzpatrick unloaded it toward the corner of the end zone, wide receiver Antonio Chatman cut short his route to the sideline and it was incomplete. Fitzpatrick could only get four completions to his wideouts and Houshmandzadeh could get just 18 yards on his three catches.
But the defense got the ball right back when Ndukwe blitzed on third down to sack Anderson.
Despite the great field position at the Browns 49, Cincinnati couldn't convert because Fitzpatrick threw a pass that sailed on him and instead of hitting tight end Reggie Kelly down the seam, it went way over his head and into the hands of safety Mike Adams for an interception.
The game lost an official in the first quarter when umpire Carl Paganelli hit his head after he got tangled up with Perry at the end of his 12-yard run.
The Bengals defense couldn't answer the call on their first series and got blown off the ball as the Browns running game gave Cleveland a 3-0 lead on Phil Dawson's 25-yard field goal 5:29 into the game.
The Browns never put the ball in the air with running back Jamal Lewis hammering them for 34 yards on six carries through gaping holes and Jason Wright added a nine-yarder as left guard Eric Steinbach and left tackle Joe Thomas had a field day.
And at the end of Lewis' 18-yard run, cornerback David Jones drew a 15-yard personal foul for a horse-collar tackle.
But on third-and-one from the 5, defensive tackle John Thornton and an overloaded line to the Browns' left side stopped Lewis for no gain to bring on Dawson.
The Bengals did tamp down the running game the rest of the half with Lewis finishing with just 55 yards on 12 carries.
The Bengals couldn't get anything going for Fitzpatrick in the first two series, both three-and-outs, as the Browns held the ball for nine of the first 13 minutes despite coming into the game with one of the NFL's worst averages of possessing the ball an average of 25 minutes per game.
The Bengals defense escaped on the Browns' second series when defensive end Frostee Rucker gave them new life after he was offsides on a third-down incompletion. The Bengals got a nice play from Hall when Winslow got behind him at the Bengals 20, but Hall knocked it away at the last minute. The Bengals also deciphered some razzle dazzle with Anderson lined up in the slot and receiver Josh Cribbs lined up as the quarterback. But Ndukwe stopped Cribbs for a short gain when he tried to run out of the shotgun.
Unlike the Browns early, Perry could only get three yards per pop and Fitzpatrick couldn't connect on third-down passes to Houshmandzadeh and Ocho Cinco. Houshmandzadeh just missed pulling one in on a dive and it appeared that Fitzpatrick tried to hit Ocho Cinco on the back shoulder as he worked one-on-one with cornerback Eric Wright but put it too far out in front and Wright tapped it away.
PREGAME NOTES: Carson Palmer got scratched with a sore throwing elbow while backup Ryan Fitzpatrick started for the Bengals in a game against the Browns that had been all about Cleveland's backup quarterback during the week.
Indications are that the Bengals are resting Palmer for a week in the hopes he'll be ready for next week's game in Dallas. Lewis said Friday that the Bengals don't know if the elbow became sore by overuse or because of a hit last Sunday against the Giants. But since he threw passes in practice up until Thursday, the conventional wisdom is he didn't suffer a long-term injury.
It is believed Palmer hurt it early in the Giants game on a tackle.
Whatever, his streak of 51 straight starts ended when Marvin Lewis made Carson Palmer the No. 3 QB and gave the nod to Fitzpatrick for his fourth NFL start and his first since his rookie year of 2005.
Another key offensive player was out with third-down back Kenny Watson (hamstring) inactive. Out for the second straight week was cornerback Johnathan Joseph (ankle) and David Jones got his second straight start in his spot.
Also inactive again were safeties Dexter Jackson (thumb) and Herana-Daze Jones (hamstring) as well as rookie receiver Andre Caldwell and rookie defensive tackle Pat Sims and Jason Shirley.
The Browns had two starters inactive in outside linebacker Willie McGinest and wide receiver Donte Stallworth.
Fitzpatrick, the first Harvard quarterback to complete an NFL pass, hasn't thrown one since that rookie year. He lost his three starts to Washington, Minnesota, and Philadelphia consecutively.
But his run began with one of the most spectacular debuts in NFL history when he came off the bench and rallied St. Louis to an overtime victory in Houston in which he threw for 310 yards that included the sudden-death winner of 56 yards to wide receiver Kevin Curtis.
He had an impressive preseason in which he put up more points than Palmer with a 104.2 passer rating, but he opened up eyes with his athleticism out of the pocket. His 79 yards on nine scrambles were third best on the team.
As the No. 3, Palmer can come into the game but Fitzpatrick and Jordan Palmer can't go back in if it is in the first three quarters. They can go back in if Carson Palmer doesn't enter until the fourth quarter or overtime.
Fitzpatrick became the 26th Bengals starting quarterback and third to make his first start against Cleveland with Virgil Carter in 1970 and Akili Smith in 1999. The last QB not Palmer to win a game for the Bengals was Jon Kitna in the 2004 finale. Ironically, he beat another former Bengals quarterback that day in the Eagles' Jeff Blake.
On a sun-splashed day in the mid-70s, Hall of Famer Anthony Munoz delivered the game ball and the Bengals appeared in black jerseys and white pants. Lewis opted to introduce the defense as a unit and with linebacker Darryl Blackstock lined up as the special teams captain the Bengals won the toss and received.