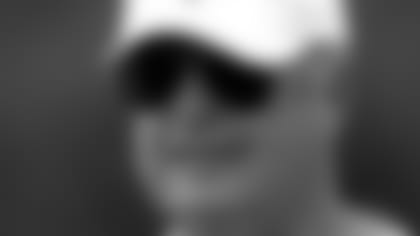 Brown: "Good deal for the fans"
Statesman or Scrooge?
At least two NFL writers who have covered the league for a combined 50 years were calling Bengals president Mike Brown a statesman Thursday after he was just one of two owners to vote against an extension of the NFL's collective bargaining agreement.
But Brown didn't feel like one on Thursday. Even though he feels his team has been economically weakened and that the players won a huge victory over the owners, Brown said the Bengals are going to continue to spend near or beyond the expanded salary cap over the length of the extension that runs at least four years and could run as long as six and that they will be active in free agency that starts Saturday at 12:01 a.m.
"The deal is tremendously costly," Brown said. "The high revenue teams, although they were willing to shift money to low revenue teams, they weren't prepared to shift money in proportion to the amount they put cost on us."
Brown, who along with Bills owner Ralph Wilson cast the dissenting ballots in the 30-2 vote, also objected to several non-economic features that he said ownership wasn't made fully aware of during the two-day owners' session in Dallas. Brown said he didn't know most of them until he arrived back at his Paul Brown Stadium office Thursday morning and read an incomplete printout from the NFL office.
"When you're voting on an important deal, you should know what you're voting on in its entirety. We did not," Brown said.
Brown not only objected to the external elements submitted by NFL Players Association executive president Gene Upshaw, but also the internal responses pushed by NFL commissioner Paul Tagliabue. The crux of his concern is that with the salary cap rising from $85.5 million to $102 million this year the $17 million hike is "a hit."
But he also said the Bengals will pay players like they have in the recent past, when they have spent to or gone over the salary cap after moving into PBS in 2000.
A day after casting one of the two negative votes against the CBA extension, Brown said he didn't regret voting his conscience because he felt he the deal was too rich for the players and the high revenue teams didn't put enough into the pot with 40 percent to counter what Brown calls "exporting" cap costs on the low revenue teams.
"The highest revenue teams export $45, $50 million of cost on other teams, and they are prepared to revenue share in the range of $6 million. It's a good deal for the top teams, meaning the reverse works for the (small revenue) teams," Brown said.
Critics of the extension argue that the 15 teams that are going to share money with the bottom 17 teams aren't going to contribute enough to offset the spiraling salary cop costs in a new CBA that now includes all local revenue streams of stadium, merchandising, marketing and preseason TV and radio deals. They say with the league set to take in $47 billion over the next six years, less than $1 billion is going to be shared.
For instance, in 2006 the top five top revenue teams are going to contribute $3 million each to the lower teams, the second five $2 million and the third five $1 million. They say that means the richest team, the Washington Redskins at an estimated $287 million in 2004, are going to contribute just one percent despite driving the cap costs much higher than that.
A two percent cap on what teams can spend in bonuses over the cap isn't enough to narrow the disparity, they say.
Brown has long argued what Forbes Magazine reflected in a recent survey from the 2004 season. Taking those numbers (the Bengals had $171 million in revenue) with the '06 salary cap of $102 million, they are paying players 70 percent of their revenue compared to the Redskins' 42 percent.
"Suffice it to say if a club pays more than 65 percent of revenues to players it has the potential to be reimbursed," Brown said of the new revenue sharing deal. "I thought the player cost exporting issue was not adequately addressed."
The Bengals don't want the big revenue teams' money, Brown argued, but he simply wants them to bear the cost they have "exported" to the smaller revenue teams.
"In our system, the lower revenue teams are taxed at a higher rate than the high revenue teams. We don't think that's working well," Brown said.
He used the example of going to a "gasoline station owner" and offering to pay 40 percent on the dollar after filling his tank.
"Try getting away with that," Brown said. "You can in our league."
Still, he said the extension is good for fans of the Bengals and the NFL because football is now uninterrupted for at least four years and possibly six with a contract that is fixed to four and can run for another two years if 75 percent of the teams don't opt out in years five or six.
"We're going to be up and running," said Brown, who expressed optimism about his team's fortunes a few weeks after getting a two-year extension himself with head coach Marvin Lewis.
Asked jokingly if Lewis was lucky to get what has been reported as a raise to $3.5 million average annually over the next five years before the CBA extension, Brown said, "Marvin deserved what he got."
Big market vs. small market reality
Brown has taken a beating from the large-market owners who complain that he doesn't do enough to generate revenue locally to keep up with the top moneymakers like Dallas, New England and Philadelphia. They particularly bang on him for the failure to sell naming rights to PBS, but he indicated Thursday he didn't have anything to add on an issue in which the Bengals tried to sell them when the stadium opened but had difficulty finding a deal.
The Colts just sold the naming rights to the former RCA Dome for $120 million, but Brown argues each market is different.
"We feel we do work as hard as they do. They have a much greater amount of disposable income than what we have," Brown said of the big markets. "They have a multiple of tens or more than what we have in the Cincinnati market. ... I know that we work just as hard in the smaller market. I think they are better positioned for this purpose."
Brown had his small-market allies, particularly Jacksonville owner Wayne Weaver, until Wednesday afternoon when it became clear that they didn't have the votes to stave off a deal.
And Brown said he was willing to leave Dallas and continue with the old CBA that went into an uncapped year in 2007 until there could have been a better deal hammered out with the players and a more equitable revenue sharing plan among the owners. He said some owners approached him and told him they agreed with him but had to vote to approve because of their own stadium issues at home.
"There were others that felt like we did and changed their vote at the end to make it appear the effort was unified," Brown said. "I stayed with our vote because I think it should be said that at least some people thought it was not the right time to make a deal."
Brown said he also disagreed with those that felt the non-economic elements weren't as important as the financial deal. While he was aware of some of them as a member of the owners' executive committee, he said he didn't know most of them until he arrived back at his office Thursday.
One of the items that is now prohibited in the new deal is that teams can't retrieve all or parts of signing bonuses for contract violations. That overturns the Bengals' Carl Pickens Clause that they won in arbitration a few years back when they attached the loyalty language from the standard contract into the bonus.
But Brown said all systems are go when free agency opens Saturday, citing the $7.5 million bounce in the cap. With $4-5 million to spend in free agency before that, that figures to give them about $12 million for new players and extending members of an offensive line that all have contracts expiring after this season.
Brown would only say the club would be active and wouldn't say where it was going, although Lewis has said the plan is to get a veteran quarterback in here by the end of the first week of free agency.
There are players who have already been cut and are available to talk now, but it's believed the Bengals spent Thursday digesting the harder numbers of the new CBA before contacting agents. (For instance, minimum salaries have been raised by $40,000 across the board.)
Angelo Wright, the agent for defensive tackle Sam Adams who sent his client to visit the Dolphins this week, said his sense is that most teams were doing that and he planned to talk to the Bengals on Friday. Two quarterbacks Cincinnati can talk to now are former Steeler Tommy Maddox and former Jet Jay Fiedler, but indications are they haven't heard from the Bengals.