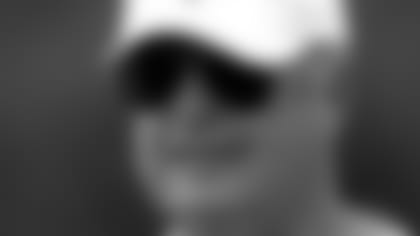 INDIANAPOLIS — Marvin Lewis says the Bengals won't be at the starting gate when free agency dawns Friday and that's because they've already lapped many teams in the ever-growing financial derby.
But it's a race that has the club worried about the NFL's long-term viability and the potential to slide into the baseball morass.
As one of the league's recent big spenders, Bengals president Mike Brown is confident his team is on solid ground in the short term. But he's worried enough about the future to break his public silence and challenge fellow owners to fix the collective bargaining agreement crisis next month at the NFL's annual meeting.
"We can play under the rules as they are today. If the trend continues will we be able to do that four years from now? That's a good question," Brown posed last week. "I can tell you that many teams will not be. What is not in question is the Bengals' ability to compete over the next few years. What is in question is the league's viability over the long term. We are at a point where that has to be addressed."
The Bengals have just seen a league spreadsheet showing they had the sixth highest cash payout in 2006. According to 2005 numbers, they finished the season with the NFL's fourth highest salary cap count that was slightly above the $85 million ceiling. And they believe they are healthy enough that there are a handful of teams in front of them that are going to suffer before they do.
But suffer they will, Brown says, if the CBA isn't fixed soon with either more revenue sharing or a revised agreement with the NFL Players Association that lowers the players' take on about 65 percent of league revenue.
Brown and Buffalo's Ralph Wilson were derided as the only owners to vote against the new CBA last March but now they appear to be in the majority. Such diverse markets as big-time New England and small-town Jacksonville have expressed public dismay, and there have been rumblings in Minnesota, Atlanta, New Orleans and St. Louis.
Brown's argument is the same, but the numbers are startling new and he says the trend is "unsustainable" as long as teams continue to drive player costs without having to share the salary cap costs, which is the league average.
With the Bengals spending nearly 70 percent of their $180 million in revenues on players and the Redskins paying about 40 percent of their $300 million, Brown fears the NFL is headed the way of baseball and small-market teams having virtually no shot on the field.
With revenues staying relatively the same, the cap has shot up to $120 million from $84 million just two years ago and is careering toward $130 million next year.
The Bengals aren't in the market heavy because of the league's tenuous financial situation. They are there because they've got about $30 million in commitments to their own players they're trying to work through this offseason.
Throw in eight-figure bonuses to Pro Bowlers Carson Palmer, Chad Johnson, Willie Anderson and left tackle Levi Jones, and the Bengals have already had a blockbuster free agency.
Brown and his top executives, executive vice president Katie Blackburn and director of business development Troy Blackburn, are standing by what they see as a fan-friendly blueprint.
In order to keep the club competitive in the last two years, they have doled out huge money to keep the core of their top 10 NFL offense through 2008. In the past month they've also committed $13 million of that $30 million to their two best pass rushers in Justin Smith and Robert Geathers.
But Brown, who grew up in a league built on football partnership, fears the new wave of corporate brinkmanship. He thinks he's not alone now after teams have delved into the accounting of the first year in the new cap.
"The bottom teams are unlikely to want the status quo," Brown said. "They need help now."
It's assumed the owners are going to opt out of the current CBA in November of 2008, making the final season 2009 and 2010 an uncapped year. Brown thinks the league has had enough time to fix a revenue sharing plan that is now terribly out of whack and believes it must be on the table next month in Phoenix.
Brown said the Bengals knew even when they went into Paul Brown Stadium in 2000 that their standing in league revenue would dip as the years went on. But when the NFL decided all teams should contribute to subsidize stadiums being built in large markets like Dallas, Chicago, New York and Philadelphia with its G-3 program, the gap between small and big markets mushroomed quickly.
"The most subsidized teams in the league are the large-market teams that have received the G-3 grants and have produced a cap cost push on to others. This doesn't make sense," Brown said.
The NFL patched together a $40 million revenue-sharing plan last year that is supposed to increase annually. Last year the top five revenue producers were to kick in $3 million each, 6-10 $2 million and 11-15 $1 million. The Bengals said they virtually broke even on their contributions and their share, which Brown finds odd in a market of Cincinnati's size.
According to recent financial surveys by the media, the Bengals are valued at $825 million in a league where the average is $819 million. As of 2004 they were running at just one percent debt as one of the league's more profitable teams.
Troy Blackburn says a major reason the Bengals haven't gone the way of some teams who have been forced to go with strict budgets is because they have "a lean" operation that puts nearly all of its resources into football.
"Probably moreso than any team in the NFL we have structured our operation so our resources are focused on football," he said. "The big thing for the fans is we are doing well now and are able to compete by re-signing guys like Carson Palmer, Chad Johnson, Willie Anderson, Levi Jones, etc. We want to be able to keep doing it down the road."
As Brown says, "We don't scrimp on players. We don't scrimp on coaches."
Brown says there are a variety of solutions with the best one each team being responsible for cap costs instead of sharing it. If not come up with a revenue sharing plan that includes the now non-shared revenues of marketing, stadium and local media. If not, cut the players' take.
The linchpin of the revenue sharing plan now in front of a committee is qualifiers and Brown isn't sure what they are. For all he knows, Paul Brown Stadium could disqualify the Bengals for revenue sharing for a certain number of years because it's a new facility.
If the team can't decide on the qualifiers, NFL commissioner Roger Goodell has said he'll step in. Brown realizes Goodell would be put in the tough position of making some teams happy and some hot but he also feels like there has to be a deadline even though there isn't one.
"As a practical matter there is a deadline," Brown said. "We have to have something in effect as we go forward into the future. We can't delay it indefinitely."
But it's more than that for Brown. He sees the revenue sharing plan debate on the floor next month as a battle for the soul of the league and invokes the words of late Bears owner George Halas before Congress.
"He said the National Football League is a wheel," Brown said. "Each team was a spoke in the wheel. We're having broken spokes here pretty soon."