Mike Brown says he'll give Adam Jones a chance.
PHOENIX - In his semi-annual state of the message at the conclusion of the NFL annual meeting concerning his Bengals, club president Mike Brown typically didn't mince any words Wednesday on a variety of topics.
For one thing he believes his team is not re-building but "re-plenishing," and while the critics have railed about the departure of some veterans say the team is in decline, Brown says the Bengals have planned for this transition with an eye to their recent drafts and the one next month with 11 picks.
Plus, he also throws out a reminder that Pro Bowlers A.J. Green and Tyler Eifert, along with running back Giovani Bernard, finished last season on injured reserve.
"We are bringing on new guys," Brown said. " Thing that gets overlooked is we had a whole bunch of players, what about (Vontaze) Burfict, what about Eifert, what about Bernard, we lost a whole group of core players to injury and are going to be coming back and stepping in and playing their expected roles. I think when you look at the totality of where we are, it isn't decline – which is what you read some at this point. It is actually just a natural changeover plus a re-charge from the injury list. We have people and we are going to add more in the draft. It isn't as thought we suddenly are a team that isn't well-stocked."
Brown acknowledged not being able to sign Pro Bowl left tackle Andrew Whitworth, an 11-year stalwart, weighs on him. But he also says there is a plan with the 2015 drafting of tackles Cedric Ogbuehi and Jake Fisher.
"This is not a new experience for me. We had (Anthony) Munoz, we have had players such as Kenny Riley, Ken Anderson, I can go on and on," Brown said. "And the one certainty about the NFL is it comes to an end for everybody. That means every player, too. It is a jolt when you lose a guy you have had for over a decade. A guy you have gotten to know like and respect. A guy you depend on. Then when it suddenly ends you aren't comfortable with that. Under the system we have today the way these relationships end is different than how they used to be when it was the club's call solely. Now it is the player's call, too. You get situations such as we had this year with Andrew, who is a wonderful person and was a great player for us. I wish him well. "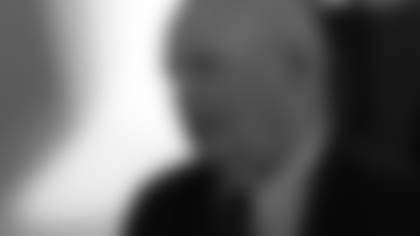 Brown sat down with Bengals.com and The Cincinnati Enquirer and didn't leave it at that:
-Despite withering criticism, he said he doesn't condone the actions of cornerback Adam Jones but is giving him "a chance."
Jones is facing a couple of misdemeanor charges after having a felony charge dropped in an incident at a downtown hotel the day after the season. But Brown also remembers Jones' first training camp as a Bengal in 2010 when his daughter Triniti Jones was born at 1.9 pounds and the owner has a deep affection for him and his family.
"I would say this point blank: Am I looking to harm her? I'm not," Brown said. "It's a bigger picture than one incident. And I get to be the one that sits in the chair to decide that. So I have chosen to decide it the way I am deciding it. I'm going to give him a chance. I hope it comes out right for him, for his family and for us. I know there are critics. I understand. But that is a full answer."
-Brown has "a steep price," for backup quarterback Andy Dalton. He'll listen to trade offers, even from the Bengals' AFC North rival and Battle of Ohio counterpart in Cleveland. But a trade in the division, Brown says, is figured into what is already a big price tag.
"We like McCarron. He fits us," Brown said. "Last year a handful of front-line quarterbacks – and this is the case every year – went down. Well, you need somebody to step up when that happens. McCarron we already know can do that. We are in better position at the quarterback position than almost every team in the league.
-Brown said Bengals vice president Katie Blackburn, in charge of the club's schedule that is released by the NFL in mid-April, has reached out to the league in an effort to get a home opener. The Bengals haven't opened a season at Paul Brown Stadium since 2009 and not one in the Green-Dalton Era. There is a chance this year with the Reds on the road that weekend.
"The league has to accommodate the Reds schedule. We don't want to play on the same weekend," Brown said. "We would rather just let them have that, then we'll come back when they're not there. They're there half the time during the overlap."
-Brown didn't comment on Bengals head coach Marvin Lewis' lack of a contract extension beyond 2017, but called it "a furor over nothing."  He made it clear he still has high regard for him and even noted he'll be attending Lewis' Phoenix home Wednesday night for dinner.
"There are arguments both ways," Brown said of the lane duck issue. "Walter Alston operated with a one-year contract with the Los Angeles Dodgers for about 25 years. It used to be common in the National Football League. Almost every coach operated that way. It seems to be a lot of furor over nothing. These things work out. Marvin has been with us 15 years. That's a long run. We are close to him. Tonight we're going over to his house for dinner. He's a trusted employee. He's a friend. We're lucky to have had him all these years. We appreciate what he's done."
But it sounds like an extension won't be for dessert.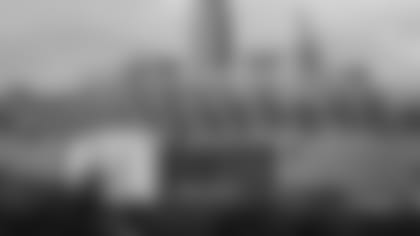 -Brown is adamant that he doesn't see a Raiders-like move in the future in Cincinnati. He points to PBS and says the stadium is the reason.
"We fought hard to get a new stadium. To put that question aside. I think what we did has worked. If we didn't have the stadium we have today I don't think we would have been able to stay in Cincinnati," Brown said. "We would have had to move because the numbers wouldn't have allowed an NFL team to be supported.
"We discussed it before. Our situation is akin to the teams that were in the stadium development game at the same time we were: Cleveland, Pittsburgh, Cincinnati, Baltimore, every team in our division, for example. I don't think they are all going to move. I hope none of them move. We want to stay in Cincinnati we have done everything we can figure out to make that possible. The future is never altogether clear, but I don't know what more we could have done to make it possible to stay rooted. We want to stay in Cincinnati."
Brown made it clear while he's unhappy with Jones' actions ("embarrassing," "he made a fool out of himself," "out of control") he also remembers how far Jones has come. It mirrors Triniti's growing up.
"I see Adam Jones through my own eyes. I see different facets of his personality. I see him as a person who is energetic, lively, positive for the most part, exceptionally so," Brown said. "I know a little bit about his family that weighs in my mind. I think back to when he had his little daughter and she was a premie.
"He used to drive up from practices at Georgetown every day after practice to look through the glass and see her where they kept the premie babies in the hospital and the lights went out one after another in that group of little babies, they disappeared. His little girl managed to survive. Now she has grown into a 5-year-old little girl. Wonderful little girl. Very pretty, very attractive, very energetic. To me that is a story that registers.
The club has said it is going to wait for Jones's case to play out. But Brown believes so much more is at stake.
"The prosecutor is dropping the felony charge. In effect he said there is not enough there to proceed on that charge. You are down now to a few misdemeanor charges.," Brown said. "The country prosecutor Joe Deters commented on how he would handle those if he were the one handling them. In effect he said they didn't amount to enough to pursue. You are dealing with people's lives here. It's easy to sit on high and say, oh, terrible, terrible. Let's bring down the sword. I think that's an overreaction.  I'm not condoning his actions.
"I don't know that I have been perfect in my lifetime, either. I probably did some things I wish I hadn't. Most people would probably have to admit to that. He didn't hurt anybody physically. He just hurt himself by how he comported himself. In some ways that's punishment enough right there. You have to live with that. What the municipal prosecutor does, that hasn't been determined. What the league does, that hasn't been determined. So when I say 'play out' there are more shoes to drop. We'll see what comes of it. But I hope it ends up that he gets his life back and he has openly apologized. He knows full well what he has done to himself. He regrets it. But it's been made into a public issue and maybe I am overly tolerant. If so, so be it."