Mike Brown miked up on Tuesday as he looks to 2017.
Mike Brown, who has been to all 50 Bengals training camp media luncheons, had the gleam in one eye and the twinkle in the other Tuesday.
Not the gleam of a club president, of which he now has been longer than he was his father's assistant general manager. But the twinkle of a five-year-old in Massillon, Ohio, who collected tiny football players while others played with toy soldiers.
Time for another football season.
"It's amazing," he says to the scribes, his favorite encounter of this annual affair. "For me it isn't even 50 years. I was fiddling around with this five years or so before we even got the franchise. It's been a lifetime for me. It's what I do. It's what I like. I have been very lucky to be involved with it. Here it is 50 years. How did that happen?"
There is no one enjoying this celebration of the Bengals' 50th season more than Brown. Which is funny because Brown routinely gets ripped from alumni to op eps for ignoring his former players and the wondrous history they produced.
But the irony is no one loves former Bengals more than Mike Brown. The best kept secret in franchise history is the number of players Brown has silently helped down through the years. There's no secret about his loyalty to current players and coaches, which is also on display Tuesday.
In this 50th season he is all for his guys. Past and present.
 "You people and others keep telling we should do more of it and maybe we should," Brown tells his scribes of honoring history. "I like it when the old guys come around. They're fun to talk with and relive yesteryear. They all have the stories. They create yesteryear. I create a little bit of yesteryear, too. It's enjoyable to hear them when they get going. It's good times. I look forward to every one of them coming back."
On Tuesday the club announced the Bengals' all-50th team to continue a month of firsts for the franchise that includes a fan and media vote honoring the first 50 Bengals.
Brown, who dreads ceremony of any kind, has approved a plan in which banners honoring the 26 retired players on the all-50th team, as well as head coach Forrest Gregg and Sam Wyche, are to be unveiled on the Paul Brown Stadium concourses when the Bengals open the season Sept. 10 against the Ravens.
"I call them posters, but they're permanent," Brown says. "I'm pleased about it. I think it's a better way to honor our old players than to just put up a name on the stadium fronting. It's neat for me to see those old pictures when they were at their peaks, when they were in their prime. And they were good players."
Get him going on that. The wondrous James Brooks, who could have gone to the Pro Bowl as a wide receiver as well as a running back, didn't make the all-50th because they went with fullback Pete Johnson. Neither did Rodney Holman, next to Bob Trumpy the most versatile and decorated Pro Bowl tight end they ever had. Instead, Cris Collinsworth is the third wide receiver.
Now you know why a ring of honor makes Brown uneasy.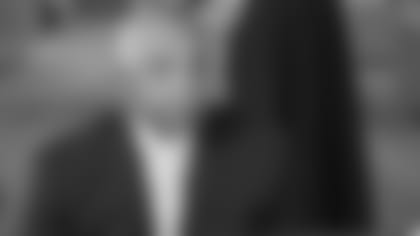 Marvin Lewis opens his 15th training camp Friday.
"There are more good players than we have spots," Brown says. "I think it's still an issue, but we've chosen to do it  and those are choices the public essentially made." He also knows some of those banners should be in Canton but the Hall of Fame has virtually ignored his players. "I think a lot of them deserve recognition beyond what we can give them."
Brown's face lights up. He is apprised Wyche has been told of the honor while in the hospital recovering from a minor procedure and that he thought they were good choices and that his 1988 offensive line could have gone in by itself.
"I don't know if we've had a good as line as that one," Brown agrees. "That year (right tackle) Joe Walter was playing as well as Anthony (Munoz) before he got hurt. (Bruce) Kozerski was a bright, able guy. (Bruce) Reimers was as tough as anyone who came through the door here and Max (Montoya) was the best guard we ever had."
Then Brown gets nostalgic of the what-ifs.
"We've had a lot of good ones. There are guys who would be on these lists but their careers were short,' he says. "Greg Cook is the obvious one. Joe Walter had a long career, but he matured late and he had blossomed into a great player when he got hurt.
"Eric Thomas played as well as any corner we ever had here and then he (tore his ACL) hurt playing, of all things, basketball, and never really came back. Essex Johnson was as fast as any running back we had, a really good player, and he ripped his knee up in the play-off game in Miami (in 1973) and that was back when knee surgeries weren't as effective as they are now."
Brown's loyalty to his players is front-and-center Tuesday. His decision to stand by cornerback Adam Jones despite what Brown calls an "embarrassing," incident with police where he was "drunk publicly," and Jones "acted like an ass," has the Bengals president getting toasted on the coals of the NFL's hot stove league.
But he won't back down. Jones came to Cincinnati seven years ago and, for the most part, has turned around his life and his career. Brown will never forget that first season in 2010 while Jones tried to piece it all back together he also had deal with the very premature birth of his daughter Triniti. When she shows up for practice this training camp you can be sure Brown will find her and call her, "Our miracle baby," while giving her a hug. When he thinks of Adam Jones, he thinks of that baby, too.
"I like him personally. I admire his energy. I admire his courage. I admire a lot of things about him," Brown says. "He didn't come up the easy way. Believe me, if any of us had come up that way, I wonder where we'd be … I'm going to help him work through it. If that's a problem with somebody, so be it. I accept it. I want him to have success. I know it's a peril. But I'm going to support him."
Jones isn't the first guy. Brown goes back more than 30 years ago to drug-plagued fullback Stanley Wilson. For the first 24 seasons of the franchise, Brown was Paul Brown's assistant general manager in title only because in the last several years of Paul's life Mike did a lot of it. One of those calls was giving Wilson multiple chances and it blew up on everybody the night before Super Bowl XXIII.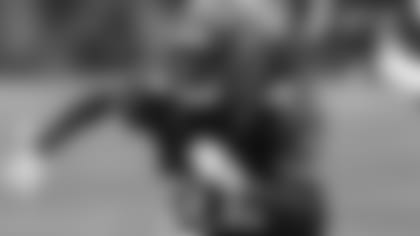 Adam Jones: "I'm going to help him work through it," Mike Brown says. "I got involved in trying to help Stanley Wilson go straight," Mike Brown says. (Paul) just shook his head. 'Go ahead if you want.'  I know what he was saying. 'Go ahead you dummy.' But I went ahead. They don't all work out. God knows I know that. I still am who I am and I'll probably go ahead and do it if it presents itself."
Brown is more famous for being loyal to his coaches and Marvin Lewis is Exhibit A as he starts his 15th season. But Brown knows Lewis has been to the playoffs seven times and that before he came the Bengals had been to the playoffs seven times in the previous 35 seasons.
He has yet to give Lewis a contract extension, but loyalty pervades the scene Tuesday.
"Marvin has been here for a long time. As long as any coach with a team except for (Bill) Belichick," says Brown of the New England coach starting his 18th season as head man. "That should tell you how I feel about him. He has my respect, my regard, my confidence. We've been through this before.
"Sometimes it was an additional prod. Heck, we all know how it went last year.  We wish it had gone better, so maybe we'll see a better year this year and things will sort out then."
Lewis shakes it off. "You asked Mike,' Lewis tells the reporters. He remembers what he needed from ownership when he started in 2003.
"It was important we had one voice," Lewis says. "That was the observation I had in my 11 years previous in the league was when you look around and see why things fail it's when there is not one leader. That  there are too many people pulling in different directions and he said this and they said that and they wanted that guy and they wanted this guy. This is a hard job. There are 11 moving parts every play and we have to get them all going in the right direction and re-tool them and re-work them as much as we can. Sometimes the ball doesn't bounce your way and you have to figure out a way to get the ball to bounce your way next time. "
There have been few public disagreements . Lewis made it known he wanted nothing to do with Chris Henry and Brown made it known that didn't matter. Chad Johnson got a little old for Lewis' tastes. The Matt Jones signing, according to various outlets, wasn't unanimous. But in 14 years in this business? The same page has been pretty much adhered to and that's saying a lot in the NFL.
Just check PFT every hour on the hour.
"We have a great relationship that way. He knows things that are important to me. I know things that are important to him and we are able to talk about when we disagree about things," Lewis says.
For instance, Lewis has watched Brown buy into the concept of sports science since Lewis visited the University of Oregon and other schools before the 2012 draft and noted the commitment to nutrition and bodily measurements known as GPS. Now the Bengals are as wired into the biomechanics as any team in the NFL.
"He's had to change. He's adapted. He's given us the ability to adapt and change," Lewis says. "I think he should get credit for that as well. He's been leaders in areas of things behind the scenes of football way before others. He has listened and understood it. Sometimes he will say, 'I still don't understand it, but you believe in it so let's go.'
"We've got a huge investment in how we monitor the players. It's a huge investment. Other teams are just getting going in it. It's like an expanding field that wasn't there five years ago really …. I came back and talked about how the college kids are fed and the things they do with them and how we then changed the dining area to the café and the training area, he's adjusted and adapted."
Lewis knows the Mike Brown myths.
"That he cares about money when it comes to football," Lewis says. "(But) whatever it takes for the football team to win he is 100 percent.  That's probably the biggest myth. I don't think there is anybody in this building that wants to win more and takes satisfaction quietly. Never show it outside, the inward satisfaction he takes in winning is huge. He enjoys it and moves on."
Brown turns 82 next month.  The only concession to age has been an afternoon walk instead of jog.
"He puts in long days. Most times seven days a week," Lewis says. "This is his baby. That is the thing all the time. He's very passionate about it."
Mike Brown's baby is turning 50. He's going to do it with his guys. Past and present.
"I'm just grateful I've been along for the ride," Brown says.