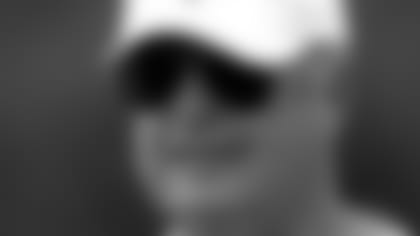 Get used to Marvin Lewis and Chad Johnson.
In the twisted, parallel universe of perception, they are headed out of Cincinnati.
But in the only opinion that counts, the one of Bengals president Mike Brown, he is happy with both and is keeping them around Paul Brown Stadium.
In a rare interview in the week leading up to Sunday's game in Buffalo and his team a disappointing 2-5, Brown told Bengals.com and The Cincinnati Enquirer that Lewis' job is safe and he has no intention of trading Chad Johnson.
Brown didn't talk about such issues as the future of Lewis' assistants or if he would try to shore up the defense via free agency. Instead he preferred to focus on a season he expected his club to make it to the playoffs but believes it has been derailed by injuries and can still be salvaged.
"He isn't going anywhere," Brown said of Johnson. "Chad Johnson is a tremendous football player. We're glad he's here. He's an integral part of what we do."
Lewis may be taking some heat, but certainly not in the corner office where Brown endorsed his coach in the second year of a five-year deal.
Asked if Lewis is safe and if Brown is happy with him, Brown said, "Yes and yes."
"I think he's a football person through and through," Brown said. "He works hard at what he does. He has the respect of the players. He has my respect. He just does a solid job. Right now he has to get these guys going when things haven't been what we wanted. It's a real test for him. I think he'll be fine with it."
The trade story has since been doused by ESPN's Chris Mortensen, who said his top Bengals source never mentioned trading Johnson. And Brown threw more cold water on it, disputing the notion that Johnson's behavior outweighs his talent.
He also believes that Johnson has a good relationship with Lewis despite the coach's frustration at trying to discipline him and quarterback Carson Palmer despite the public disagreements.
"There are things that happen in a football season; people are going to get upset," Brown said. "These aren't major happenings. They're quickly forgotten. I think Chad's relationship with Carson is fine.
"Marvin is the ringmaster. Every so often one of the elephants doesn't do his routine. He has to get on him and get it right, and I think he does."
As far as Johnson being a distraction, Brown is adamant in his support.
"I know this," he said. "I'm really happy he's here playing for us."
There has been a buzz on various web sites that Lewis isn't happy with the personnel side of the football operations, but Brown indicated he and Lewis are still talking every day about all issues and that they work well together.
"He knows that I understand the problems that have befallen us," Brown said. "We have a good relationship. He knows where he stands. We work well with Marvin. He isn't doing anything differently over the last couple of months that he wasn't doing before. Things have just come up wrong on the scoreboard. I think that's going to come around for us."
That means a defense struggling next-to-last in the NFL rankings has to make a drastic turnaround. Since the Bengals opted to re-up their offensive players and build their defense through the draft starting in 2004, the Bengals defense has been ranked 19th, 28th, 30th, and sunk to their current depths with a 28th rating both against the rush and pass.
But Brown points to the injuries instead of the draft, a glut of hurts that has left the defense with three different starting middle linebackers and just two linebackers (Landon Johnson and Rashad Jeanty) who practiced with the position in training camp. And Jeanty is getting ready for just his third game since breaking his leg in the preseason.
"It's nothing I blame on the judgment of people here, myself included," Brown said. "It just has been a tough patch and we have to regroup and we are trying to do that."
Brown points to the career-threatening broken neck of 2005 No. 1 pick David Pollack, the consecutive one-year suspensions of middle linebacker and 2005 Rookie of the Year candidate Odell Thurman, as well as the nagging groin injury of the man who was supposed to replace Thurman in Ahmad Brooks.
"We've had a run of hard luck. Look at what's happened to some of our top draft picks," Brown said. "Pollack is hurt and out. How would you have known ahead of time that should be so? Thurman is sidelined and I would tell you that would have been difficult to predict. Ahmad Brooks, who we got to replace Thurman, is out. He has an injury that hangs on him."
"On the offensive side of the ball, we've lost Chris Perry," said Brown of the 2004 first-round pick who has missed 33 of 55 games. "That was a bonafide injury (last Nov. 26) where he got horse-collared and pulled down and his ankle was broken and he's had a tough go recovering from that. The little running back (Kenny) Irons blew out his knee. Who would say that was going to happen?"
Brown indicated he thinks the team still has to find a defender or two that "makes people pause and think." But he also revealed his philosophy that great defenses are developed and not made in free agency in offering support of the current scheme.
Even though many pundits believe the Bengals didn't do enough to help their defense in the offseason, Brown thinks it would have been better without the injuries.
"I can't put a number on it.," Brown said. "Defense is being in the right place at the right time. You have to have continuity with your people. They have to know what to do and they have to know what the other guy is going to do and they can't think about it. They just have to do it. React.
"When you get so many new people, or an influx of too many new people, things don't always happen right. That's what happens with us. We'll play solidly play after play, then there comes a play and nobody is home. That's a reflection of lack of continuity."
Because of that commitment to development, Brown doesn't buy the theory that the defense is running out of time because Palmer isn't getting any younger.
"I disagree with your predicate. Carson is (27). That's young for a quarterback," Brown said. "Does that mean we have time ahead with him? I think it does. Do we need more people on our defense? I think we do.
"I think we'll get some of them back. Just when they'll get healthy ... that might not be until next year, but they'll be back. The young corners (Johnathan Joseph and Leon Hall) will come along. We'll add some more people, but it will be a process. They'll work together as they get to doing that. I don't think they'll be ranked at the bottom defensively. They will quickly (improve) the ranking."
Brown looks to the Pittsburghs and New Englands of the world and is convinced systems make defenses great more than one or two great individual players.
"There aren't many King Kongs," Brown said. "Get good people, you work at it and together they become something special. A prime example of this is Pittsburgh, maybe New England. When you're talking about the Steelers defense, what you talk about is the whole and not just one or two players. I'm not sure it's any different than that with New England."
Brown looks at linebacker Robert Geathers, and corners Joseph and Hall and thinks the Bengals have planted seeds. He praised defensive end Justin Smith for his tenacity, effort and production and said he would like to find a way to keep him when the franchise tag expires after the season.
"I think we have a start for it. Yet some of it is on the sidelines. We dearly want to see some of our guys back in there," he said. "I can't tell you when that's going to be. I know this: If they get back on the field, it will help.
"Geathers is a good player. Justin Smith is a good player. The two corners are talented. (Deltha) O'Neal is playing very well at his spot on the corner. We have some plusses."
During the interview, Brown continually pointed to the positives he sees on the club, ranging from Palmer and the wide receiving duo of Johnson and T.J. Houshmandzadeh that he says is as good as any in the NFL.
"If productivity counts, he measures up pretty well in the group," said Brown of Houshmandzadeh's place in Bengals history. "Who's that guy from Pittsburgh? No. 86? He's our (Hines) Ward. He's reliable. He plays tough when it counts."
Brown can never say enough about Palmer.
"Carson is the leader of the football team. He's extraordinary in that role," Brown said. "He leads in a very positive way. Players, everyone around here, look up to him and respect him. ... He's not only respected, but he's liked because he's good people. I would tell you he's also a great player.
"I see him making tremendous plays. The last weekend, they get to criticize him for only completing three quarters of his passes. And a couple way down the field, one was three inches too long and the other was three inches too short. If those had been in there, maybe things would have turned out better and no one would be here talking to me."
Brown, who covets continuity in his coaching staff, wouldn't talk about the plans he and Lewis have for next season. But he does realize the coaches have been working under the difficult circumstance of injury.
"Every year we talk about everything. That includes what's served for lunch and who works here and why," he said. "That's a season-ending thing to talk about. I'm not going to open that Pandora's Box.
"You can be a great coach just like you can be a great cook, but without the rabbits, it's hard to make rabbit stew and that's a little bit what we're in."
Brown says his team is indebted to the fans and "we want to please them. That's what this is all about; pleasing the fans. ... I understand the frustrations."
Brown says the resolve is to turn around 2007, and as if to underline the same page he is on with Lewis, he echoed what his coach said after last Sunday's loss to the Steelers.
"I don't think we're outmanned," Brown said. "I think we have some good people and we still feel like we can do well. We have to prove it. But thank goodness we have the chance to prove it."