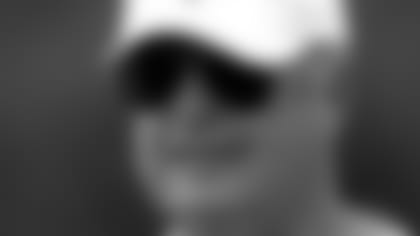 The Bengals celebrate 40 years Monday night against the old Cleveland Browns and the only guy who has been through it all, from the 1967 birth announcement to this week's roster cuts, reminisces. Bengals president Mike Brown recalls the heart stoppers and heartbreakers, injuries and institutions, trades, titles, and the touch of a legend that also happened to be his father.
Forty years ago, Brown, 72, was the Bengals legal counsel and Paul Brown's top adviser in Ohio Valley Sports Inc.'s bid to land an American Football League franchise in Cincinnati. He sat down with Geoff Hobson of Bengals.com this week to talk about his two favorite subjects:
GH: You were a big reason why the original ownership group chose Cincinnati as Seattle was making a push. MB:
I pushed Cincinnati because it was an Ohio city. We were Ohio people. We knew the people in Ohio. This project took support from all over. We had support of the governor. We had support of the local political people. I don't know if we would have had that in Seattle.
**GH: Did Paul want to go to Seattle?
MB:**
No, he didn't want to go to Seattle. (NFL commissioner) Pete Rozelle wanted us to look at Seattle and he encouraged my dad to think about Seattle. He drove up (from California) and looked.
You have to remember. This was 40 some years ago. Cincinnati was the 15th largest market in the country and they were 32nd or thereabouts. Seattle was smaller than we were, but a lot of cities that are bigger than us now were smaller than us then. Phoenix. Denver. San Diego. I think Atlanta. I'm not sure Houston was, believe it or not. It was a different country.
**GH: Did PB want to stay in Ohio?
MB:**
We needed to get a stadium. We thought we had the best chance to get a stadium here. In Seattle, there was no stadium. If you played there you would have played in the University of Washington stadium. It wasn't clear that would be workable. Later, they did get a franchise and they did get a stadium. Whether that would have happened when we were out looking I'm not sure.
GH: The Bengals figured heavily in the 1970 AFL-NFL realignment. MB:
When we came in the AFL, the AFL and NFL had reached an accommodation, but it had yet to be realigned. So we had the two leagues operating and their contacts were that they would play in the Super Bowl and that they had a common draft. Otherwise, life went on pretty much as it had before. That's how we operated the first two years.
**GH: Wasn't part of your deal that the teams had to realign?
MB:**
It was part of the franchise agreement we had. We maintained that it required realignment. At that time there were strong feelings among the American League and the NFL people, and they were still angry with each other. They didn't like dealing with each other. Our position was there had to be a realignment. That was part of the franchise agreement.
We got support on that out of the blue from (NFL owner) Edward Bennett Williams, who stood up in a league meeting and said it was obvious to him this is what our agreement said.
He felt if they refused to go forward with it, the league would open itself to major problems with us. We didn't have any such thought of suing the league. But the fact he said to them that you made a commitment and you have to fulfill it carried a lot of weight with those guys.
**GH: Word was that you and PB were furious when they wanted to merge, but keep it the AFL and NFL with no realignment.
MB:**
We didn't think we should be in a division with Oakland, San Diego, Denver and Kansas City. None were close to us geographically. We wanted to come back in a division with Cleveland and Pittsburgh in this area.
(Cleveland owner) Art Modell had to come along and he made the then-famous statement that for Cleveland to leave for the NFL and go to the AFL would be emasculating. The teams that moved (Browns, Steelers, Colts) were paid $3.5 million and in those days that was a lot of money.
GH: The AFC Central became Cincinnati, Cleveland, Pittsburgh, Houston. The PB-Modell tie is obvious, and the Astrodome was seen as a lucrative new stadium for road teams. Why did Pittsburgh go? MB:
I don't think it was the money. I think they felt it was best for the NFL and it had to go forward.
Houston came in because Don Klosterman was the general manager and he called the owner up at the time of the realignment and told Bud Adams, "We should go in that division because we can win that division." And of course they didn't for about 20 years. It shows you the best laid plans don't always work out.
I have a certain feeling for our division. I really do. It means something to me. Cleveland and Pittsburgh and our relationship with them. And Baltimore, keep, in mind, is just the old Cleveland franchise.
**GH: Do you look at Baltimore as the Browns?
MB:**
I look at them with confusion. I know one thing. They're a good football team and they have stayed at the level of the old Browns. They haven't stepped backwards. I have a lot of regard for that franchise as a team, and organization.
Cleveland has been working to build from scratch. That's a tough thing in this league. I think they're close to turning the corner on it. If they get a couple of things resolved up there, it will happen quickly
**GH: Talk about starting from scratch. In 1968 you guys started with less than that because this was before expansion teams got big money. If any. How did you win the division in three years?
MB:**
I don't know how to explain it other than we had a run in 1970 where we won seven games in a row (to finish the season). We just suddenly got believing we could. And there were some teams that were better than us that we just thumped.
**GH: You didn't have your young quarterback. Greg Cook never took a snap because of shoulder surgery, and you won with a third-year guy you got from the Bears.
MB:**
The thing about Virgil Carter is he was very bright. He did not make errors and we weren't potent offensively, we were hunt and peck. Defensively by the end of the year we were pretty good. Just a group of guys that suddenly thought they could and damned if they could.
**GH: The last game of the year you blew out the Patriots, 45-7 to make the playoffs and win the division.
MB:**
That game was one of the most of the exciting. I felt joyful after that. It was success. We had done it. It was the first time. We had done it against all odds. We were riding high.
Back then, they didn't give expansion teams the opportunity they get now. We didn't get much help at all.
**GH: You've talked about picking players and how confusing it was.
MB:**
The expansion draft was a comedy. We did that down in a hotel in Jacksonville for some reason. Green Bay was playing the Raiders on TV (in Super Bowl II) and it was back and forth. We called the AFL commissioner, Milt Woodard, into the room when something was misspelled to make sure. And then we had one guy and we said, "We like this guy," and he walked down the hall and called the team and said it was mistake, the other team still wanted him, so we couldn't draft him.
**GH: A month after winning the division, the roll kept going when you picked quarterback Kenny Anderson in the draft.
MB:**
He was a great player for us for many years. He was the heart of the franchise.
**GH: Were you surprised when Paul retired as coach?
MB:**
I knew it had to happen at some point. He called me over to his home in Glendale and I went for a walk with him. He told me he did it on New Year's Day so there would be no news story because everything else was going on that day.
He was 67. I know Paterno does it at 80 and Bowden does it at whatever age he is. But my father's point was he didn't want to front it. He knew as he was getting older, more and more, he was just administering and he knew what coaching was because he'd been doing it all his life. But he didn't want to be out front and have people think he was pretending. He just didn't think that was credible.
In the last couple of years he had delegated more and more to Bill Walsh and Bill Johnson, who were very good coaches.
GH: Did he tell you that week? That month? MB:
A couple of days before the announcement. Right after we played Oakland (in the playoffs.) I knew when he called what I was going to hear.
MB:**
I think he was accepting. I think he knew it was time for him and he just accepted that he should. I was sad. It's what I had known all my life, and it was just hard to think of it not being the way it always was.
**GH: Did he talk about is successor then? Why Johnson over Walsh?
MB:**
We talked about it subsequently. That's all behind us many years ago now. I don't want to get into that again because it seems so controversial. Even now. Tiger was an excellent coach.
**GH: Would things have been different if Tiger took Kenny Anderson out of that last preseason game in 1978?
MB:**
It was unfortunate. We were sitting in the press box in Milwaukee where we were playing the Packers and my dad said, "The one thing I hope he doesn't do is put Anderson back in the second half," and boom, he went back in and his hand got broken up. His worst fear came to pass. I think that weighed heavily with my father.
GH: If that doesn't happen, maybe Tiger gets to a Super Bowl. MB:
I think he would have. It was just tied to that one event.
**GH: Did you guys feel you needed a disciplinarian when you hired Forrest Gregg before the 1980 season?
MB:**
My father had respect for the way Forrest had conducted himself when he coached the Browns. We had met him after he got fired by the Browns and had lunch with him. My dad just wanted to have lunch with him and talk to him and get to know him. So when the thing opened up here, it was a good choice. He put respect back in the players. They knew he had been a great player and he truly was, and he was demanding. My father used to use that term; you get what you demand. He thought a coach should be demanding. Forrest could be that way. We've had wonderful coaches. I'm very fond of all of them.
**GH: Sam Wyche was a real innovator and a handful.
MB:**
Sam was a very bright-minded guy. He had a lot of coaching ideas and he would do things that were surprising and you would admire. But at times he had a real difficult side to him and dealing with that could be trying.
GH: Sam coached one of the best periods. The '80s were exciting. PB's run from '70-75. And the last four years have been interesting. MB:
I'd like to be a playoff team year in and year out. and get to the Super Bowl and, who knows, win it one of these days. That would be a great exciting thing for everybody in town to experience. I keep my fingers crossed that it might happen.
**GH: When you hired Marvin four years ago it represented the biggest change in the way you did business. Going outside the organization. I would imagine you feel it has panned out as well as you ever could have hoped.
MB:**
I have a good relationship with Marvin. He has a good relationship with Katie, Paul and Troy. I think it works well.
GH: You guys come from a different generation. You're about his dad's age. How do you get along? MB:
He's from a different background, but we have one thing in common: All we know is football. I have a high regard for him. I think he's done a good job here. I hope we keep it going for a good many years. I look over at Pittsburgh and I've always liked the way they handled it. I would think that's the way you would want to handle it if you could. Have a guy for a long time.
**GH: What are your best memories?
MB:**
My best memories are very, very odd. They are related to things with my father and our relationship. It wasn't so much that we'd pat each other on the back because we won a football game. It was just riding in a car and talking about things. Or talking to him on the phone. Or talking to him in his office. Walking around the block and talking. We also shared what we did. The business. Talk and plan together. It was an extraordinary time for me.
GH: In the '80s, you pretty much ran the club day-to-day, right? MB:
I had a significant part in the operation earlier than people were aware of. I would never have done something I thought was contrary to his wishes. I don't remember thinking much differently. He brought me up to think like him, and I pretty well did.
GH: Even now, I would think. MB:
There are things now I don't think he could stomach.
MB:**
You don't have control over the situation that you used to have. He would have found it ridiculous to think you have to have an arbitration to tell a player goodbye. That was the system then. I think it was better for everybody. Players included.
GH: I think you told me once Paul never took money for endorsements. MB:
Never took money for endorsing or money for making a speech. He thought that was just not the way you should conduct yourself.
GH: And you've kept his name on the stadium. MB:
I'm proud of that. It reflects the tradition of the National Football League at its best. I wish we had more of that sort of thing. Naming stadiums after businesses unconnected to the sport is something that has come on. To me it seems still a recent trend. Is it better or not? Well, you can guess how I feel.
GH: Some would like you to do it. MB:
It's something I hope doesn't happen, but who knows?
**GH: What are you best on-field memories?
MB:**
There are any number of them.
GH: How about the first Super Bowl? MB:
That Super Bowl was heartbreaking to me. We were the better team and we didn't win because we fumbled the ball, and one time we were on the one-yard line and didn't get it in.
The second Super Bowl we weren't better and nearly won. The first one was really the heartbreaker. I had thought we would, we should have and we didn't.
The second one, I don't know what I thought. I knew we had a chance but I knew it was going to be difficult. We hung in there and then Stanford Jennings ran a kickoff back and lo and behold we're suddenly at the very end ahead. But you knew it was precarious. We could have won even then if (Lewis) Billups had intercepted a ball that was right in the spot.
It's funny how for the rest of your life you remember those. It's like Pete Rose being able to tell you where the ball was when he struck out in the third inning against Philadelphia in whatever year.
**GH: I guess the ones you remember are the ones you don't get.
MB:**
I tend to remember some that went south pretty well. And then I have funny little memories. We played Cleveland one time and we threw a ball to Anthony Munoz in the end zone. That was something that seemed to tickle me and I remember it. There's a million. Forty years in this league, an awful lot happens.
**GH: The Freezer Bowl in January of '82. Chargers owner Gene Klein wanted to postpone the game.
MB:**
He looked me up and wanted me to go with him to call the commissioner and ask the commissioner to postpone the game, or maybe move it to San Diego. I wasn't very keen on that idea. We saw it as a big advantage for us and of course it was. It turned out we won going away.
GH: The greatest Bengals player ever? MB:
We've had a lot of great players. You could go position by position and I could give you one or two. Three great quarterbacks and one of them is with us now. Kenny, Boomer and Carson. But the one that may have been the most brilliant of all was Greg Cook who got hurt literally before he took flight. As a talent I don't know if we've had one better. But it didn't materialize because he got hurt.
GH: It's always been a franchise identified with offense. MB:
We are conscious of moving the ball and having a quarterback. To me, that's the way it ought to be. ... That goes back to Cleveland when my dad had Otto Graham. Defense is important, too. When we went to the Super Bowl the first time we had one of the top defenses in the league. We've had good defenses here.
**GH: Who in your mind are some of the best defensive players over the last 40 years?
MB:**
That's a mix. Lemar Parrish and Kenny Riley were great cornerbacks. Tommy Casanova was a tremendous free safety. (David) Fulcher was an overpowering strong safety. Bill Bergey was a first-rate linebacker. Coy Bacon is the best pass rusher we ever had.
**GH: How did that trade happen before the '76 season?
MB:**
We wanted to get a pass rusher and (San Diego) wanted Charlie Joiner. When we sent Joiner out there, he was not very fast any more. He was bright and he went to the one place that could utilize him in (Dan) Fouts, and he had a great run there. Bacon came here in exchange for Charlie and Charlie was a little long in his career, too (at 28).
Coy had 22 sacks (in '76). He was the best pass rusher I've ever seen. It turns out that they had a guy that played a number of years and went to the Hall of Fame in Charlie. For the one year (Bacon) was up and running here, we were ahead on the deal but he didn't last.
**GH: The other deal with San Diego worked out in May of 1984 in a trade of running backs.
MB:**
We sent Pete (Johnson) for (James) Brooks, and Brooks was a tremendous player for us.
**GH: Was it hard to trade Pete? An Ohio State guy and your leading rusher for so long?
MB:**
Pete was overweight and that didn't sit well, and we got Brooks who was underweight. He was not happy when he came here. At first, he pouted about it. Then he got in the swing of things and he was a great player for us.
**GH: He did a little bit of everything.
MB:**
He was a very good runner and first-rate pass receiver. At his size he was a willing blocker and good blocker and he didn't back off of those guys no matter how big they were. He'd go right after them, and he was effective as a blocker. If I were to name the toughest guy we ever had here, I'm not sure I could define it, but I'd give him the title because he was the way he was.
GH: Before I forget, it took you 40 years but Mike Brown, Dartmouth quarterback in 1956, finally got an Ivy League quarterback in the Ryan Fitzpatrick trade a few days ago. MB:
I like this kid. We liked him coming out. We'll see.
GH: The one guy you had from Harvard, Pat McInally, is one of the more colorful guys in Bengals history. MB:
We've had great success with Ivy League guys. Dick Jauron, Reggie Williams, McInally. They all contributed something beyond just playing ability. They were helpful in other ways. They were just good for our team. I'd love to have somebody come in and contribute like any one of those guys did. It was off the field, around the building. You were glad you had them.
McInally was a lively guy. He made it fun for everybody just to be around him. Reggie was a hard-trying guy and as you might remember a city councilman here. And Dick was an extremely bright guy who has become a head coach and that's not surprising.
GH: Some of the guys playing now are all-timers. MB:
We have some tremendous players here. Chad is a special wideout. He gets separation and he's a great catch.
GH: Who's better, Chad or Isaac Curtis? MB:
If I were picking two, those would be the two I'd pick. Chad loves football and it shows. He makes us a more exciting team as well as a better team. Of course, Carson is extraordinary. I can't decide in my own mind whether Greg Cook or Carson is more talented.
GH: That's quite a statement coming from you. MB:
Well, Cook was talented, believe me. I like them both as people. Carson is a real plus for our football team, and we're lucky to have him. I've just been pleased as punch that we have him here.
If Anthony was our best left tackle, Willie (Anderson) is our best right tackle. For 12 years, whatever it's been, he's a guy that went out there and you didn't worry about it. He just took care of it and that's what you want in an offensive lineman.
GH: You've taken quite a beating in the community. Do you feel like you've ridden it out? MB:
I'm almost history now. Back in the old days I was the spokesman for the team and I carried the ball when we weren't doing well. and I became a lightning rod. All kinds of things were said. I was reading about some politician and he commented upon how he would read the things said about himself in utter amazement.
They attribute motives and thoughts to you that you never had. Somebody has to be at fault. It isn't going well. So they look for a scapegoat. I've been there, done that.
GH: Looking back on the '90s, what in your mind happened? MB:
We tried to get a quarterback and we didn't succeed and that took us down. I think it's about that simple.
GH: You traded up for Ki-Jana Carter, the first pick in the draft, in 1995. The only time you ever traded up. In the back of your mind, was that an effort to solidify support for a stadium? MB:
No, he was just a good player. I thought he was special and he was. Then he got hurt, and he wasn't. The flip of a switch. He went from being what would have been an extraordinary player to hardly a productive player at all.
GH: Ever wonder about this team's luck with injuries? MB:
We've had a number of keen disappointments because of injury. Is it more than others? I don't know. I just know there have been occasions when it pulled out the rug from under us.
Greg Cook would have been John Elway before there was a John Elway and he would have been the player of his era. Ickey (Woods) had a number of productive years left and it was all gone in an instant. Same thing with Essex Johnson, our first really good back. He blew out his knee on one of those non-contact deals and he was gone just like that. Billy Brooks would have been one of the best receivers in the league. No one remembers these guys now, but they were guys that would have had brilliant careers and they lost them.
**GH: Then there's Tim Krumrie's broken leg.
MB:**
Krumrie fought through it. I know I said earlier Brooks was the toughest guy, I'm not so sure. Put both of them. Krumrie was a tremendous competitor; he backed down from nobody. He was a joy to have as a player.
GH: When you look out on the stadium Monday night, playing that old Browns team and the crowd and the new season, what do you think about over the 40 years? MB:
It just narrows down to the game. Can we beat them? I won't be thinking about 40 years. I'll just be thinking about 40 seconds at the most.
It's a successful venture. The people, the crowd, all of if it is exciting. They make the difference.
There's more money by far in the business, but that's not what I focus on. In this business I don'think about the money. I really don't. You have to have enough to make it run. But I think about the football team. That's how I was brought up.
GH: What do you see happening the next 40 here? MB:
I hope it goes on forever. I know nothing lasts forever, but I wish it would.
GH: In 40 years, can you see your granddaughters in that chair? They certainly seem to love the team and enjoy being around it as ballgirls at training camp. MB:
I could see that. I think they would certainly be better at it than me.
I was talking to a guy who was retired and I asked him how he could stand being retired. What do you do? And he said, "I don't do anything." How do you stand that, I could never do that, and he said, "If I had your job, I wouldn't retire, either." That's about right. I don't think of it as work. I would pay to do it.
GH: Do you have a prediction for the season? MB:
I don't get into predicting. I've learned for 40 years not to try that. There's never been a game I didn't think we were going to win. But sometimes we don't to my chagrin.
Here we go again. We'll see.