---
---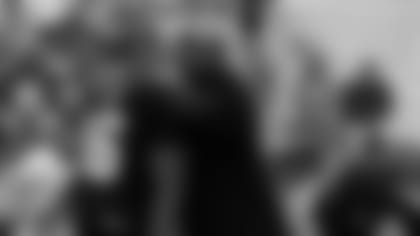 Brooks has been under the tutelage of linebackers coach Ricky Hunley in his first days of Bengals camp. (Bengals photo)
GEORGETOWN, Ky. - Ahmad Brooks, wearing a linebacker's obscure No. 46, is the stowaway of this training camp and he prefers flying below the radar. Yet he brought to Georgetown College more testimonials than a ship's captain.
His prep school coach who has coached 10 NFL players calls him the best he's ever had. The coach who kicked him off the University of Virginia said he has seen only one better athlete and that's Hall of Famer Lawrence Taylor. Former Bengals scout and coach John Garrett, an assistant head coach at Virgina, says he's physically the best linebacker he's ever seen.
But Brooks brought the most compelling words of all when he said Sunday, "I've got to clean up my act and grow into a man and stop the childish stuff."
After just two workouts with the Bengals, there is a certain buzz about Brooks. A definite, "Ah, we just may have something here, boys." Linebackers coach Ricky Hunley says he's picking it up as fast as any backer he's had here, and he's running second team behind Brian Simmons at middle linebacker.
Just 17 days removed from becoming one of the most controversial draft selections in club history when the Bengals sifted him out of the supplemental draft with the 22nd pick of the third round, Brooks, a head-snapping 6-4, 258 pounds, already had it sized up before Sunday's practice.
"With everything going on, people in Cincinnati probably think, 'He's another troublemaker, another druggie,' " Brooks said. "Once I get out there, the fans might be able to say, 'That's a good pickup.' Just like everybody else would say. That's what I would like to do."
Any other year, they probably would have already said it.
Not after four Bengals had been arrested during the offseason and another one, middle linebacker Odell Thurman, suspended for four games for violation of the NFL's substance abuse policy.
Brooks brought some of that same carry-on luggage. He was arrested for a misdemeanor marijuana charge three years ago and last month published reports said he failed multiple drug tests for marijuana that led to head coach Al Groh dismissing him from Virginia just before the start of this year's spring ball.
Throw in the fact he had ballooned to 290 pounds 10 weeks before the July 13 supplemental draft, and those heady days following his sophomore season in 2004 when the gurus said he would have been selected in the Top Five of the draft were long gone.
But start right there with some of the misinformation.
"It was about 280, 282 pounds," Brooks said. "Everybody says 290. Eight pounds makes a difference."
But he can tell you how he got that way.
"A knee injury, a bone spur in the knee, and everything that came with it," said Brooks, able to play just six games last year as a junior. "A lack of discipline I think. I didn't rehab it (well). I just didn't work out as much as I should have been doing. It affected my whole dismissal from the University of Virginia. I wasn't performing like I did in'04 and '03. It was for the first time in my life and I had trouble dealing with the frustration."
Enter Greg Williams, a North Carolina-based agent who also represents Rams Pro Bow wide receiver Torry Holt in the wake of Brooks's departure from Virginia into the supplemental draft and he put together an effective plan. The knock on Brooks was not that he had done horrible things in the Virginia program, but that the lack of discipline had him missing meetings and workouts.
"We had to prove he was drug-free, that his knee was sound, and we had to prove he lost weight, he was willing to work hard and that he wasn't a prima donna," Williams said. "I felt he was a good kid who had done some things that kids do when they are immature. I think he's growing up."
Williams sent him to the estimable Atlanta trainer Chip Smith, and he was always on time because Smith told him he'd send him home if he was late one day. Then Brooks spent the last three weeks before training camp working out with Robert Prunty, his head coach at Hargrave Military Academy in Chatham, Va.
At Brooks's workout before the scouts and coaches in late June, Williams presented results of five negative drug tests over a span of the previous two months.
Prunty remembers this scene from a few weeks ago when he happened to peer into the school's weight room from upstairs at about 2 p.m. one day and saw a lonely figure in the shadows of the basement:
"Here's this kid who had all these accolades at Virginia, all these people around him at a big ACC school," Prunty said. "And here he's willing to come back to Chatham, a one stop-light town, and be down there by himself working out. When he went to Chip Smith, he had an apartment by himself in Atlanta and you figure if he's a troublemaker, he'd find it there. But he didn't. He worked hard and there he is."
Prunty made sure he ran him around during his stay with 16 100-yard sprints and a batch of agility and stretching drills in an effort to help him get ready for the speed of the NFL.
"This kid is fast. He's big, but that's the thing. He can run," Prunty said. Williams made sure Brooks talked with Holt, a man Williams calls the most mature NFL player he knows.
Since Brooks has been here, Hunley and the strength coaches have raved about his promptness and attentiveness. Before training camp, defensive coordinator Chuck Bresnahan talked about his body fat of 10.8 percent and how you'd like to get a backer somewhere in the nines and 10s and how Brooks looked to be in pretty good shape. How quickly he can get into top form to help now is the question.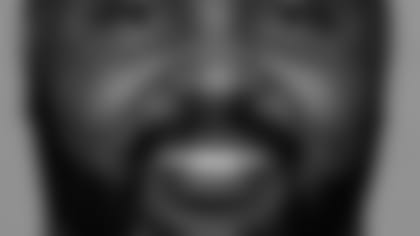 Williams felt the turning point in the Bengals scouting came when Hunley, Brooks's fellow Virginia native, spent time with him before and after his workout in late June before the pro scouts. Hunley, who also ran the workout, disputed the notion the Bengals should have just saluted the red flags and stayed away from him.
"That's coming from people who don't understand football, people, or a combination of both," Hunley said. "He's an intelligent kid, an athletically gifted kid. You don't get to be USA Today Player of the Year (at Hylton High School) being a slouch. You don't get to be an ACC Rookie of the Year being a slouch. This kid's got a lot of ability.
"I think it was a case of immaturity. I spent a lot of time with him and I'm confident in the fact that he's grown up and he has matured. His focus is on football and not anything else."
Brooks, who once returned a kick 50 yards for Virginia, is just happy to be able to run around again. To be healthy. He says he still has to get into a little bit more football shape and make sure he gets used to the heat. The fact is, he's rusty. Another fact is that he can move for a big man and people around here can't wait to see what he does Monday when the Bengals go full speed hitting.
"He covered the running backs coming out of the backfield like he was going for a walk," said one club insider.
"Wait until you guys see him on 26 Gus," Garrett said of one of the Bengals inside running plays. "He's going to come right downhill and hit Rudi Johnson for a two-yard loss and people are going to say, 'Holy Christmas, what do we have here?' "
Garrett believes if Brooks is in shape, and given specific jobs ("A rush end on third down, play Will linebacker on third down") he can contribute right now. Since he played inside backer in the Cavaliers 3-4 defense, Garrett thinks he's in a good spot in the middle of the Bengals 4-3.
"Physically he's got the skills to play any linebacking spot," Garrett said. "I found him to be a polite, cooperative kid. I never heard or saw an incident where he didn't show a coach respect, and I talked to guys who played with him before I got here and they said he was a good guy to play with."
Brooks is trying to show that here ("I just want to show my teammates I can play and contribute") and he's delighted the Bengals came out of nowhere to pick him up. He thought the Dolphins, 49ers or Giants, "but I'm glad they called me up. They have a good organization, the fans seem very supportive. I'm glad I'm here."
If it sounds like he's put the past behind him, he has. But don't think he doesn't think about the 'what ifs.' What if he had rehabbed that injury and come close to his '04 form in '05? Who would have gone first, Brick Ferguson, his Virginia teammate and left tackle who went fourth to the Jets, or Brooks?
"I think about that, that runs across my mind," Brooks said. "When I see everybody on TV, when a guy I played with (Ferguson) goes No. 4. I know the injury kind of slowed me down. I was just lazy. I wasn't winning games, helping out the team. I wasn't partying. I just wasn't in the same mode with everyone else."
"I like playing the middle," he said. "The guards are covered and you get to run to the ball."
Garrett walked that fine line himself between character and talent as Bengals scout and coach for seven seasons. He was in the draft room when the Bengals took Oregon State wide receiver Chad Johnson in the 2001 second round despite a domestic violence charge and a raft of quirks.
"He ran a slow 40 and he had some other things," Garrett said. "This guy (Brooks), maybe you don't take in the first round or second round. But with the 22nd pick in the third round? With how talented this kid is? Have to do it. Can't not do it. I think it's a spectacular pick for the Bengals."
But he won't be telling you about it. Prunty remembers telling Brooks he'd have to talk to the media at some point when he got to Hargrave but, "I think maybe he did it only once or twice. He just doesn't like to stand out. But he will stand out. You'll see it and the fans will see it. The guy has an air about him."
Hunley calls Brooks special in a linebackers corps that even without Thurman still has a glittering array of talent in drafts past in Brian Simmons (1998 first-rounder), drafts present in David Pollack (2005 first-rounder in his first camp) and now drafts future in Brooks (would have been a 2005 first-rounder).
"Would have are the key words," he said. "I can't dwell on that situation."