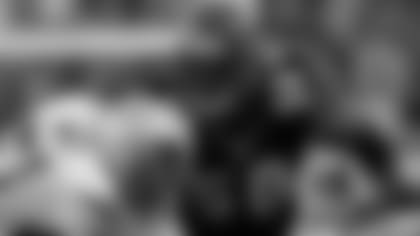 Brooks: Learning on the job (Bengals photo)
Just before rookie middle linebacker Ahmad Brooks took the field for his first NFL start Sunday in Tampa, Bengals linebackers coach Ricky Hunley looked up from the game plan and assured him he would have a better debut than he did.
And 14 tackles later, Hunley was dead on by 13.5 hits as the Bengals cautiously welcomed a guy they feel can be a big player for them in the near future that gets nearer all the time. Marvin Lewis says it's too early to talk about switching Brian Simmons back to his natural spot, but not for Bengaldom.
Hunley gives his players two postgame grades, one for technique and one for production, and when Hunley tallied up the production column Brooks had 42 points in 50 plays.
"Pro Bowlers give you a point a play," Hunley said. "He had three-fourths of a point a play. That's exceptional."
Three points for a tackle. Two points for swatting that one pass. A point each for the six times he hit the offense in the mouth or knocked it back.
It's a tad better than Hunley did in his first start back in the prehistoric days of the 1984 Denver Broncos.
It was October and Hunley, the seventh pick in the NFL Draft, was miserable. He had just been through a holdout with said Bengals and had been recently sent a Mile High in a trade, but it turned out he wasn't playing for the Broncos, either.
"This was the days before we stayed in hotels the night before (home) games," Hunley said. "I was mad. I wasn't playing, so Saturday I went out to watch (alma mater) Arizona play. I partied all night, helicoptered to Phoenix, took a jet to Denver, and went right to the stadium."
No one knows what fell harder. The arch that linebacker Rick Dennison dropped to shelve him for the game, or Hunley's jaw when told upon his arrival he was starting.
"I played 62 snaps and had one assisted tackle," he said. "My coach ripped me a new one."
Hunley was tough on Brooks' technique grade with a 76, but it was more than a gentleman's 'C.' The only thing in common with their debuts is that they both found out they were when they got to the stadium Sunday morning.
Simmons' neck wouldn't let him go in Tampa, and it may not let him go this week because he has been listed as questionable and as of Thursday had yet to practice in team drills. That may mean another game of Brooks in the middle, Landon Johnson moving from weak to strong and Caleb Miller moving into weak.
"He showed us why we drafted him," Hunley said. "He's got some special things physically."
"I thought he played solid," said defensive tackle Sam Adams. "He gave us a chance to win."
Brooks, 22, (yes, born the year of Hunley's debut) is used to getting critiqued as the son of former Redskins defensive tackle Larry Brooks.
"He was working, I was playing. My mom was recording the game on the camcorder," Brooks said. "I'd watch it three or four times before he got home and then we'd watch it and he'd tell me what I did and didn't do. It's like having another teacher. He's still critiquing me."
He hasn't heard any feedback yet from the debut, but he expects some.
"My sister was supposed to record it. If she didn't, he'll be mad," Brooks said. "I come from a football family. My brother's a football guy. My brother-in-law. We all talk football. He's been here, I think for every game but one. He wasn't in Tampa."
After Sunday's game, Brooks sounded like he had been having as tough a time as Hunley did. With linebackers stacking up like cordwood (David Pollack, Rashad Jeanty, Odell Thurman, A.J. Nicholson), the Bengals moved Brooks out of the middle to the strong side just before the Oct. 1 New England game.
And he hadn't been in the middle all that long, either. Plucked from off-field problems at Virginia and the third round of July's supplemental draft, Brooks suddenly showed up Georgetown College for training camp off a poor rehab from a glut of injuries and no spring practice. He was given a tight end's number, 46, and didn't receive a linebacker's No. 50 until the season started. "I was kind of upset that they were moving me," Brooks said after the game. "I was practicing at SAM for two weeks, so I was like, 'OK, I have to relearn this,' so I was anticipating on playing. Once they moved me back to MIKE I was, 'Oh man, why are they doing this?' I just know my job out there is trying to make my position the best it can be regardless of what it is."
There is no doubt about the kid's physical prowess. At 6-3, 260 pounds, Simmons simply calls Brooks, "A big boy. And he can move." The 6-0, 238-pound Thurman, the starting backer from last season the Bengals never counted on this year because of his own off-field problems, cut a completely different figure.
"He's similar to what made Odell a good player," Miller said. "Athleticism. But they've got different body types. Odell had a weird, odd body. Just compact like a bowling ball. Kind of like Rudi. You can't block him. Ahmad's got a bigger frame and he's so athletic. He's got lateral speed, and with that frame he's hard to stop."
At least one club insider has said the team believes that size gives Brooks the potential to be the Bengals' best middle linebacker since Pro Bowler Bill Bergey in the early '70s; if he can match the mental game with the physical.
"You have to think on your toes, think when you're running," Brooks said. "If you don't play hard and fast, that's how people get hurt. Before every game my mother and father tell me to play hard and play smart. Whether it's taking on a block, or trying to beat him, watching the offensive linemen to get a feel for what they're going to do."
Brooks thought the 76 was fair.
"Don't want to give me too much credit; it's my first game," Brooks said. "I could get a big head for this game and play (badly) on Saturday."
That's the beauty of it. He's so new, he's still adjusting to the games on Sunday.
"I think I did pretty well in the running game," Brooks said. "I guess I was productive in that area. What I have to improve on is my pass coverage."
The Bengals really like his burst on the blitz, and that's where they sent him on what turned out to be Tampa's longest run of the day, a 38-yarder by running back Cadillac Williams on a play the Bengals perimeter people failed to spill the play to the free tackler.
"I was expecting it to be fast; I was expecting it to be what it was supposed to be," Brooks said. "The biggest surprise to me is that we lost."