The Bengals have just cut the lead to 34-31 Sunday in Cleveland. The beer is still dripping down Chad Johnson's back after his leap into the Dawg Pound to celebrate his 14-yard catch when Browns running back Jamal Lewis takes the next snap and goes untouched off tackle for a 66-yard touchdown with six minutes left in the third quarter.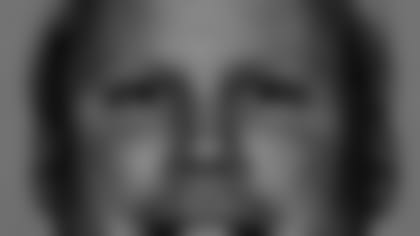 "To give up a 66-yard run on a wrap lead that we've seen 300 times in the offseason, there's no excuse for it," fumed Chuck Bresnahan on Wednesday as the Bengals defensive coordinator broke down a broken down game.
It was just one of the plays in the 12-snap sequence that he says the Bengals lost their poise and let the game slip away into a 51-45 loss while allowing the second-most points in franchise history.
Mistakes that Bresnahan insists "we have not had all year. To me it's trusting and doing the things we ask you to do and nothing more and trusting the guy next to you to do his job."
Not physical mistakes. Mistakes from training camp stuff.
Which is why Bresnahan doesn't blame free safety Madieu Williams on that wrap lead and is looking at rookie cornerback Leon Hall.
"Leon comes flying like he's supposed to. But for some reason, turns and runs back outside," Bresnahan said.
"Everyone wants to blame Madieu for having a bad read," Bresnahan said. "But Madieu reads the corner (Hall). He replaces (the corner) on the edge, so Madieu is coming down expecting the ball to splatter outside, (but) now Leon jumps back outside, so now you have a huge cavity inside."
Bresnahan, the sweat dripping off him from Wednesday's practice, has no problems taking the heat. Yes, there were key injuries to linebackers Ahmad Brooks and Lemar Marshall forcing guys into new spots, but "I put it on me. I really believe the way you play is directly reflected of the way you're coached," he said. "I take that personally. So we'll have them ready to play."
It's early in the fourth quarter, Browns leading, 41-38, and for the first time in five full series they have stopped the Bengals from scoring. The Bengals defense needs to match the goose egg, but wide receiver Braylon Edwards is all alone behind the secondary with no one near him as he stumbles into the end zone from five yards out for a 37-yard touchdown pass that is the dagger to make it 48-38 with 10 minutes left.
"That's Shoot 2 Z. We run this all the time here," says Bresnahan of a play in which safety Dexter Jackson blitzed. "We've got over the top help from Madieu. But Madieu's in the middle of the field. Leon is supposed to sink (drop back) with no second receiver. We don't do either one. It looks like they have no clue what they're doing."
And, yes, Bresnahan kept pretty much the same blitzing game plan from the Ravens victory.
"We ran about five or six fewer pressures in the pressure situations; we didn't get there," Bresnahan said. "(On one blitz) we wanted to get an overload to one side, but one of guys goes to the wrong side and blitzes off the other side and we don't get (the benefits of the formation)."
Bresnahan isn't picking on Hall. Jackson missed a tackle on Lewis' 31 yard run in the first half. Middle linebacker Caleb Miller missed an interception. They are examples, Bresnahan says, of a lack of discipline in a week he says the Bengals are emphasizing simplicity.
The Bengals have to punt again and a stop is mandatory, but on the first snap Lewis goes off for 47 yards over the right side. The Browns kick a field goal to make it 51-38 with 5:44 left. Meaning 114 of Lewis' 216 yards came on three carries.
"We're not getting blown off the ball; we misread our run fits," Bresnahan says. "Dexter had some outstanding tackles against Baltimore. Madieu had some outstanding tackles in the Baltimore game. We missed tackles. We had the tackling circuit today. Going back to fundamentals. We're ready to step up and get ourselves back where we have a swagger."
It's quite a laundry list. The Bengals could have had a sack if cornerback Johnathan Joseph held up in what Bresnahan calls "his inside leverage." Joseph doesn't, allowing Anderson to get rid of the ball in the nick of time for a touchdown.
So he's not picking on just Hall.
"He's going to have some good and some bad," Bresnahan said. "I don't worry about individuals. I worry about the unit," and head coach Marvin Lewis said about his first-round draft pick: "When you play that position out there, you're going to have some bad snaps. Leon will bounce back and play better football and be the guy we know he'll be for years and years and years. So I'm not concerned about Leon in any way."
Hall politely moved on Wednesday when asked if he felt like a rookie for the first time last Sunday.
"I'll be a rookie all season, but I'm not going to play like one," he said. "I don't want to go back to Sunday. It's Wednesday and this Sunday we're getting ready for Seattle."