Updated: 9-2-07, 12:30 p.m.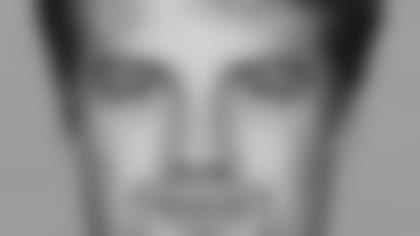 The Bengals now have the two smartest players in NFL history, according to draft guru Gil Brandt.
With Saturday's trade for backup quarterback Ryan Fitzpatrick, they received the man Brandt believes to have the highest score on the Wonderlic test since the Bengals selected punter and tight end Pat McInally in the fifth round of the 1975 NFL Draft.
"That's what I thought. I thought Pat McInally played for the Bengals," said Fitzpatrick, who knows because both went to Harvard.
As Fitzpatrick continued to let the trade sink in Saturday, he also knew about another Bengal. The man that will play ahead of him. And it's one of the reasons he likes the deal.
"To be able to learn from Carson (Palmer) is going to be a big help and everyone knows how good their offense is," Fitzpatrick said via phone. "And anytime you get a chance to move up the depth chart, it helps your career."
Although head coach Marvin Lewis said he has to see how the week goes before naming Fitzpatrick or rookie Jeff Rowe No. 2, it's clear the Bengals picked up Fitzpatrick and released Doug Johnson with No. 2 in mind.
"I just didn't see anything happening in St. Louis for the next two years," Fitzpatrick said. "It was going to be No. 3."
With Marc Bulger entrenched at No. 1, and former Bengal Gus Frerotte just as entrenched at No. 2 in the middle of a three-year $6.3 million deal, Fitzpatrick was looking at repeating '06 when he didn't throw a pass.
Fitzpatrick becomes a restricted free agent at the end of the season, which probably made him too expensive in St. Louis. The one-year tender matching his seventh-round selection figures to be in the $800,000 range.
The deal is probably like the one the Bengals pulled off a year ago in June when they dealt quarterback Dave Ragone to St. Louis for a conditional seventh-rounder. But the Bengals didn't get anything because Ragone didn't make the club.
Fitzpatrick may not throw a pass this year, but it gives him room to breathe. If he's not No. 2 in the opener, he certainly figures to be No. 2 in Cleveland Sept .16. If anyone can pick up a playbook nine days before the opener, it's this kid.
By Saturday night Fitzpatrick had already talked to the Bengals coaches and the economics major figures to get the full course Sunday while closeted with them before Monday's practice.
"It's going to help that I've had two different playbooks in two years already," Fitzpatrick said. "From what I've seen, there are things that look familiar. There look to be some of the same concepts."
Fitzpatrick had been hanging around celebrating son Brady's six-month birthday this weekend when the call came about the trade.
And, no, Brady, isn't named after Patriots Pro Bowl quarterback Tom Brady, although Fitzpatrick did play in his shadow in college as one of the Crimson's top all-time passers.
"No. Just a good old-fashioned Irish name," he said.
The Bengals think the 6-2, 225-pound Fitzpatrick is a good old-fashioned athlete. He's got an above-average arm and has excellent mobility for a guy his size. The word on him is that if a play breaks down, he can make something happen.
Given that Bengals president Mike Brown is an Ivy League quarterback himself, Dartmouth '57, it makes sense that the Bengals have been talking to the Rams about trading for Fitzpatrick ever since St. Louis took him in the seventh round in 2005.
But it hit Fitzpatrick out of the blue in the middle of Brady's birthday.
"All the rumors on the Internet the last week said I was going to Minnesota and Detroit," Fitzpatrick said. "There was never anything about Cincinnati. I was surprised, but I'm happy about it."
Lewis must be. He certainly wasn't kidding after Friday night's preseason finale in which he ripped the quarterback play.
Apparently the move was done in lightning-quick fashion Saturday morning. The Bengals called the Rams about 12 hours after Johnson threw two interceptions on Friday's first two drives, lowering his preseason passer rating to 60.1.
In a direct contrast, Fitzpatrick in his preseason finale Thursday night hit the Chiefs for 12 of 18 passes for 110 yards and a passer of rating of 100.5, and scrambled seven times.
"He plays with good composure," Lewis said. "We liked him when he came out of college , and the opportunities he's had in his three starts in '05. He's done a nice job of playing composed. He played about three quarters of a game on Thursday night again, so we like what we see, and he fits well into our offense. Enough said."
Fitzpatrick made three starts for the Rams as a rookie and pulled out a big come-from-behind win. He's got a career rating of 58.2 with four touchdowns and eight interceptions, and has completed 56.3 percent of his 135 passes.
Fitzpatrick, 24, became the fifth quarterback in NFL history to throw for 300 yards in a debut when he came off the bench and hit 19 of 30 passes for 310 yards in leading the Rams to a 33-27 overtime victory in Houston.