Tyler Boyd was a hit on the opening night of WPYAA basketball.

Bengals wide receiver Tyler Boyd, with help from a poison dart from quarterback Andy Dalton, converted fourth-and-12. Then with help from his mother he went a lot longer than that. It turns out after he left the Ravens' post-season hopes in his what-might-have-been dust, Boyd ran all the way to the kids back home.
You know the story. Ravens 27, Bengals 24. A mere 49 seconds left in the season. The ball at the Bengals 49. Everyone watching.
The fans in Baltimore just a snap away from the playoffs. The players from Buffalo four points from their first postseason in 17 years. Tonya Payne lingering in the box at M&T Bank Stadium in front of the TV. Her son running down the seam and Dalton standing in the pocket behind a jerry-rigged offensive line and delivering the ball in time for Boyd to run a tracer between two defenders and all reason for a what-just-happened victory.
"You start screaming, hollering and cheering and you're surrounded by a bunch of Ravens fans," Tonya Payne is recalling the other day. "Completely quiet and here we are acting fools. We're jumping around screaming and hollering. You stop and look around and you have all their faces starting at you.
 "That was the best way to end the season."
But the tweets and Facebook messages were just beginning from Bills fans looking for a way to repay their wondrous fortune. It was simple with Dalton, an established NFL quarterback with an easy-to-google foundation that has been helping ill children and their families for years.
It was harder with Boyd, a second-year wide receiver having an up-and-down year for a scuffling offense still looking to make his name. Payne nearly has his foundation up and going, but when she began to read the messages popping up in his Ask Me Facebook page and Tyler's phone blowing up with requests to send donations, she knew it couldn't wait.
The two connected like Dalton and Boyd.
She wanted to know if there is a charity he had in mind and how he wanted to do it. He asked his mother about the league. Payne is still president of the Western Pennsylvania Youth Athletic Association even though it's coming up on 10 years since Tyler last ran it and threw it and caught it for Clairton.
"I want to be sure we give it to something we know the money is going to be used appropriately," Boyd told his mother. "With the Little League program, is there a way you can set that up?"
What can't Tonya Payne do? Mother, grandmother, former social worker who often held three jobs at once to keep it all together, she's undefeated. When she sent Tyler the link on that Wednesday, they had a couple of thousand dollars in the first 10 minutes. The goal of 20,000 was hit in eight hours. When they shut it off Monday, eight days after the game, they had nearly $65,000.
"That's real priceless to me. Regardless of the money," Boyd is saying the other day. "That's all that really matters to me. Showing things I can do to affect people's lives. Inspire people. That's what I loved growing up. See people inspire me in ways to make me want to do something like that in the future. Seeing you doing good for the community. Just making sure people aren't under the ground."
Boyd knows he's one of the few that escaped the uncompromising turf of Clairton, 15 miles from Pittsburgh and a neighbor of poverty, drugs, and whatever else the implosion of the coal industry could drag into the turn of the century.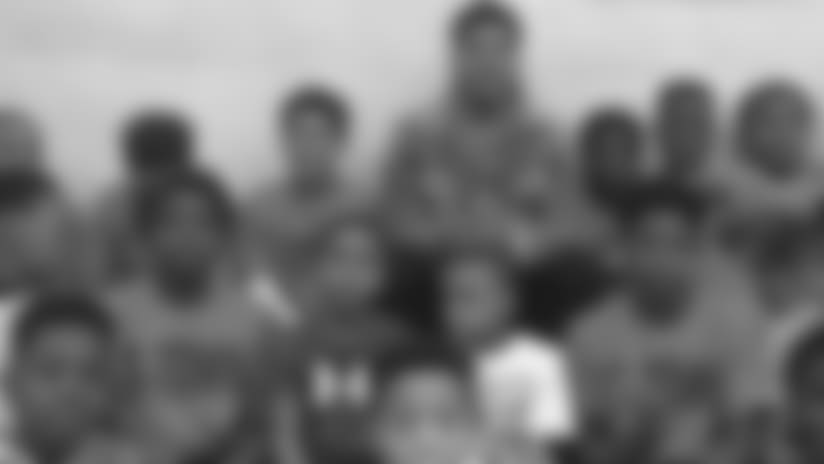 Boyd and his buddies from Clairton on Opening Night.

He lived it even before he lived it. When he visits his father, it's in jail.  When he came back to Clairton High two months after the Bengals drafted him, the school had so many students qualifying for free lunches that everyone got them with one of the highest rates in Pennsylvania. While working with referrals for Allegheny County in the department of social work, his mother lived it, too, and devoted her life to keeping her sons safe and successful.
When their apartment burned down his senior year, he never forgot how the town, even the region, responded to his family with donations.
That's what made last week so special.
Want to talk about timing? Fourth-and-12-Dalton-to-Boyd timing?
This is the first year the WPYAA, which consists of 12 football teams ages 7-14 from around the area, has expanded into a travel basketball league in an effort to make it a year-round organization.
"We were able to portion some of the (donations) to basketball," Payne says.  "Each football team has core expenses. Like paying for security, refs, transportation, food. We put the money toward those things so the teams could concentrate their fundraising on just uniforms and equipment."
The best part, though, was the NFL player that arrived the other day on Opening Night of the basketball league to talk to the teams. Boyd can't ever remember a guy like him coming in to talk to his team. There was Tonya's father, and his step dad, and a series of coaches that served as terrific mentors.
But he can't ever recall a guy running a seam route off the TV to stand in front of him and inspire.
"For him to interact, it gives the kids an opportunity to see him and know that he came from here and that he made it," Payne says. "He's like the example for them."
Boyd says he gave them "some words," and they came easily for a guy that has a mother that got him suspended for a quarter of a play-off game. It was his junior year and they called to tell Tonya that he had an in-school suspension for skipping some classes but that he could play that Friday night. She went ballistic and instructed them to sit him out the first quarter and let him play only offense.
"Listen to the right people. Don't foul up each other. I know you guys are friends. Just make sure y'all stay on the right path," is how Boyd recounts those words. "Stay sound in school. That's what I tell them. I tell them I'll   have to pop up on them. I'm going to come in there and check on y'all, man. Just to make sure they expect me to come in and catch them doing something they're not supposed to do.
"I think the guys really look up to me. I try to be as positive as I can. It was really a struggle for me. I had no mentor guys that were in a position I am now to show what it takes for a guy that's been through it and seen it."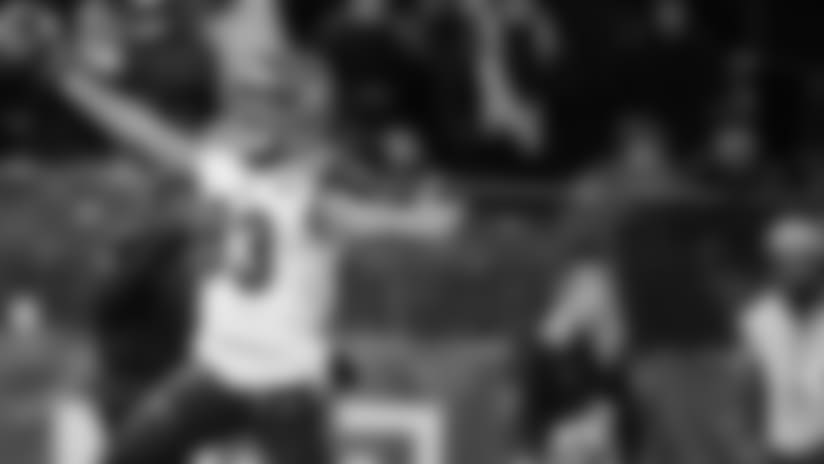 Buffalo thanked Boyd and he thanks Buffalo: Boyd celebrates in Baltimore.

Boyd is hoping the fourth-and-12 sparks something other than donations. He's looking to bounce back from a tough season of just 22 catches and 225 yards a year after working out of the slot and was the Bengals' most productive rookie wide receiver (54 catches) not named A.J. Green since Cris Collinsworth 35 years before him.
After a slow start wiped out their offensive coordinator, his knee sprain wiped out a month in the middle of the season. By the time he got back, everyone was out of sync and it took them until the last two games (when he had 10 catches for 130 yards) to find it.
"A lot of things weren't clicking all over the place. It will be better this year," Boyd says. "I don't feel like we have any weakness down the field, to be honest. We have so many different weapons, it's just hard to get everyone in there. … I feel like we have so many tools, so many weapons, there's so many things we can do. I just feel like we just have get a base offense and a steady rhythm and just play."
Boyd and offensive coordinator Bill Lazor are mutual fans. Lazor has liked his game ever since he recruited him at the University of Virginia. Boyd likes how things went down late in the year and says he's encouraged when Lazor told him at the end of the year that he wants to get him more involved in the context of expanding the entire offense.
"He's looking at everybody," Boyd says. "I'm ready right now."
Thanks to some fourth-and-12 timing, so are the kids in the WPYAA.