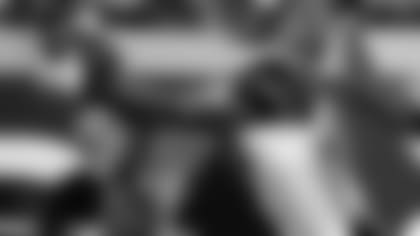 Chris Henry lunges to haul in this fourth quarter pass from Carson Palmer. (AP photo)JACKSONVILLE, Fla. - Some say you could hear Bengals head coach Marvin Lewis peeling some paint through the suddenly thin postgame walls of ALLTEL Stadium Sunday night.
Vintage Marv-ade. Maybe spicier than usual, but an upbeat brew that sound something like, "It shouldn't have happened because we beat ourselves and we're going to fix it."
"We played like crap and got beat by three points," said defensive end Justin Smith, and right tackle Willie Anderson observed, "After all that happened, we still had a chance to win at the end of the game."
It's hard to impress Anderson anymore after two Pro Bowls, seven 1,000-yard rushing seasons, four 3,000-yard passing seasons, and 10 years of losing and hoping. Last year after some losses, he indicated he felt more commitment was needed on the part of some players.
But he came out of ALLTEL Stadium Monday morning convinced his team is in the ballpark despite its first loss of the season.
"We felt our conditioning was great enough to have a surge at the end to put ourselves back in the ballgame," Anderson said. "Right down to the end. They're a very good, possibly great, defensive team. Play them on the road. They did make a play at the end of the game to win the game. I know I've been down here in years past that when the game started out like that, guys shut it down."
Anderson's point is this isn't the 2001 team that lost down here to fall to 4-4 for the first of seven straight losses. He says it's more like last year's team, which lost a game on the road that ended when quarterback Carson Palmer's bid to tie it also ended on a last drive on a sack and fumble. The Bengals are 10-4 since that loss in Tennessee, and they head back to Nashville next week.
"We're a good team playing a team that lost last week and needed to win a game," Anderson said. "With a hostile environment like that, it can't do anything but help us grow as a team. It could be where we look back at this game as motivation and inspiration to help keep us going."
Or, as defensive tackle John Thornton said, "We'll bounce back. But we have to take responsibility for it. We just can't say, 'We're 4-1.' We have to understand why we lost so it won't happen again."
Obviously, a major problem is penalties. The Bengals committed 12 more Sunday and are averaging 11.4 per game for what would give them a staggering 182 for the season, far and away an NFL record.
"We can't take those kind of liberties. We have to get better," Lewis said.
But it's also the same type of penalties. They had an illegal formation for the second straight week. For the second time this season, one of the leaders of the special teams, Reggie Myles, committed a penalty that drastically changed field position with a mental error. There were two more defensive offsides, a problem from three weeks ago.
"We knew it could cost us in crucial situations," Anderson said. "I don't think that's a reason (for the loss). They didn't help, and it's something we have to address ... we got off to a slow start early. We didn't start as fast as we usually do."
Maybe signs that the times are definitely changing despite the loss came through in the play of two rookies who made their first NFL starts because of injuries. When was the last time that happened?
Third-rounder Chris Henry, playing for inactive wide receiver T.J. Houshmandzadeh, caught three balls for 84 yards and a 25-yard touchdown that pulled the Bengals within 23-20 with 5:16 left in the game.
And fourth-rounder Eric Ghiaciuc, playing for Rich Braham who dressed only in case of emergency, had Anderson raving for his work at center.
"It was the most unbelievable performance by a Bengals player in a long while," Anderson said. "It probably won't get noticed, but as a teammate, he stepped up making calls. He did an excellent job. He was talking, getting guys geeked up. ... It was the best performance I've seen by a rookie Bengals offensive lineman."
Ghiaciuc said he found out he would make his debut before the game, but he prepared for it the entire week, ever since he saw Braham go down with his sprained knee in last week's first quarter.
"I think they pretty much did their game plan as if Richie had been in there," Ghiaciuc said. "I don't look how I did, but how we did as a line, and I can't take much out of it because we lost."
Ghiaciuc was around one of the game's defining moments, when the Jags stopped the Bengals on fourth-and-one from the Jacksonville 39 with 14:27 left in a 20-13 game. Tackle John Henderson looked to stuff running back Rudi Johnson for what looked to be a loss on an interior play.
"That's one I'm not looking forward to watching on film," Ghiaciuc said. "They pretty much brought the house. That's how you've got to play that if you're a defense. We need to grind it out there and get low to get it. To tell you the truth, I blocked the guy in front of me and didn't see where the ball went."
Anderson said it's as simple as this: The Jags loaded up and, "they made a play and we didn't."
Now the next play is, how do the Bengals respond?
"We met them halfway because we didn't play well," said linebacker Brian Simmons. "Half the teams lost today. We've won four out of five. That's 80 percent. We'll go back to the practice field Wednesday."
It hurt, no question about that. "We felt like we should have beat this team," said quarterback Carson Palmer after rolling up 364 yards of offense and watching the defense hold the Jags nine out of 11 times on third down.
"We don't accept losing," Anderson said. "We'll have it for another 24 hours. Just like I tell you guys after a win. Then we'll let it go."