Rex Ryan took away A.J. Green, but not on this play.
ORCHARD PARK, N.Y. - It seemed like Bills head coach Rex Ryan emptied 20 years of NFL defensive genius into the cauldron Sunday at Ralph Wilson Stadium and nothing could stop old boss Marvin Lewis from scoring at  will in the Bengals' 34-21 victory.
Cover Two, an offshoot of the turn-of-the-century Ravens scheme that Lewis used when Ryan was his defensive line coach. The crazy array of zone blitzes that Ryan used when he was the
head coach of the Jets. The Bear look that his father Buddy created and made popular 30 years ago.
But quarterback Andy Dalton and his shut-down offensive line stared it all down with another steel-belted road performance when he parceled out his three touchdown passes, 22 completions on 67 percent to seven different receivers with no sacks that featured a career nine-catch day from No. 2 wide receiver Marvin Jones.
Tight end Ryan Hewitt caught a 16-yard bullet over the middle for his first catch of the season. Rookie backup left tackle Jake Fisher dropped what would have been his second catch of the season. Running back Jeremy Hill caught his first NFL touchdown pass, but most of the acrobatic 13 yards came after the catch when he deftly stayed in bounds on a missed tackle.
And we haven't even mentioned a wide receiver.  
When Dalton threw his third touchdown pass by simply isolating 6-6 tight end Tyler Eifert on 6-0 safety Bacarri Rambo with a four-yard lob, it was 31-14 at the end of the third quarter and Bengals radio analyst Dave Lapham reported Ryan turning to his assistants and throwing up his hands with a helpless-what-more-can-you do surrender.
"That team has lit up everybody in the league,' Ryan said after the game. "Obviously that team is difficult. You take away this guy, take away that guy, and this other dude beats you. So it is kind of what happened. Dalton got hot, made a great pass into a single coverage, other than that I mean it was tough sledding. We knew it was going to be tough. That is about, you know, about as good as an offense you can play in this league."
Because it's about as deep as you can get. Ryan successfully schemed four-time Pro Bowler A.J. Green out of the game on four catches for 36 yards with what Green called "a Cover Two on my side," that consisted usually of cornerback Stephon Gilmore and a safety.
"We go out and practice every day and we look across the field and look at the versatility we have," said Jones as he praised the different mentality of a team that has transformed it into 6-0.  "We look at these games where we're down or we need a score or we need a game-winning drive, we're doing that without wavering. That's just exciting."
The Bengals know they're good. That's why when it felt like it was going to go south at the end of the first half when EJ Manuel drove the Bills 81 yards with a frightfully easy 9-for-9, it didn't.
"We're playing with a confidence, a swagger. We feel like we can beat anyone," said Hill, who also pounded it a season-high 16 times for 56 yards against the Bills' talented front. "We got our rhythm back. I feel like we kind of let our defense settle in and do their thing and we got back our style of football."
Take the back-breaking touchdowns on the first two drives of the second half. Jones owned the first one with an unbelievable 42-yard-straight-over-the-head catch despite tight coverage by Gilmore. Then he added a highlight 10-yard touchdown off a screen pass when he cartwheeled through safety Duke Williams.
On the bomb, Jones said he was getting that look from Gilmore that told him he could run by him and urged Dalton "to launch it." With safety Corey Graham blitzing up the middle, Dalton had to unload it.
"That was my Willie Mays Hayes imitation," said Jones of the center fielder from the Major League movies. "Just go get it."
In a two-minute sequence, Jones showed why he himself  is one of the league's best and most fearless receivers. After he made a catch that even Green called "crazy," he ended the TD drive with a play that wiped that one off the highlight reel when he went airborne to score.
"I had to get in there," Jones said. "I tried to just jump and stretch it and he hit me. When I turned up, I didn't think he was going to hit me low. I thought he was just going to hit me into the touchdown, but he went low, so I just stuck it out there. I had to score. I saw I was close. I was ready for impact."
Jones has always had an impact when he's healthy. Before missing all last year with foot problems, he had 10 TDs and the Bengals are now 10-1 in his career when he scores one with three this season.
"He's so talented," Dalton said. "He's got such great straight line speed and can come out of breaks and can track the ball really well. He's everything you want in a receiver."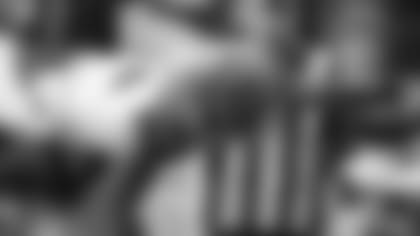 Running back Jeremy Hill plows in for his first NFL receiving TD.
But he's not only got a healthy Jones, he's got slot receiver Mohamed Sanu. After the first half, Sanu didn't even have a target and head coach Marvin Lewis told him his time would come. It did when Ryan gave them a look they hadn't seen at all yet on third-and-eight from the Bengals 24 and Cincy trying to put it away at 24-14.
"I just saw they popped into the coverage they hadn't done all day," Sanu said on his 24-yard jolt. "They do every coverage possible. They were blitzing a lot. Then they popped out two (safeties) high. Something different. I shimmied a guy and I was able to get over the top and Andy just lasered it. Before that, they were playing off man the whole time."
Sanu reported the Bills clouded and rolled over the top to Green and he and Jones said to each other, "Let's go do us."
"You can't have enough fingers to count how many players we have that can do the same thing," Jones said. "We know what we've got. We look at each other and say, 'You're going to score here, you're going to score here.' That makes it fun."
The Bengals don't usually win when Green gets 36 yards or less. Try 4-6 before Sunday. After getting two targets in the first half for one catch for five yards, he finished with four catches for 36 yards, a season-low. But if the drive to make it 31-17 was the killer, Green supplied the coup de grace moments after Sanu's catch.
On third-and-seven, Dalton shaked and baked in the pocket to buy a large chunk of time. He looked up and saw Green coming back on rookie cornerback Ronald Darby and hit him a yard beyond the stick on the sidelines.
"Just a scramble drill. We do it every day in practice," said Green, who shrugged about the Bills' strategy. "I figured they'd do something like that  . . . That's why we've got these other guys. When the defense does and that, you saw what Marv got today."
It has been a rather impressive three-week roll for offensive coordinator Hue Jackson against the formidable front sevens of Kansas City, Seattle, and Buffalo. All of them deviated from whey to do best to adjust to the multiple formations and explosive diversity of the Bengals offense.
 They ran the Chiefs out of an eight-man front, Green forced the Seahawks into a Cover Two, and Ryan opted to call off his blitz dogs to protect against the big play.
Although he was still bringing it. Like Dalton said, he didn't blitz as much as a Rex Ryan team.  When they went with that Bear look on third-and-one from the Bills 17 early in the second quarter and covered the interior linemen, Dalton checked into a power play where he sent left guard Clint Boling and left tackle Andrew Whitworth pulling and running back Giovani Bernard scooted through for a touchdown.
"We're trying to put pressure on the defense by making them defend the whole field," Lewis said. "With more coverage to A.J. , we know we're getting one-on-one looks at other spots. They play certain coverages that we require us to throw them inside. The quarterback has been doing a good job of orchestrating where the ball should go to what we perceive as a weakness on the opposing defense."
His old boss had Ryan scratching his head after this one. Maybe, Ryan wondered, he should have blitzed Dalton more.
"We went with some three-man rush stuff and never let my guys go as much as I should have," Ryan said. "There's no doubt. I thought we had great coverage down the field, I wanted to put our cover guys out there and we did. But I don't think our guys had enough shots on him."
It was just another day at the office for a Bengals offense that has enough guys to make defensive coaches second guess and third guess and  fourth . . .
Cincinnati Bengal travel to face the Buffalo Bills in week 6 of the regular season